Streaming services have been a convenient outlet for customers to readily access movies and television shows and provided needed entertainment during the hard lockdown times of the pandemic. But what happens as we start coming out of the pandemic and subscription fatigue sets in? Streaming services are being confronted with all-new challenges.
Simon-Kucher's Global Streaming Study shows that more than one third of US users are likely to cancel a subscription in the next 12 months, mostly due to price and the number of subscriptions. However, 73 percent would reconsider if their subscription fee was lower, even if that means advertising is shown. This indicates the potential for a hybrid model including subscription fees and ads that opens the door for a new era of streaming and advertising monetization.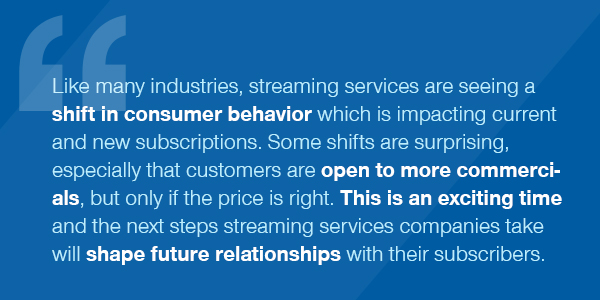 Contact us to discuss the latest Global Streaming Study and what streaming services can do to stay connected to their customers
Downloads:
Consumers are getting more conscious of how much they are spending on streaming but would rather make a trade-off for a lower priced substitute than forego the service altogether.

Advertising budgets have long been shifting toward digital and are now shifting toward digital video specifically.