Cash Matters – How Banks can Alleviate Fear and Panic During the COVID-19 Crisis
March 27, 2020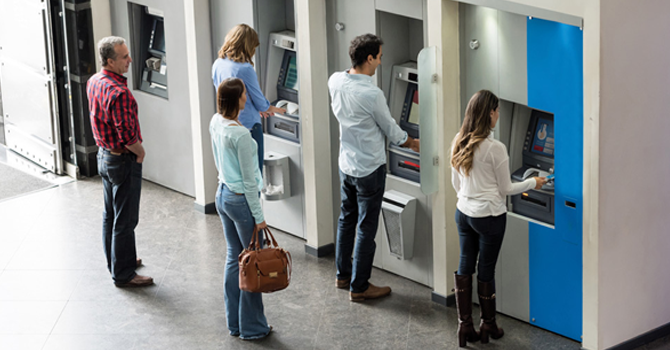 Cash-hungry firms could draw an estimated 700 billion US dollars from credit lines at banks over the next few weeks. Consumers are hoarding cash with reports of well-heeled clients walking into banks to withdraw 250,000 dollars or more at a time. Branches are running out of large-denomination bills. Meanwhile investors seem to be selling everything to seek safety in cash and only the shortest-term bonds.
We have entered a phase of the COVID-19 crisis when cash is all that matters. It is imperative that banks take measures to preserve customer access to cash in the deposit and payment system, to prevent undue alarm and panic. While limiting bank branch hours or restricting lobby visits to appointments can help prevent the spread of the new coronavirus, these practices can rattle consumers and have a negative impact on seniors who are more comfortable with in-person visits. In an effort to be more responsive to customer needs, some banks are planning to reserve certain branch hours for at risk populations. Others are deep cleaning branches, regularly sanitizing ATM screens and making hand sanitizer available. Meanwhile JPMorgan Chase is paying front-line workers a bonus to staff branches during the pandemic.
Build consumer confidence
Banks must step up efforts to train frontline and customer service staff to communicate in a clear, simply, and transparent manner to build consumer confidence. Banks have an opportunity to recognize when customers are making cash withdrawals because of fear and not necessarily from need, and to reassure them that there are plenty of reserves in place and their funds are safe. No depositor has ever lost a penny of FDIC-insured funds, and Fed data shows that US banks currently have more than 80 billion dollars in cash in their vaults.
Staff should also be reminded to review the titling and ownership categories of customer accounts to maximize Federal Deposit Insurance Corporation (FDIC) coverage limits. The FDIC insurance rules and limits can be complicated to decode.
Help customers manage cash flow
This is also the time to introduce or highlight tools that are readily available to help customers manage cash flow. This can include encouraging customers to use future-dated payments or prearranged dates when paying suppliers to control their cash balances. Banks can make sure future-dated payment features are readily available on their mobile banking apps, telephone banking, and on the bank's website.
Banks can also remind low cash customers that removing ACH payment services, where merchants are authorized to pull money directly from their accounts, can help them better control cash flow. Banks can suggest to use bill pay instead as it gives them greater control for expenses like electric, water, gas, cable, or phone bills.
Alleviate merchants' cash flow pinch
It is a common industry practice for an acquiring bank to withhold a percentage of a merchant's credit and debit card payment revenues in a reserve account as a protective measure against fraud, chargebacks or in anticipation of refunds requests. The actual amount held back varies and is determined by a number of factors including the chance of refund requests. Travel merchants for example, are usually considered a high-risk business in this regard. There is a timing gap between payment and consumption, as consumers pay for trips that happen much later. Travel purchases are also usually large-ticket items, increasing the risk for the acquiring bank or processor. In the event of a Black Swan or unpredictable event, processing companies and acquiring banks may choose to increase the withholding amount in anticipation of higher refund requests or chargebacks. This ironically is often what creates a cash short fall that ultimately pushes these merchants over the edge. In these cases, a credit line from a commercial or small business bank can be the difference between going out of business and having the cushion to weather through the storm.  
Many banks have standard policies for helping customers during natural disasters and they are turning to that playbook now. Governors are also asking banks to consider 90-day interest free payment holidays to help consumers in the near term. Certainly, there is a credit risk issue to consider here but given the extreme measures the government is taking to contain the spread of COVID-19, for credit responsible customers, it is an option to consider.
In these troubled and uncertain times, it might be useful to take a step back and draw lessons from previous events namely the 2008 global financial crisis and the September 11 attacks. These events had immediate and long-term impacts on small businesses, bank customers and the economy. We will tackle that topic in our next installment.
Read more about our recommendations for banks during the corona crisis:
Part 4: Rivals to Allies: Banks and SME Marketplace Lenders Pandemic Partnerships can Unlock Growth