Commercial Agility: Why it's the Key to Surviving the Resurgent Crisis
October 20, 2020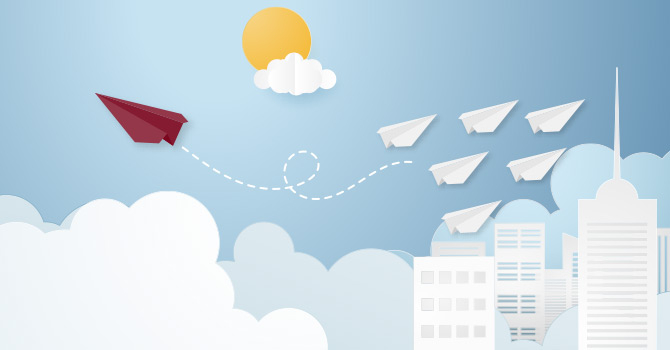 The COVID-19 crisis has been evolving for quite some time. Whilst always a highly volatile situation, there were many predictions made on the likely future developments. Having crossed the six months mark, now is a good time to assess the accuracy of these predictions and gather learnings for a second wave.
The global spread of the coronavirus as well as its consequential measures have had an enormous impact on the global economy. Multiple potential waves of lockdown have led to highly volatile demand levels. However, the degree of effect across different industries has been variable. For example, pharmaceuticals, telecommunications, software, internet, and media companies are seeing favorable demand shifts, with coronavirus measures not inhibiting them from absorbing greater demand, addressing new segments, and responding with different price-product combinations.
Those industries are actually thriving whereas insurance, consumer goods and retail, and banking and financial services companies have been overwhelmed by the sudden demand increase and have had no clear solution on how to meet it. What's even worse, during the first wave of COVID-19, 58 percent of the world economy was under threat — an alarming share worth 50 trillion US dollars. Afflicted were not only industries like travel and hospitality, but also automotive, manufacturing, non-essential consumer goods, industrials & machinery, logistics & shipping, construction, and advertising.
Those industries are in serious danger, especially given we're unlikely to see a resolution to the crisis anytime soon. In fact, when we asked our LinkedIn followers to assess the duration of the crisis in the face of the dynamically and variably evolving situation around the globe, almost 50 percent of participants predicted it would go on for at least another 12 months.
Learnings for the 2nd wave
With the arrival of autumn, among other things, we are experiencing a second COVID-19 wave globally and heavily fluctuating demands will as before be the result in many industries.However, there is one significant difference to the first wave of COVID-19: We have already gained experience from it. So, what exactly were the learnings from the first round and how can they be applied to the future situation?
Commercially agile companies have been especially resilient
During the last months, we identified that companies with a high degree of commercial agility displayed the most economic resilience. What do we mean by that term? Commercial agility is the ability to make resilient offer design, sales, cost management and pricing decisions with unprecedented speed and flexibility – over and over again – until some form of equilibrium returns to their market.
So, in order to survive the second COVID-19 wave as successful as possible, companies need to be commercially agile. To assess the state of affairs, we conducted the Simon-Kucher Commercial Agility Survey. We asked 300 respondents from across geographies, industries and company types to assess their company's commercial agility and economic resilience in order to identify learnings from respective best practices.

Key findings from the Commercial Agility Survey
When asked about their companies' commercial agility, managers responded with promising as well as underwhelming assessments:
The good news: 75 percent of companies have prioritized profit over market share in their corporate objectives.
However, only 31 percent rate their economic resilience as 7 or above out of 10.
Amongst companies adjusting their revenue forecast, the average drop expected is 25.3 percent.
Across all companies, a 17 percent reduction in EBITDA margins is expected.
When asked to evaluate the different elements of commercial agility as well as their economic resilience, the response was largely negative. No category scored a high mark, with B2B companies specifically evaluating themselves as performing below average in all categories.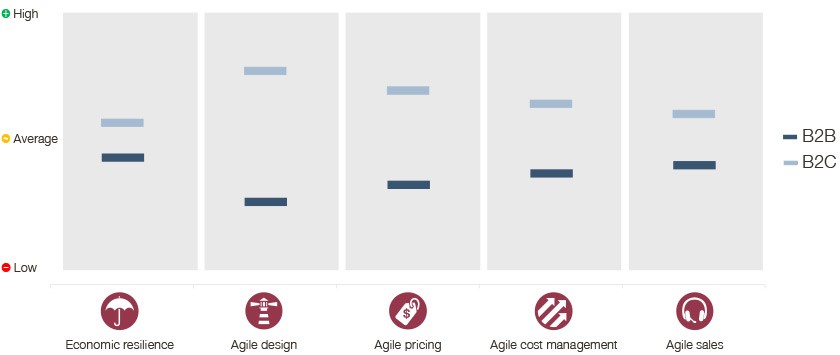 Given this self-assessment, what should companies be thinking about as we head into a longer period of crisis than we had originally hoped? As mentioned above, the best way to tackle this volatile situation is to maintain economic resilience through true commercial agility. Consequently, companies need to focus on the four pillars of commercial agility:
Agile offer design: the clever response to changes in customer needs
In the current situation, every point of interaction has converged into a high-stakes customer ecosystem. To activate demand during the COVID-19 crisis, companies need to design new products, communication, and value-added services in an agile way. Agile design is about tackling bite-sized improvements that will add immediate incremental value to a company's products and services. Rather than shooting toward a multi-year set architecture, it aims for immediate progress, recreating solutions, services, and value propositions within a matter of weeks.
Agile sales: the perfect way to remain close to remote customers
Due to social distancing measures and lockdowns, customers have changed the way they buy. Consequently, companies need to change the way they sell. Digital selling and e-commerce channels need to be the sales department's highest priority, especially remote sales, in order to replicate face-to-face or field sales interactions as closely as possible. In times of social distancing, firms need to become experts at remote selling, and they need to move quickly. This kind of agile sales requires specialist training, both in terms of the technical skills and relationship building.
Agile cost management: How to remain profitable as costs increase
No one knows how often COVID-19 will force economies to hit the reset button. However, if there is anything to be learned from previous crises, it's that there will be significant cost increases for various parts of the economy over the next months, if not years. This makes it essential to pass at least some of the costs on through the value chain by agile cost management. Add to this a supply chain shift from 'low cost' towards 'low risk' and we will soon move into an era of significant cost inflation. To increase prices at such a hypersensitive time will require great agility on the part of companies.
Agile pricing: Your solution to deliver effective pricing outcomes
COVID-19 has given many companies the well-needed motivation to revise their pricing strategies. Adding agility to pricing processes and price models, e.g. through differentiated pricing, enables companies to seize opportunities and respond to volatile demand. Doing this requires changes to governance and tools: Companies need to decentralize their price decision-making, which in turn requires a real-time infrastructure for delivering pricing guidance and monitoring selling prices.
Improving the 4 pillars of commercial agility increases your economic resilience
To sum up: The COVID-19 crisis won't be over any time soon, so, to mitigate negative impacts and progress back to growth, companies need to make sure to increase their commercial agility. Depending on how well they are doing in each category, they need to focus especially on increasing their agile offer design, agile sales, agile cost management, and agile pricing. Keep in mind: The best way to tackle this volatile situation is to maintain economic resilience through true commercial agility. Find out what that means for your company now.