COVID-19: How CDMOs Can Overcome Their 2 Key Commercial Challenges
August 24, 2020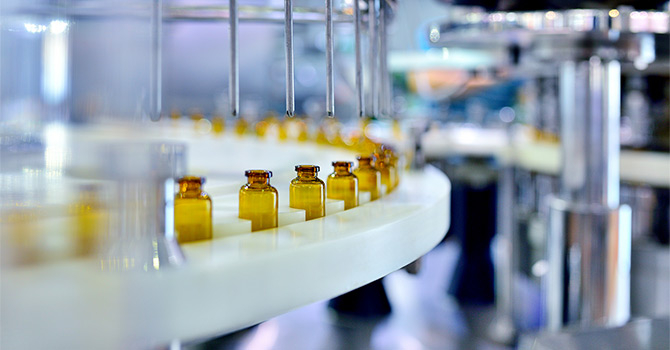 *The insights and recommendations shared in this article are based on the circumstances as of August, 2020
The global outbreak of the COVID-19 pandemic has major implications for the economy; almost every industry is severely struggling. CDMOs, companies to which pharmaceutical companies are outsourcing product development and manufacturing to, are no different. How can they overcome their main commercial challenges?
The recurrence of stricter measures and the increased likelihood of new lockdowns in more and more countries show that the resurging Corona pandemic will continue to impact the global economy on a grand scale. Although most industries are struggling due to the imposed restrictions and a collapse in demand, the healthcare industry is relatively well off by comparison. While demand for certain pharmaceutical products associated with a potential COVID-19 therapy surged, development projects of selected non COVID-19 related drugs were put on hold. Nevertheless, many life sciences and healthcare companies need to rethink their business and distribution models due to the expected new norm. CDMOs (Contract Development and Manufacturing Organizations), companies to which pharmaceutical companies are outsourcing product development and manufacturing to, are no different as they also face their unique set of challenges and require targeted solutions.
COVID-19-induced challenges for CDMOs
The unexpected COVID-19 pandemic is posing unparalleled challenges to CDMO companies. Like most companies, instability in production and interrupted supply chains pose problems regarding material sourcing and accessibility of resources. Global shortages result in a high uncertainty in production material availability, while social distancing as well as quarantine requirements make it difficult to maintain efficient and stable production and manufacturing. Added to that, we have even seen closed borders or more frequent border-controls affecting the supply chain due to increasing cost and time spend on logistics.
But not only resources, production and logistics face major disruption; commercial activities of CDMOs also face previously unseen challenges. The two most prominent that bubble up are:
Commercial engagement: Social distancing measures and restrictions on social interactions make it difficult to maintain close client relationship within business development and project management.
Financing and liquidity: Project/ budget reprioritizations on the client side towards COVID-19 and uncertainty/ funding liquidity squeeze from investors result in higher price sensitivity.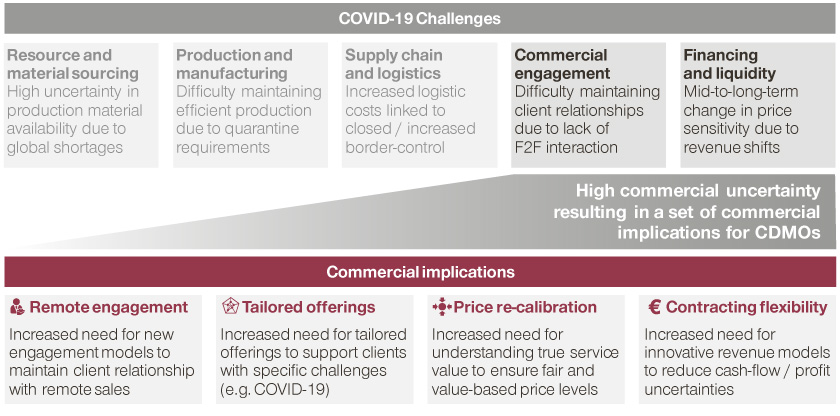 COVID-19 challenges requires changes in commercial conduct
Remote engagement: Not being able to interact closely with clients in combination with an increased price-consciousness will require a significant change in CDMOs' commercial activities. Client contact as well as customer engagement has to happen predominantly remotely and/or digitally. As a consequence, business development teams must be restructured to satisfy these new needs. This requires not only new tools but also different skill-set than before. You have to update your sales organization to ensure efficient and effective cross-functional collaboration along the complete (and partially digital) customer journey.
Tailored offerings: In order to counteract the increased demand for lower prices, CDMOs need to restructure and repackage their services and offerings to be able to better tailor to clients' needs and requirements. COVID-19 has hit CDMO customers equally as hard. To win them over, CDMOs should design offerings that support to solve their key challenges by, for example, combining and de-coupling much-needed services in modules and packages tailored to client needs and better aligned with their willingness and ability to pay.
Price re-calibration: In addition, a price re-calibration is in order. This doesn't necessarily mean a drastic price drop, but rather a stronger focus on a value-based pricing approach, where the added services CDMOs provide are communicated transparently and charged accordingly. After all, you should set your final project prices considering all relevant internal and external value drivers as well as your customers' price elasticity.
Contracting flexibility: The last months made clear that supply chains and customer demand are fluctuating more than ever. A CDMO that offers its clients as much contracting flexibility as possible will be in high demand. Exploring these innovative revenue models such as take-or-pay will enable companies to reduce cash-flow and/or profit uncertainties and can help reduce entry barriers and strengthen the partnership with clients.
Conclusion: CDMOs need an improved commercial strategy
COVID-19 is posing CDMO companies with new challenges and as a result, the need to prioritize specific commercial topics to future proof the business model has been accelerated. The most useful commercial measures for CDMOs to focus on are remote customer engagement models, tailored offer models, value-based pricing and innovative revenue models. Doing this right will ensure sustainable success during the coming months of this resurgent crisis as well as transitioning to the new normal.