Managing Revenue for Profitable Growth: Optimizing Promotions on a Global Level
July 26, 2019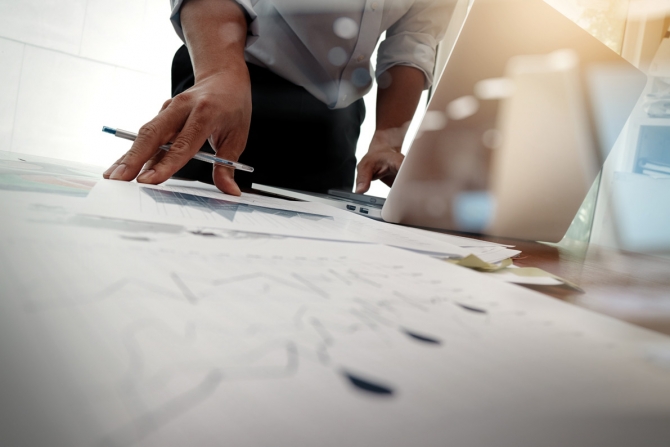 Effective net revenue management can have a big impact on sales and profits. However, many consumer healthcare companies risk missing out on their true profit potential due to their incomplete approach regarding this topic. This article series takes a close look at the different elements of a holistic strategy. This 2nd part concentrates on promotions as a part of the net revenue management cycle.
Globalization and the increasing importance of e-commerce are trends that challenge the current and future growth of consumer healthcare (CHC) companies. To address today's digitally-empowered consumer, CHC companies need a global pricing strategy. But, to really tap into the benefits of such a strategy, manufacturers have to ensure that it is reflected in the prices consumers actually see at the point of sale. These final prices are heavily influenced by promotions. 
A global promotion strategy …
Enables local teams to deploy promotions suited to their individual markets while maintaining the overarching brand strategy
Delivers a structured approach to promotion planning 
Aims to ensure that best practices are applied across markets
Provides guidance on key factors like when to run a promotion, how to align them with the overall brand strategy, how to discount, and how to assess performance
Key benefit: Market research claims that for many CHC companies, promotions account for 33% of revenue
Key drawback: Promotions can break the pricing architecture of the portfolio, leading to unwanted cannibalization and improper product positioning
Develop a global promotion strategy in 5 steps
---
To avoid undermining their global pricing strategy and maintain proper net revenue management, consumer healthcare companies have to develop a system to carefully design and execute promotions. Based on our hands-on experience, we have developed a 5-step framework for building a global promotion strategy: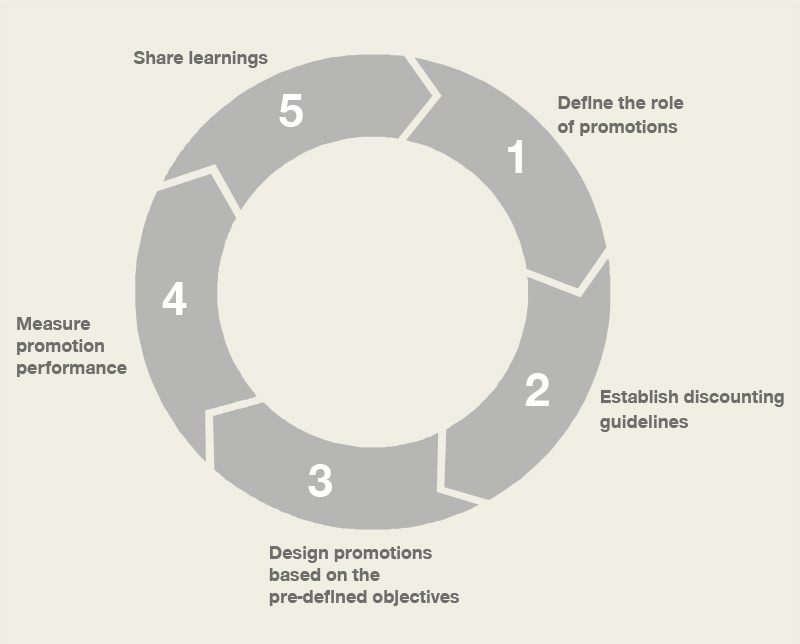 1. Define the role of promotions: Each market has its own unique dynamics, so the role of promotions can vary wildly. As a result, a global promotion strategy shouldn't define the role of promotions in each market, but rather provide guidance to local teams on how they can determine that role. The first step in that process is directing the local teams to consider what objectives promotions can realistically achieve in their market, for example attracting new consumers, increasing the amount of cross selling, clearing stock or increasing distribution coverage. To identify which promotions are best suited to achieving the defined objectives, CHC companies should start by reviewing internal data on past promotions. If robust data are not available for analysis, external benchmarks can be referenced as well. By examining the impact that promotions have had in the past, local teams can better understand which of their overarching business objectives, marketing objectives, and channel-/account-specific objectives they should target with each promotion. 
2. Establish discounting guidelines: Although the role of promotions should be defined locally, discounting guidelines (which are one of the most essential components of a global promotion strategy) should be aligned globally. They should serve as guardrails, protecting the global pricing strategy, and have to be applicable across markets. Much like a global pricing strategy, the discounting guidelines are based on the pricing architecture within the portfolio (i.e. internal price positioning) and the price relative to the competition (i.e. external price positioning). Discounting guidelines can also get more granular as different promotion objectives may necessitate different levels of discounting. 
3. Design promotions based on pre-defined objectives: Designing promotions around measurable objectives may seem simple; however, given people's never ending list of responsibilities, there is a natural tendency to repeat promotion plans from year to year and channel to channel while making only minor adjustments. Investing the time up front to map promotion types to the promotion objectives they are best suited for will help teams efficiently design promotion plans for better future performance.
4. Measure promotion performance: Once a promotion has been designed, the next step is to measure how well it worked to gain insights for future activities. While the actual data tracking and analysis will be done both during and after the promotion has been executed, defining exactly what will be tracked and how has to be planned beforehand to enable sufficient data collection. Aligning on data sources, specific analyses that will be run, how often results are reported & to whom, and who will be responsible for these tasks will vastly improve insights into promotion performance. Pre-specifying what constitutes success will also help hold the organization to objective standards for promotion performance. For example, if a promotion's objective is to increase revenue, then the main KPI used to determine this promotion's success should be the change in revenue for the promoted SKUs over the time period of the promotion vs. a pre-defined comparison timeframe. By determining what to track beforehand, manufacturers can avoid resource wastage in tracking unneeded KPIs and use the results to further inform future promotions.
5. Share learnings: A global promotion strategy should provide a foundation for sharing learnings between and within markets. Knowing that another country or brand successfully uses a certain type of promotion to achieve a similar objective allows managers to benchmark the performance of their promotions and accurately assess key variables driving performance. While no two markets or brands are the same, tracking such analyses over time will lead to progressively sharpened insights into drivers of promotion performance. Aggregating standardized promotion performance data may also allow for more in-depth analyses to detect hidden patterns, offering insight into key success factors. As CHC companies continue to advance their use of Big Data with Machine Learning and Artificial Intelligence methodologies, this data standardization will become an increasingly important advantage. However, be sure that market nuances are understood, the success of a promotion in one market does not automatically guarantee its success in another.
Success factors: collaboration, positioning, and innovation
Developing a global promotion strategy can be difficult, but – based on our experience – there are five factors that lead to success:
Find out who you are! CHC companies span the entire spectrum of centralization versus decentralization. Imposing a highly prescriptive global promotion strategy on a decentralized organization or offering flexible promotion guidance to affiliates of a highly centralized organization is unlikely to be successful.
Share knowledge! To develop a global promotion strategy that integrates the diverse capabilities, challenges, experiences, and opportunities of a global organization, you have to share knowledge from a wide variety of markets.
Innovate! To develop new, innovative ideas for promotions, you have to allow affiliates to run pilots while also accepting that new ideas might fail. One simple step that a global promotion strategy can take in this direction is separating pilot promotions from regular promotions in any performance assessment tools.
Follow up! The performance of every promotion must be measured in some form, even if robust quantitative data is not available. Ultimately, the metrics of success for individual promotions will indicate the performance of the global promotion strategy as a whole.
Balance structure and flexibility! Each market faces unique challenges regarding the role of promotions, sales channels, and data availability. Your global promotion strategy must be flexible enough to account for this variability while maintaining overarching global strategy alignment.
To sum up, even though there are many challenges when developing global promotion strategies, doing so enables consumer healthcare companies to ensure that their broader overarching brand strategies are tied into local teams' promotional activities. As a result, you are better positioned to uphold your global pricing strategy  and preserve consumers' value perception of your CHC brand.
Read more from our series: Net revenue management in consumer healthcare
---
Part 1: Managing Revenue for Profitable Growth: Developing a Global Pricing Strategy
Part 3: Managing Revenue for Profitable Growth: Designing Trade Terms to Develop Trade Partners