Proposed Changes to Medicare Part D: Will Protected Classes Become a Little Less Protected to Lower Drug Prices?
January 22, 2019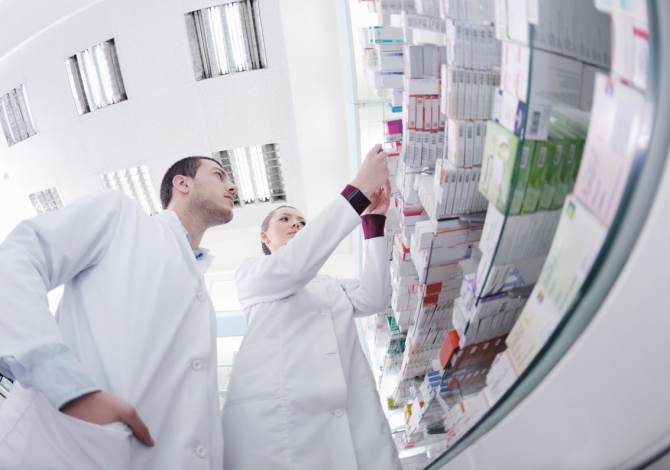 The Centers for Medicare & Medicaid Services (CMS) have recently announced planned policies aimed at lowering drug prices and reducing out-of-pocket costs for patients. On November 26, 2018, CMS issued a proposed rule on potential policies that would remove some of the barriers to management of Medicare Part D protected classes to provide Part D plan administrators with greater leverage to negotiate discounts with manufacturers.
Protected classes of drugs currently include six distinct drug therapeutic types - 1) antidepressants; 2) antipsychotics; 3) anticonvulsants; 4) immunosuppressants for treatment of transplant rejection; 5) antiretrovirals; and 6) antineoplastics. Current Part D policy requires Part D sponsors to include on their formularies all drugs in these categories or classes, with limited exceptions. There are also provisions in the current policy that limit utilization management of drugs in these categories. Utilization management and the potential for non-listing are the key levers that Part D sponsors are able to use to negotiate lower prices with manufacturers. Therefore, the theory is that by removing some of the protections on drugs in these classes, plan sponsors would be able to negotiate greater price concessions from manufacturers, leading to lower out-of-pocket costs for beneficiaries.
This proposed policy would potentially make three exceptions that would allow Part D sponsors to: 1) implement broader use of prior authorization and step therapy for protected class drugs, including to determine use for protected class indications; 2) exclude a protected class drug from a formulary if the drug represents only a new formulation of an existing single-source drug or biological product, regardless of whether the older formulation remains on the market; and 3) exclude a protected class drug from a formulary if the price of the drug increased beyond a certain threshold over a specified look-back period. (1)
For the rest of this article, we would like to focus on and understand the potential impact of excluding protected drugs from a formulary based on a price increase above a certain threshold. Effective for plan years starting on January 1, 2020, CMS proposes benchmarking price increase thresholds for Part D drugs, including those classified as protected class drugs, against the overall consumer price index (CPI). The CPI is an index of price variation paid by a typical consumer for all goods (including healthcare), and the increase can be calculated year over year.
To understand the potential impact of the implementation of this policy, we analyzed the spending patterns of the Part D program on the top-100 drugs, specifically focusing on the total spend for protected class drugs that are at risk of being affected by this proposed policy.
Based on 2016 Part D program reimbursements, the top-100 drugs had an overall spend of ~$84 billion, representing 59% of the total Part D reimbursements. Of these 100 drugs, there were a total of 28 protected class drugs with a total spend of ~$24 billion representing 29% of top-100 reimbursement and 17% of overall Part D program reimbursements.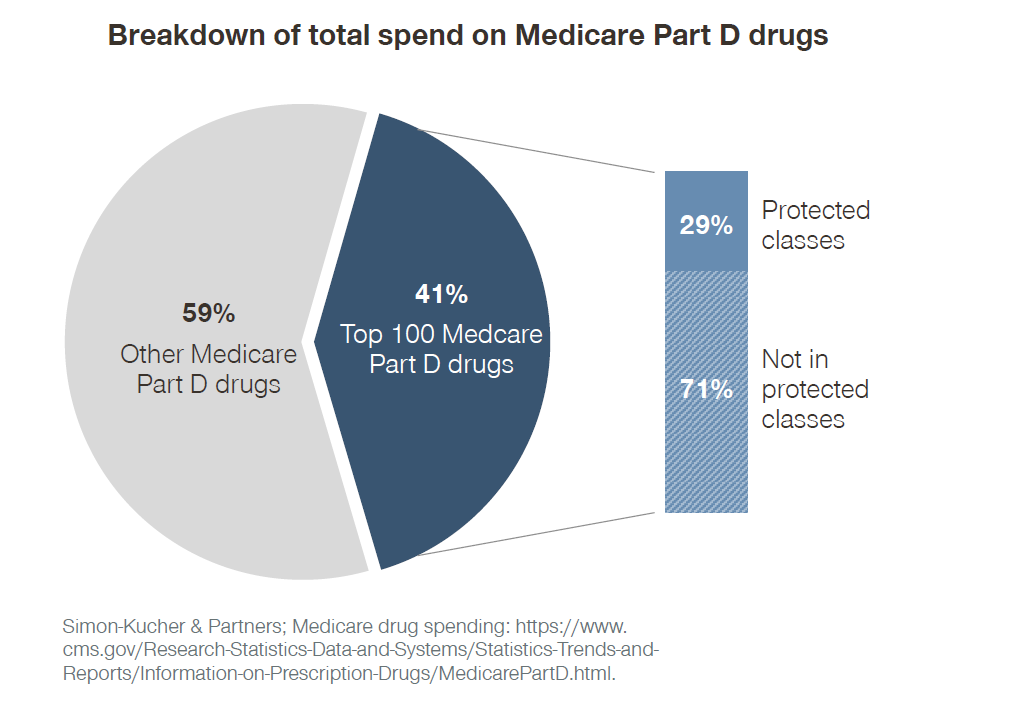 We then analyzed the year-over-year drug Wholesale Acquisition Cost (WAC) price increase for these protected class drugs and benchmarked the change with the overall CPI, to determine whether the price increases would be above the potential threshold identified by CMS. In period examined, the CPI was 2.5% for 2016-2017 and 4.6% from 2016-2018 for the combined two year period. (2)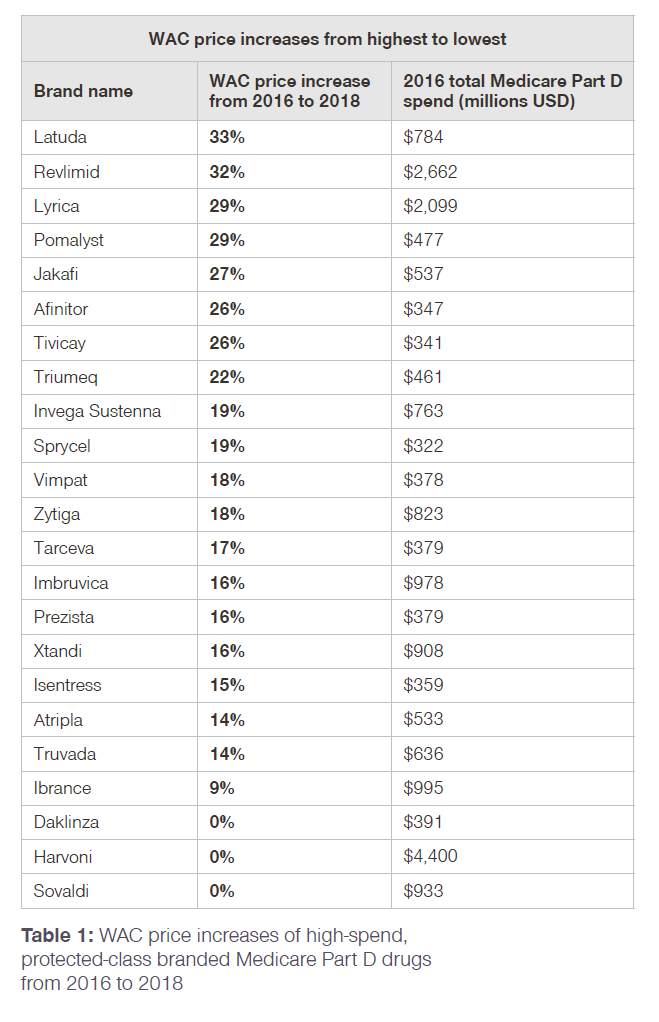 Based on this analysis (Table 1), we determined that 20 of the 28 protected class drugs (including over 85% of branded protected class drugs in the top 100 drugs with the highest spend) exhibit drug price increases above the 2016-18 4.6% CPI, demonstrating that nearly all branded protected classes have been taking price increases above the proposed threshold. Some of the largest Part D spend products have taken price increases several times the consumer price index.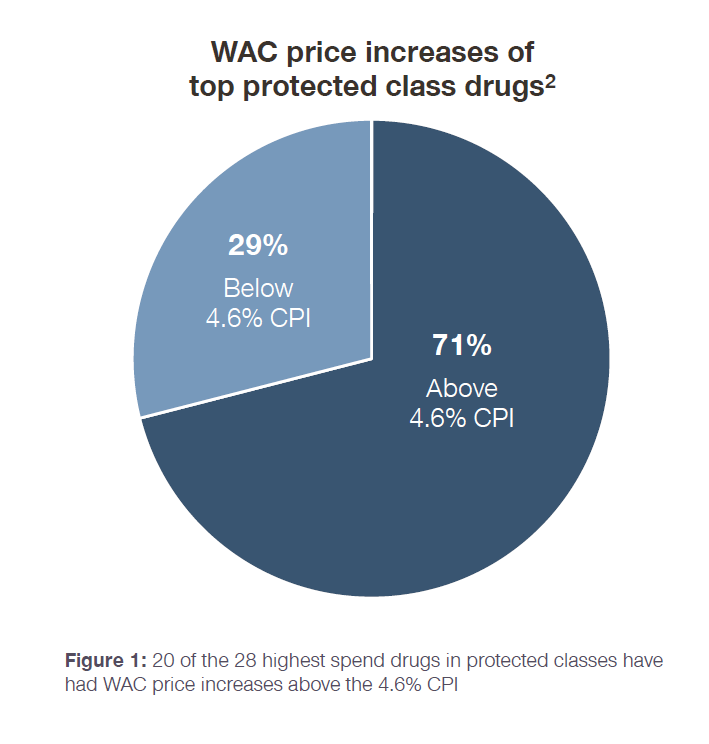 Five of eight drugs that did not have price increases beyond the CPI had generic equivalents during the period of analysis. The three remaining branded drugs all did not take price increases at all, and all of these drugs are in the Hepatitis-C space. This is a therapeutic area that has received a fair amount of price scrutiny in recent years.
The drug price increases in the examples highlighted in Table 1 occurred before any policy was announced, and the policy itself is not yet in place. However, if the proposed policy does get implemented, manufacturers will be faced with three potential options:
Limit price increases to the CPI:

Keeping below the threshold would require Part D sponsors to continue to include them on formulary, although it wouldn't necessarily prevent payers from leveraging other utilization management tools

Provide greater rebates to Part D sponsors:

If price increases exceed the CPI, it is highly likely that manufacturers will need to provide greater price concessions to avoid formulary exclusion

Accept the potential for greater utilization management in Part D:

For indications where use in Part D may be a small portion of their business, manufacturers may decide that either of the above options would jeopardize too much of their business in other channels
These proposed rule changes are open to public opinion or comments and they may undergo further refinement before becoming a CMS policy, if they get implemented at all. This analysis also looked at increases in Wholesale Acquisition Cost (WAC) which is substantially different than the net prices realized by manufacturers. However, it is one of the simplest measures of price and very likely to be one of the benchmarks used if this policy is enacted. Given the increased CMS interest in addressing the issue of drug price increases head-on, it is safe to hypothesize that this proposal, and potentially others in the future, will continue to put pressure on drug manufacturers to pay closer attention to drug pricing.