Seven Secret Ingredients for Successfully Launching and Commercializing a Biopharma's First Drug in Europe
June 30, 2020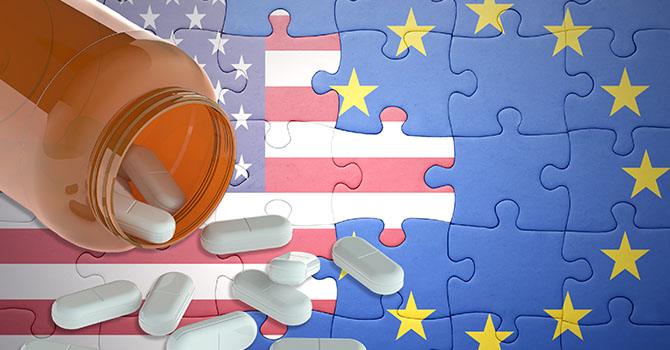 Transitioning from an R&D-focused biopharma company to a commercially viable operation is already a challenging endeavor, and the prospect of having to master complex European launch requirements while also steering US business makes this shift even more daunting. To help small US-based biotech companies who want to launch their asset themselves in Europe and to assess the general viability of such ventures, this Simon-Kucher article identifies common characteristics among independent operations and carves out key managerial implications to enable business leaders to properly analyze, prepare for, and execute a successful launch for their company's first drug in Europe, while also establishing a fully integrated (bio-) pharmaceutical company (FIPCO).
Introduction: Searching for the right opportunities ahead
For decades, the life sciences industry has been renowned as one of the most profitable and innovative industries in the world.  However, despite tireless research and development efforts, many diseases still lack treatment options, or are in need of more effective and/or safer treatment alternatives. Given these unmet needs and attractive business opportunities, many established companies as well as emerging biopharma startups have geared up to develop new drugs and treatment approaches. After the US, Europe is considered as the second most attractive market for serving patients' needs while realizing commercial value from innovative drugs to fund future innovation, but Europe is far more complex than the US. While Europe has one major central regulatory access point via the EMA, the 27 EU member states (and beyond) each have their own approaches to pricing and market access, and need tailored commercialization/go-to-market strategies. Consequently, most emerging biopharma companies opt to out-license or partner with other companies, primarily big pharmaceutical companies, to allow for easier commercialization strategies. However, the desire for a safer go-to-market strategy may leave significant shareholder value, learning, and scaling opportunities on the table.
Due to our commitment to help the life sciences industry achieve sustainable TopLine Power® and realize maximum value out of its ventures, this Simon-Kucher article aims to provide a better understanding of the key value drivers and success factors for US-based companies launching their first drug in Europe. By analyzing over 20 prominent first drug launches (2005 to 2019) by US-based companies in Europe, over 4,500 individual data points from independent launches, and one-on-one expert interviews with 18 senior (commercial) executives who have led or overseen the setup of commercial operations in Europe, this article investigates four areas of interest:
Characteristics of first drug launches in Europe: What drugs, disease areas, and company specifics lay the foundation for successful independent launches in Europe?
Opportunities and reasons to commercialize: Why and when should companies consider launching a drug in Europe on their own?
The seven secret ingredients for success: How can you maximize value when launching your first drug?
The dos and don'ts: What is important to consider before planning a company's first product launch in Europe?
Characteristics of first drug launches in Europe: Identifying common patterns
From 2005 to 2019, over 650 innovative medicinal products received (initial) marketing authorization from the EMA. Only a fraction of these launches (around three percent) were driven by companies that had to establish their own commercial operations in Europe for the first time. Previous research by Gilbert, Easton, and Breazzano (2013) indicated that first drug launches increasingly target orphan diseases given the fewer and less demanding commercial infrastructure requirements. Building on the working hypothesis of Gilbert, Easton, and Breazzano, we analyzed drug and indication characteristics of 20 first product launches by US-based companies from 2005 to 2019. These characteristics include indication size (prevalence), unmet medical need, severity of the disease, the drug's current and future competitive strength and differentiation potential, and the yearly price achieved In addition, we assessed company characteristics, such as pipeline strength, finances, and strategic outlook for each of the drug launches to understand value drivers behind the commercialization efforts.
16 out of 20 new drug launches (80 percent) analyzed had received an EMA orphan drug designation, which grants certain regulatory benefits such as no/reduced regulatory fees, increased support (e.g., scientific advice on study protocols for a reduced fee), and market exclusivity for up to 10 years, making an independent launch more attractive. Other underlying factors must be considered to draw a holistic picture and derive key value drivers for a successful, independent go-to-market strategy. Ultimately, the decision to independently launch a drug depends on the way biopharma companies create value. The majority of drugs launched in disease areas with high disease severity, a high unmet need, and were for a well-defined, distinct patient population. Since the revenue potential of a drug is its price multiplied by volume, a high price point is required to balance out a lower market volume for the commercial sustainability of a therapy.
According to our expert panel and interviews, achieving a high price for these drugs is a key prerequisite in order to make the economics of establishing a fully integrated sales organization work. Figure 1 depicts the strong correlation between achievable price and disease prevalence for the analog products explored, and confirms the working hypothesis of Gilbert, Easton, and Breazzano.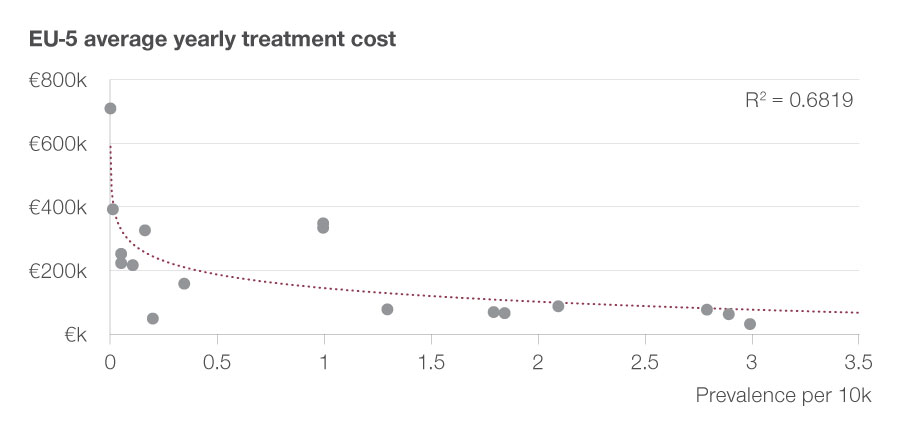 Figure 1: Achieved target price of drug depending on disease prevalence 
A multiple linear regression analysis assessing price depending on size and age of patient population, unmet need, severity of disease, and a drug's therapeutic improvement underlines the relationship between these variables (r: 0,78; R²: 0.61). However, achievable drug prices are the result of many different factors, including the value perception of payers and the negotiation excellence of the respective biopharma company.
Opportunities and reasons to commercialize: Striving for increased shareholder value
In addition to putting patients at the core of all actions, emerging biopharma companies also strive to perform well financially in the long term and create shareholder value. Other motivations for an independent launch include the desire to establish a platform for subsequent drug launches, the flexibility to have full control over an asset and the organization, and unforeseen circumstances that force the company to do it alone. Our external experts revealed that most of the time, a combination of economic value and other factors (see above) ultimately drove the "do-it-yourself" commercialization decision.
In order to succeed in the long term, it is necessary to accept short-term losses. According to our internal Simon-Kucher project experience and expert interviews, establishing operations in the EU-5 and other markets via a country-clustering approach (e.g. Nordic countries) can be expected to generate costs of between 60 and 120 million euros per year. However, launching in Europe can offer positive 10-year NPVs of several hundred million euros, but at a significantly higher risk than partnering or out-licensing.
Please note that these figures are directional and take a certain forward-looking aspect into account. It is possible to operate very lean and more centralized organizations with less monetary efforts.
For every excellent example of successful launches, there are other examples where companies could not fulfill their own high expectations or those of their shareholders. The reasons for these unsuccessful ventures are manifold, including limited robustness and quality of clinical evidence for the drug, a lack of engagement with key medical and payer stakeholders, an inadequate pricing and market access strategy, or a mismatch between the value the company perceives the drug to offer and the value perceived by European payers. The following pages highlight the seven key factors that can favorably influence the outcome of a "do-it-yourself" launch by a small biopharma company in Europe.
The seven secret ingredients for success: Pursuing the full realization of a drug's economic value
Based on the qualitative interviews with the external experts, we identified seven secret ingredients beyond product characteristics for companies launching their first drug in Europe (Figure 2):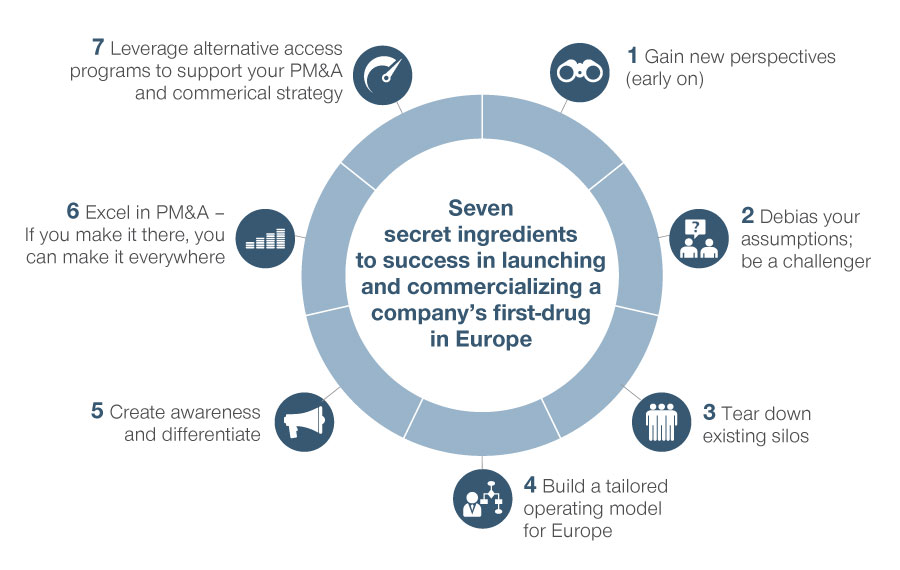 Figure 2: Seven secret ingredients for successfully launching and commercializing a company's first drug in Europe
Secret #1: Gain new perspectives (early on)
All of our experts were concerned about a common trait shared by the senior executives of emerging biopharma companies. Either they are too research-focused and do not take commercial considerations into account during the development of their drug, or they are too focused on only excelling in the US and fail to understand the global potential and requirements for tapping this potential early enough. To avoid these traits, bringing on board an expert like a chief commercial officer or a VP for commercial affairs/P&MA early on may provide help and guidance. The converse also applies; Europe-focused companies or commercially oriented executives should broaden their horizons in the opposite direction.
Secret #2: Debias your assumptions; be a challenger
Our experts have witnessed two common errors in thinking among the executives of emerging biopharma companies, which requires executives to do the following:
Be realistic: Executives overestimate the therapeutic improvement of their drug based on false assumptions and/or fail to identify other differentiation opportunities
Pivot as needed: Executives are reluctant to update their beliefs in the face of new evidence
To tackle these biases, one should follow three steps: Realize that these and other biases exist, create a collaborative atmosphere characterized by an open exchange without specific constraints, and consult external experts to bring in new perspectives or challenge existing mindsets. The depth of this collaboration should increase with each development stage of a drug.
Secret #3: Tear down existing silos
Launching in Europe is daunting and complex. Patient advocacy groups are gaining increasing influence on the outcome of regulatory assessments and decision-making shifts away from physicians toward payer-supported treatment guidelines/algorithms. In this context, nearly 80 percent of the respondents highlighted the importance of close collaboration between all departments at global, regional, and local levels to develop a fully integrated commercial strategy that aligns global marketing and launch capabilities with pricing, market access, and new product planning. A well-known best practice to break up silos and identify assumptions is to engage early on with regional regulatory bodies and country-specific payer authorities to understand key requirements for the ideal clinical trial design and successful approaches to pricing and market access.
Secret #4: Build a tailored operational model for Europe
A company's operating model is the link between strategy and its proper implementation, and it should be specifically tailored to European markets, suit the company's requirements and capabilities, and most importantly, enable collaboration between and within global, regional, and country-affiliate divisions.
Structure: The first building block is setting up the right organizational structure to define lines of business and accountability, shared services, and coordination between functions and countries. Our findings suggest to build up a regional headquarter with affiliates in the EU-5. In the headquarters, according to our experts, next to the European GM, each of the key functions (P&MA, medical, commercial, and pharmacovigilance/clinical trial operations) must be represented by a VP or head of department. Despite the extra cost, all participants believe that these functions and decisions cannot be made solely from the US and warn that adding extra work on top of the US-focused activities will demotivate and frustrate US employees. At a country-level, especially in the EU-5, market specifics require a minimum number of leading medical, P&MA, and marketing functions.
Capabilities and mindset: Our experts recommend starting to look for the right talents as early as possible. Besides financial offers, the environment in a company should appeal to the desired talents. Further, special attention should be payed to not hire people by their past, but by their future potential.
Empowerment: The objective is to create a collaborative environment, which empowers hired experts in executing the company's vision and allows for rapid-decision making in a cross-functional setup. The final decision maker at the country-affiliate level is the GM who reports (along with regional heads and VPs) to the European GM who, in turn, is accountable for the overall success in the region of Europe. Other means to enable exchange include setting up cross-functional roles.
Flexibility: In general, the ideal timeline to start hiring key regional lead functions (medical affairs, P&MA, regulatory, and commercial) is two to three years prior to EU launch (Figure 3), but the operational model should allow for some flexibility. For affiliates with longer P&MA timelines, GMs should plan the commercial affiliate organization conservatively to account for delays and other unforeseen events. For these affiliates, not draining the bottom line too much while no commercial sales are being made is as important as being ready to switch to launch mode quickly to boost the top line as soon as possible after a successful pricing and market access negotiation in a particular market.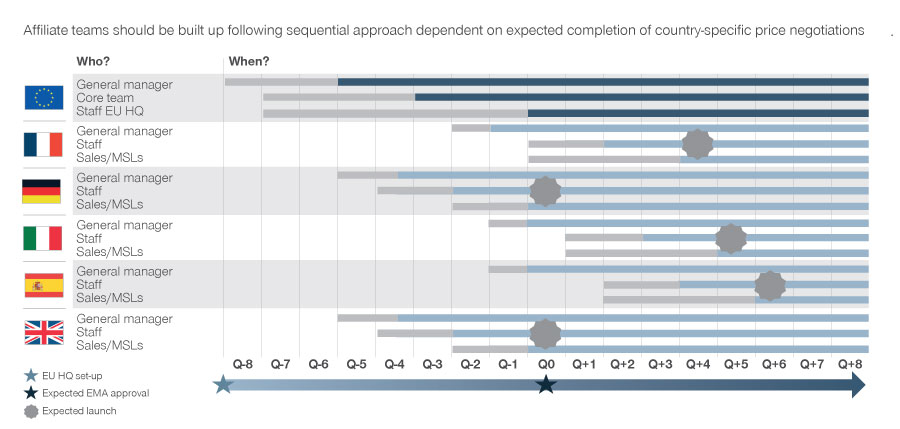 Figure 3: Exemplary FTE ramp-up for EU HQ + EU-5 affiliates
Secret #5: Create awareness and differentiate
Companies need to be patient-centric and fully understand the patients' disease experience in order to properly address their needs, create awareness about the disease, train professionals, and ensure patients get sufficient access to the medication they need. The company should act as an integrated (service) partner for patients. As regulators, HTA agencies, and payers often turn to patient advocacy groups and key opinion leaders (KOLs) to gain insight into the actual incremental benefit of a drug and rely on their input, these stakeholders must be seen as key partners. Due to the smaller patient population sizes involved, companies should address the market through a multi-channel approach where Medical Science Liaisons (MSL) ensure acceptance and endorsement from KOLs and patient advocacies.
Secret #6: Excel in P&MA – If you make it there, you can make it everywhere
First, it is important to assess and understand a drug's country-specific market access potential. This involves understanding of the asset's advantages, disadvantages, perceived therapeutic value among payers and clinical stakeholders, and the strategic implications of treatment pathways and respective funding flows (e.g. identify key P&MA stakeholders). Furthermore, management must incorporate these observations and bring them together in a cross-country assessment of pricing potential that includes clinical and market access scenarios tailored to the specific nature of the drug. Innovative access agreements, such as payment by results, risk-sharing or annuity payments are new ways of pricing, which may become necessary for drugs for "targeted needs" as they often come with clinical limitations. To make such agreements happen, manufacturers must not only convince payers of the benefits of their drug but also be willing to collect and grant access to real world evidence (RWE) within legal boundaries. Further, it is important to consider country-optimal pricing strategies in an international context due to formal and informal international price referencing/re-referencing. This may include deviating from the country-individual optimal price strategy in order to optimize P&MA across the entire European region (Figure 4).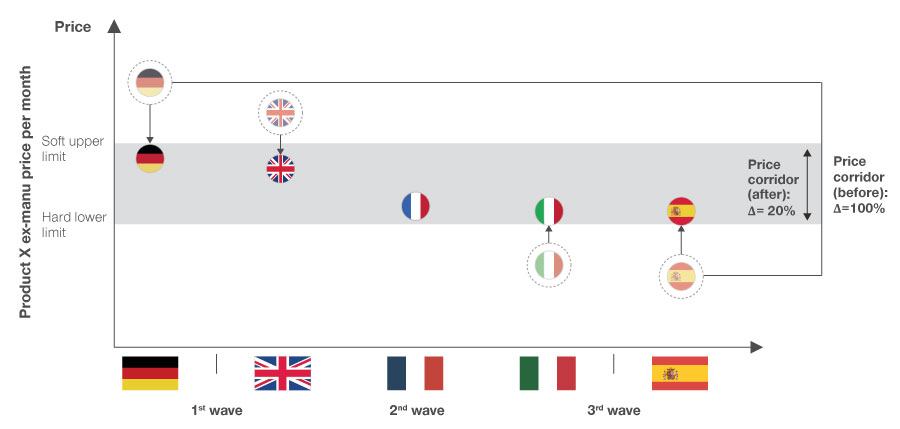 Figure 4: Conceptual launch timeline and price strategy considerations
Secret #7: Leverage alternative access programs to support your P&MA and commercial strategy
Alternative access programs (AAP) can create true value for patients and grant patients access to an urgently needed treatment outside of the standard reimbursement pathways. The most common types of programs are early access or compassionate use programs.
AAPs allow companies to build up a patient base that will become fully commercially viable upon reimbursement. From a medical and P&MA perspective, AAPs allow RWE to be collected, which can influence future therapy management and algorithms. These will then become key decision drivers, making RWE increasingly important for orphan drugs pursuing innovative pricing schemes (see secret #6). Moreover, AAPs help create awareness and goodwill among key (clinical) stakeholders, which may positively impact payer and regulatory discussions and decisions.
Conclusion: The dos and don'ts – hunting for advice
All of our study participants believe that it was the right decision to commercialize their lead drug on their own in Europe in order to create significant patient value, lay the foundation for future launches, and support the international growth of their companies as well as increase their shareholder value.
All of the participants' products and market situations were different, as will be the future biopharma market situation. Nevertheless, a few managerial considerations hold true for any emerging biopharma company to apply the seven secret ingredients successfully.
Do
---
Assess and incorporate the implications of a European commercialization strategy early on
Understand the product's pricing and commercial value, potential hurdles, and key stakeholders to address in Europe
Understand the importance of finding and empowering the right talent; be willing to relinquish some control in order to enable a tailored execution of their strategy
Plan ahead and determine how to leverage the future commercial organization
Don't
---
Don't rely on experience and old assumptions; constantly challenge them and allow them to be challenged; seek expert help from a trusted advisor, if needed
Don't underestimate the operational and financial requirements for making the commercial/organizational leap to Europe
Don't overestimate your drug's potential or the company's European capabilities; make reasonable, fact-based decisions
Don't copy and paste other companies' approaches; design a unique commercialization/go-to-market strategy tailored to your specific drug and venture
Don't commercialize on your own at all cost; certain markets are better left to third parties
Like this article? You can download the full whitepaper here!
---
HEALTHCARE NEWSLETTER
Boosting revenue and profits in Life Sciences. Our experts share comprehensive solutions for the complex marketing, sales, and pricing challenges faced by healthcare players. Read our latest newsletter issue here.