Global Office Tour: Working at Simon-Kucher's Frankfurt Office
September 24, 2021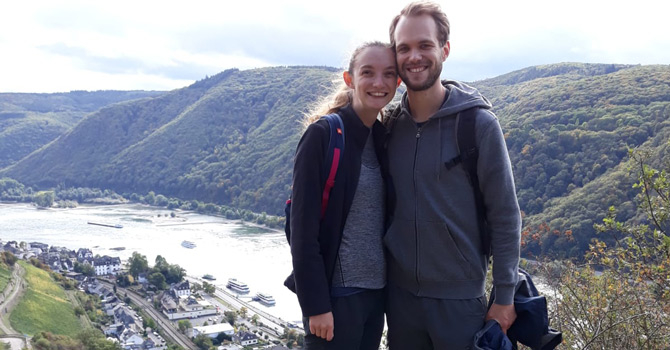 Right in Frankfurt's bustling city center, Consultant Marieke Hertel can easily access some of the city's most beautiful sites. For our Global Office Tour feature, she talks to us about what makes the Frankfurt office so unique. 
Hi Marieke! Thank you for taking the time to show us around the Frankfurt office. Would you mind briefly introducing yourself?
Hi my name is Marieke, I'm a consultant in the Life Sciences division. I've been based in the Frankfurt office for just over one and a half years now. I've also spent time in London, so I've already had the opportunity to check out two different offices.
That's great! In that case, what would you say is unique about the Frankfurt office?
We have a tradition of getting together every month on Friday to drink apple wine (which is a little bit like cider), get to know people, have fun, and enjoy ourselves. The wine is served in a "bembel", which is a small jug. Everyone in the office has their own glass with their name on it. We call this event a "bembel bust".
We've continued this tradition through lockdown by doing bembel busts over Zoom. It was a chance to spend quality time together, enjoy each other's company, and start the weekend on a positive note.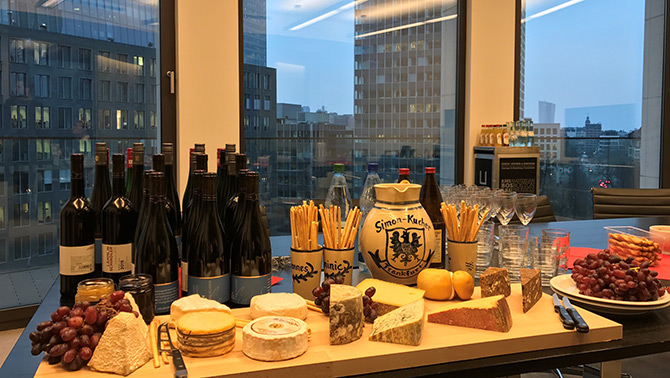 That sounds like so much fun! Would you say the office culture is quite social then?
Yes, I think the work-life balance is really good, actually. We all work hard, but prior to the pandemic there was always an opportunity to take a much-needed pause, and chat to a colleague in the kitchen over a coffee. Sometimes, if a team was working late, someone would order dinner for everyone. We'd chat, eat, have a break, and then get right back to work.
I miss making spontaneous plans with colleagues where we'd grab a drink outside of the office, and enjoy the city together. I'm looking forward to seeing everyone again.
Speaking of the city, what do you like most about living and working in Frankfurt?
What I like most about Frankfurt, and what I found most surprising when I moved here, is that it's a big city, but it has a lot of green spaces. You don't always expect that from a city like this. So there's a great balance between living the city life and, say, going on a bike tour along the river Main.
Our building is actually close to the Main, so even during work time you have the possibility to run along the river, and then have a shower in the office before going back to work. That's a great way to clear your head and focus.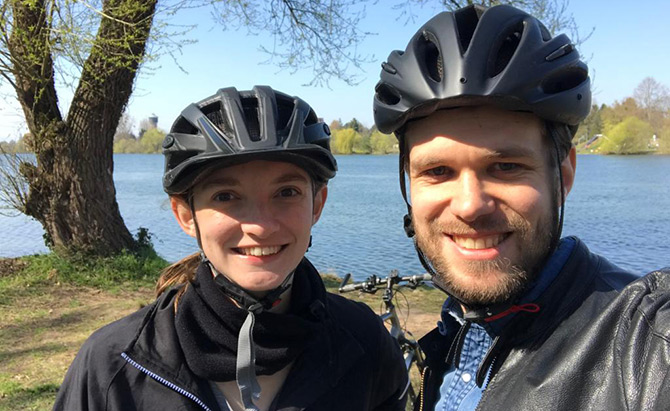 You mentioned bike tours, is cycling something you like to do?
Yes, I love going hiking, cycling, and salsa dancing. In Frankfurt there are plenty of places where people come together on the weekends and dance salsa outside.
I'm looking forward to going to the theatre as well, now that everything is opening up again.
What would you say is your favorite time of year in Frankfurt?
That's a very good question, because I'm always thinking about what my favorite time of year is in general. In Frankfurt, I think that it has to be spring. Winter in the city can be very cold and dreary. It's the time of year when you notice the tall buildings over the greenery of the city. Frankfurt comes alive in spring. Everything starts to grow, the weather is sunny and warm, and, for me, it always feels like something new and exciting is about to start.
What is a must-try dish in your city?
I would say Frankfurt's famous green sauce. It's made up of seven specific chopped herbs, and you can order it at any restaurant. You can have it with schnitzel, or with eggs and potatoes. It's something that you have to try, coupled with a glass of apple wine – absolutely delicious!
If you could recommend one thing to see while in town what would it be?
The best thing that you can do is walk along the Main so you can see Frankfurt's skyline. It's an impressive sight. You are also surrounded by the river and huge parks, it's where you'll find the atmosphere of the city all condensed in one place.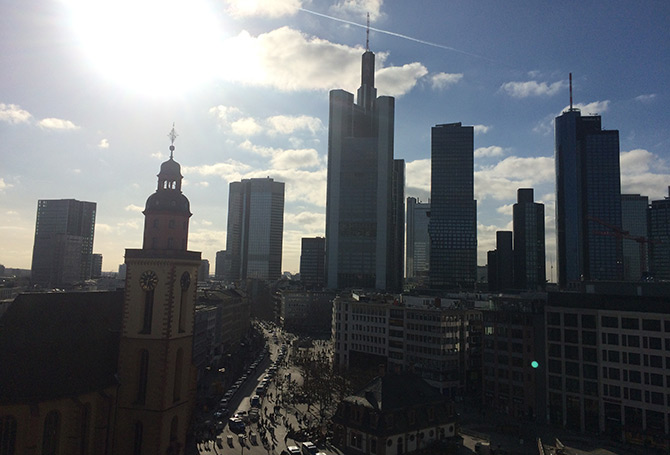 What a beautiful image! Thank you Marieke for taking time to show us around the Frankfurt office today. Who knows, maybe you'll get a few new faces at your bembel busts!