Industry
Banking & Financial Institutions
Corporate Banking
Situation and Objectives
In recent years, with the market flooded with Central Banks' liquidity, returns from plain vanilla lending products plummeted significantly.
As a consequence, banks strategically refocused on more complex, longer term and riskier lending solutions to defend margins.
The financial institution in question followed a similar path, choosing to invest more aggressively in structured finance deals.
Given that pricing a multi-year, mixed debt-equity financing solution with subsequent distribution on the secondary market is significantly more complex than pricing a classic amortizing loan.
In order to profit from the change in strategy the bank decided to improve its pricing and economic valuation tools.
Approach
Simon-Kucher undertook an in-depth mapping of all the contractual clauses, situations and peculiarities of structured finance deals, identifying the main sources of complexity: step-up interest rates, early repayment clauses, industry specific covenants
Subsequently, Simon-Kucher assessed the economic impact of each source of complexity in terms of future cash flows, risk mitigation and capital allocation.
In close collaboration with the bank's analytical team, Simon-Kucher defined the mathematical formulae to incorporate the financial implications of complex deals.
The process involved high level simulations to verify the impact of the new pricing models on the current loans portfolio, and micro simulations to make sure the price of the single deal was aligned with market prices.
All the calculations were embedded into a user-friendly pricing tool. The new device allowed business professionals to run multiple simulations on different scenarios, to assess the P&L of the deal and to identify the most profitable pricing strategy.
Overview Deals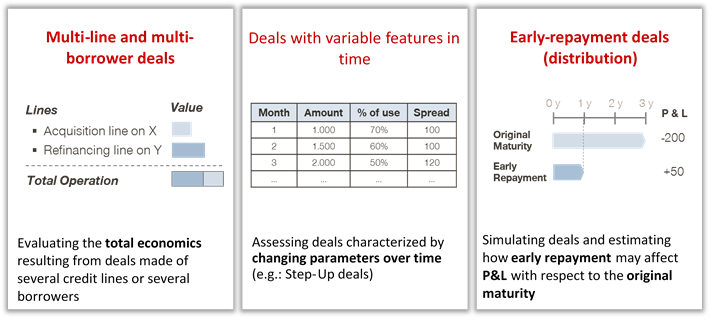 Results
The launch of the new pricing tool allowed the bank to increase its margins through a more professional pricing of complex deals.
The bank also experienced an operational benefit from this engagement: effective monitoring. Having all deals, even the most complex ones, standardized and recorded, allowed a better understanding of the market and a timely control over business perform
Impact
After 1 year, risk-adjusted margins were up by 3% considering that market interest rates in the same period dropped constantly.