Ambitious Vision for Digital Medicine: Interview with etectRx CEO Valerie Sullivan
September 28, 2020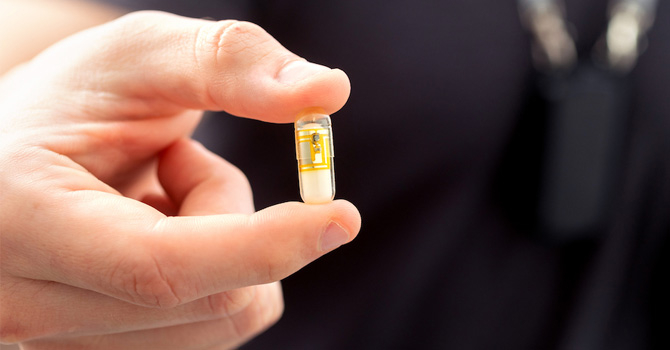 Making patients part of their own care and empowering them to be their best is at the top of Valerie Sullivan's agenda. As President and CEO of digital health company etectRx, her vision is to see a chip in every pill. But how could this work, and what are the benefits? In our recent interview, Partner and health technology & solutions expert Chuck Gammal caught up with Valerie to find out…
Valerie, thanks for joining us today. Having closely collaborated with etectRx in the past, we're excited to hear about all of the company's latest developments. But first, to kick things off, could you share a bit about your career and journey into the world of digital health?
Sure! I've spent my entire career in healthcare. I started with Pfizer back in 1990, where I spent 16 years in seven different positions across sales and marketing. Most recently in that tenure, I worked in the local market team, looking at ways to drive local market performance. I loved my time at Pfizer, but I wanted to see what it would be like to run my own business. I had that entrepreneurial spirit, and went on to run multiple specialty pharmacy businesses, including SpecialtyScripts Pharmacy, a business of Cardinal Health.
I was later recruited to run a patient services business at InVentiv Patient Access Solutions, which was an opportunity to demonstrate my ability to service the pharmaceutical industry. All my clients were in pharma, and my role was to help patients get access to their specialty medications. I worked at Pear Therapeutics, helping them build their patient service center. That's where I got my first break in digital health, leading to additional opportunities in the digital area while serving on the boards of several other companies. My expertise in both the pharmaceutical industry as well as digital brought me to etectRx. Our company is distinguished by our digital pill, and our ability to provide pharma a wide spectrum of services around that pill.
Tell us more about your digital pill technology. How does it work?
Our technology, called the ID-Cap System, is a fully ingestible digital pill, run on low radio frequency. It supports the process of confirming a patient took their medication. Most any oral pill can be inserted into our ID-Cap, and upon swallowing, a signal is emitted from the body. The patient puts on a reader to detect that signal, and that reader sends a signal to an app which then engages the patient via notifications, e.g. "Good job. You took your pill today." There is also a dashboard that can be viewed by the patient's caregiver. If they don't see an ingestion, they can intervene in real time to keep that patient on their therapy. This system can be used to support remote patient monitoring, as well as digital trials, clinical research, and dosing adjustments in real time.
Pictured: the digital pill from etectRx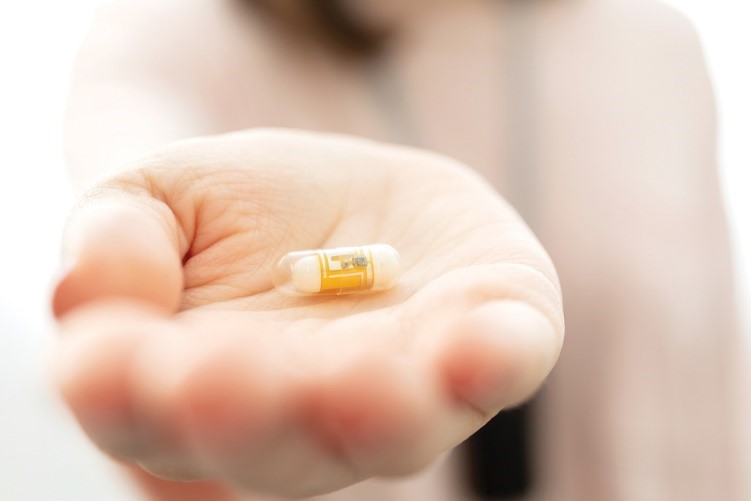 Last year we heard the exciting news that your digital pill received FDA clearance. Congratulations! What's your vision for the business further down the road?
Our vision is to have a chip in every pill. To achieve this vision, our approach for the next 18 months is to find pharmaceutical partners to work with us on our technology. Now, this might all sound like something from a science fiction novel, but it's not. It's just really good science. Of course, achieving our vision is going to require a lot of partnership and collaboration with pharma. But based on my experience in the digital arena, my understanding of the technology and how fast it can evolve, as well as how pharma likes to work, we're well positioned on the path toward a chip in every pill.
That's certainly an ambitious vision, and you emphasize that working with pharma will be crucial. What are some of the use cases for your technology?
First, there are many opportunities in clinical trials, e.g. products that are on the market and expanding to new indications. Our technology can help evaluate patient recruitment, since, with no need to visit an office for directly observed therapy, we can get more patients onto therapy faster, while still ensuring they take their medication. Moreover, the pharmaceutical industry really benefits when patients take their medicine correctly. We can provide real-time insights, e.g. into dosing regimens, so that immediate interventions can be made where necessary. This is especially valuable for high-cost specialty meds that come with a complicated dosing schedule. When we insert our technology, HUB / patient service centers might look at patient activity, and have tailored messages specific for outreach for those that didn't take their medications, and another message for adherent patients, making them even more efficient and effective in supporting patients.
Just thinking about other technologies out there, Otsuka is one name that comes to mind. How is what you're doing different or similar to technology developed by Proteus?
We are thrilled to know that a pharmaceutical company of the status of Otsuka has a commitment to digital pills. Our technology is really the big differentiator and we believe our technology is superior. The ID-Cap System has a wearable reader required to be worn only while a patient swallows the medication and the signal is registered. It is not a patch, needing to be worn twenty-four hours a day, which is a big deal. We have a strong implementation competency within our organization and will work hard to deliver cost-effective results for pharma.
Proteus was the first to go to market with their product, which is never easy. There were some adverse events associated with their patch. However, overall, digital health companies are brimming with potential. If a technology can show patients the impact of taking their medication, think about how much money that could save the healthcare industry.
What would you like to accomplish in the near term, knowing that this ultimate vision is to have a chip in every pill? What is mission critical over the next 12 to 24 months?
We have three goals to deliver on by the end of 2021...
The first is to keep moving along our technology roadmap, which includes making advancements in our chip and our reader, as well as continuing to meet all FDA guidelines. Our company has invested significant dollars in technology, and more than half of what we spend is on making the most cost effective, patient-centric, and highest quality chip for patient safety. We are also focused on taking our reader and making it into a wristband. In the future, I'd love to see our wearable reader be able to fit into a Fitbit or Apple Watch. Imagine a diabetic patient entering their physical activity, nutrition, etc. and combining it with their adherence to medication. Both the physician and patient themselves would be able to see the full picture of how they're managing their diabetes, and rather than being beholden to a third party, patients would become a partner in their own disease management.
The second aim is to be really successful with the four NIH funded studies that are underway. One has been completed, the other three are in progress. We are already hearing positive things from our NIH researchers, such as patients love the engagement, the accuracy, and improved adherence. A big goal of ours is to be able to support our researchers and get that word out.
Our third aim is to launch with pharmaceutical companies through demonstration projects, showing them how our technology can help them achieve their digital goals and their goals for their brand.
Healthcare is so complicated. There are many reasons why patients aren't adherent to therapy or the regimens prescribed for them. Often the system does not support patients to be as engaged as they could be, and they have neither the education nor the means to fully succeed. Our pill provides a way to track and engage the patient in real time so that they're part of their own care. They can see how taking their medication makes a difference, and are empowered to be their best. That's why I want to see a chip in every pill.
Valerie, that's a lot to accomplish in the next months. We appreciate you taking the time to share your thoughts on the business and can't wait to see more success for your team!
Thank you! And of course, I couldn't end this interview without acknowledging the fantastic support from Simon-Kucher. Your team did remarkable work in exploring monetization opportunities for our business, particularly in helping to shape our commercial strategy. We're looking forward to partnering up some time again in the near future.
Learn more about Simon-Kucher's work in digital health here or contact Chuck Gammal for more information.