Servitization: Service-based offering to Increase Revenue and Profit
June 02, 2020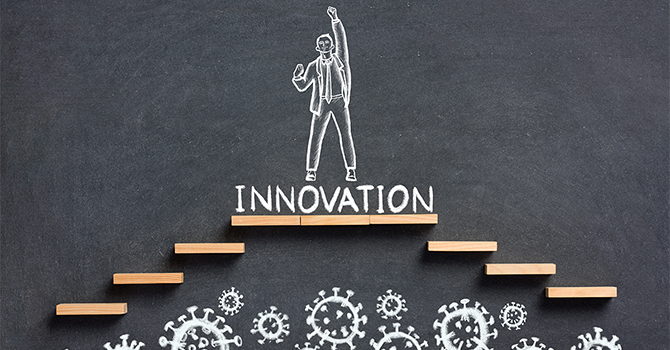 *The insights and recommendations shared in this article are based on the circumstances as of June 2, 2020
COVID-19 will undoubtedly have a lasting impact on the business world.  Service-based offerings are likely to gain importance for industrial companies: Where companies use their products to sell an "outcome as a service" (Servitization) rather than a one-off sales, customers can better manage their costs in times of strained budgets. How can companies stabilize their revenue and generate new sources of growth?
Even before COVID-19, B2B companies were facing a number of challenges: commodification, competitive pressure, technological disruption, big data/IoT, and stagnating growth with untapped market potential. What was the solution? Primarily, servitization. The current coronavirus crisis hasn't changed anything about this. On the contrary, the transition from traditional product sales to service-based strategies is becoming all the more relevant due to customer risk aversion and reduced cash flow. Servitization has emerged as a key strategy to drive growth and can help your company come out of the pandemic stronger than before.
Servitization – the cultural change in manufacturing companies
Sell the light, not the lamp: This is just one of many examples of the paradigm shift called servitization. This hypothetical describes a business model innovation for manufacturing companies where manufacturers add services to their products or even replace them completely. While changing market conditions and customer expectations are accelerating the transition toward a service business, new digital technologies are opening up endless possibilities.
As in traditional business, the starting point for product and service development is customer benefit. Servitization, however, offers companies the advantage of being able to build an ongoing and sustainable customer relationship beyond the transaction. With this approach, companies can successfully differentiate themselves from competitors, increase customer value, lower purchase barriers, and increase customer loyalty. To achieve this, manufacturers need to take a closer look at the following five topics:

Five steps for successful servitization
1. Strategy
Servitization aims at growing revenue. Service offerings help to create competitive advantages for the core business and increase market share. Furthermore, service-based business models can help to access new revenue streams.
2. Service design and offer
Segmenting the services offered is crucial for success:
Transaction-related services: Predominantly standard services related to product supply (e.g. delivery, order handling)
Lifecycle-related services: Services related to the lifecycle and maintenance of the product (e.g. maintenance, warranty, insurance)
Full service solutions: Monetization depending on the use or performance of the product (e.g. capital expenditure [CAPEX] to operating costs [OPEX] for capital goods)
Services that are not clearly defined carry the risk of being given away for free. It is therefore important to get an overview of all the services your company offers or may offer in the future. Which ones are already monetized, and which ones have potential? Which new services can fill gaps in the portfolio? What do optimal service bundles look like?
3. Pricing and monetization
Services offer the possibility of replacing one-off payments with recurring payment models, generating lasting additional income. However, recurring payments that depend on usage and performance also involve significant risk. If the service isn't being used, payments won't be made to cover the high fixed costs. A differentiated pricing model, such as the two-part tariff, reduces this risk, as starter packages covers one-off expenses for hardware and integration costs.
Whether companies make a profits depends on the price metric. The number of possible price metrics is nearly infinite, ranging from usage-based to performance-based to result-based models. The price level is usually determined using the fair value approach, i.e. by simulating the customer benefit.
4. Sales and value communication
Servitization also requires rethinking how the sales approach needs to differ from product sales. Organizational set-up, processes, and resources have to be adapted to the new service offering. If customers are used to the offered services being included in the product price, a transition period will be necessary.
5. Processes and infrastructure
Selling new services and digital solutions is often based on a subscription business and, unlike traditional product sales, enables recurring business. In order to successfully map the sales process, new software solutions and adaptations of the enterprise resource planning (ERP) system are required to support back-office processes.
Service-based offerings fuel future growth
Servitization is a business trend that manufacturing companies can no longer ignore if they are aiming for long-term growth in sales and revenue. With complete solutions consisting of products and services, your company can differentiate itself from competitors, increase value for customers, and win their loyalty. In this resurgent crisis, the shift to a recurring revenue model can be a matter of survival. Servitization offers greater resilience and valuable growth opportunities if the five areas of strategy, service design, pricing, sales, and infrastructure are successfully adapted to the new business model.
We are interested in your view on the potential of service-based offerings to fuel future growth in your business and share the study results with you in return.
Participate here