"COVID-friendly" Cancer Treatments – What Will Be the Lasting Impact of Interim Access?
January 05, 2021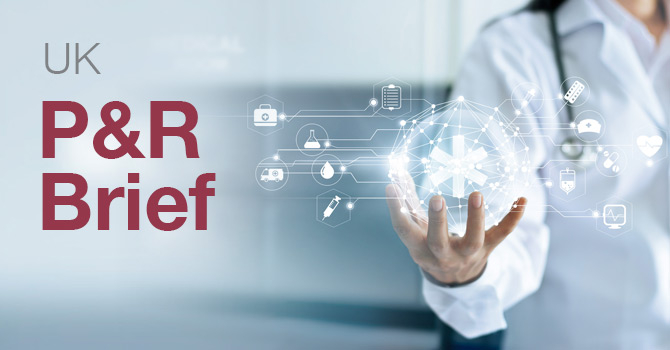 Interim access without a formal NICE appraisal has allowed almost 50 cancer treatments to be approved as "swaps" for existing options since August 2020. Our team of healthcare experts discuss "COVID-friendly" cancer treatments and discuss the lasting impact of interim access.
Interim availability has been achieved by demonstrating:
Lower immunosuppression, thereby mitigating a patient's risk of contracting/becoming seriously ill from COVID-19
At-home administration feasibility, such as an oral or subcutaneous formulation to keep patients out of healthcare facilities
Association with fewer side effects so there is reduced need for hospital admission
Lower resource intensity, including less training on services or dosing
Despite neither having UK marketing authorization nor having started the NICE review process, Opdivo (nivolumab) monotherapy has been recommended for interim use in mesothelioma instead of second line chemotherapy, in order to reduce the risk of immunosuppression*. A further example is Xtandi (enzalutamide), the targeted hormone therapy that has been recommended as an alternative to Taxotere (docetaxel) for newly diagnosed metastatic prostate cancer in order to reduce toxicity and potential need for hospital admission. Interim treatment options include:
Source: https://www.nice.org.uk/guidance/ng161/resources/interim-treatment-change-options-during-the-covid19-pandemic-endorsed-by-nhs-england-pdf-8715724381
Next steps: Although the interim treatment options do not have formal NICE guidance in place, and in some cases do not have UK marketing authorisation, they will remain available until April 5th 2021.
What will happen to these interim treatments at the end of this period? Manufacturers already benefit from the clause allowing patients who start a treatment during the pandemic to be allowed to continue until it is appropriate to stop or to switch to a different treatment. However, changes in treatment approach may be longer lasting. Is it possible that UK real-world evidence collected during this period could lead to faster positive NICE appraisals in the future? Will additional clinical experience with the product help drive a positive commissioning decision and early uptake? 
Manufacturers who are not directly impacted by inclusion may still benefit from lasting changes to the UK's delivery of systemic anticancer care. For example, increased use of easy-to-use subcutaneous/oral treatments, prioritization of shorter treatment regimens, preference for less toxic treatment options which have an increased likelihood of keeping patients out of hospital (i.e., chemotherapy alternatives), and greater openness to using therapies made available under the Early Access to Medicine Scheme (EAMS) before treatments formally receive UK marketing authorisation, etc., are potential lasting changes that could impact the delivery of care. 
*Note: Opdivo (nivolumab) in combination with Yervoy (ipilimumab) is currently in the NICE review process for untreated unresectable malignant pleural mesothelioma with the expected date of August 2021