Current Status and Future Developments in Innovative Therapy Funding in Switzerland
January 16, 2020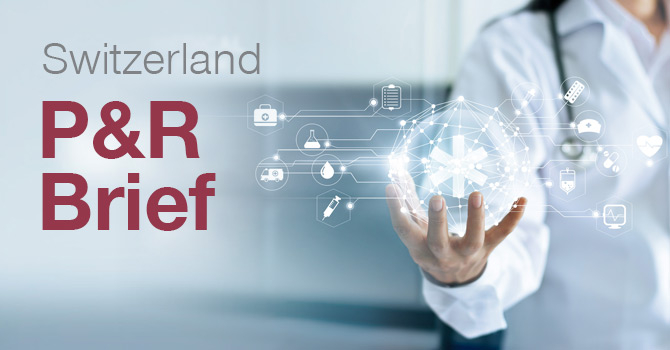 Innovative therapies with curative potential, such as cell or gene therapies, challenge healthcare systems because of their high price tag – particularly in Switzerland. In this article, we give insights into the current status and future developments of innovative therapy funding.
Innovative therapies with curative potential are being brought to thousands of patients around the globe. These therapies usually target a limited patient group that are affected by rare diseases, and often require just one injection. However, they are associated with a high price tag that is a challenge for healthcare systems (see table), who are often not ready or structured to support such costs. 
This is especially the case in Switzerland, where healthcare costs are mostly covered by private insurances on a regional level. These insurances are subject to a national framework set by the BAG/OFSP (Federal Office for Public Health), which publishes a limited list of drugs (List of Specialties – LS) that insurance companies have the obligation to reimburse. LS is built on the principles of cost-effectiveness, adequacy and efficacy. Given that these limited criteria could make it hard for some of the innovative products to make the list, the Swiss government has built some flexibility into the system, through the article 71b, c of the health insurance regulation. According to this article, insurance companies must still cover the costs of a treatment that is not on the LS if two conditions are met: The treatment must bring an important therapeutic benefit to the patient, and there is not an alternative, efficacious treatment included on the LS. Insurance companies have challenged this rule, which has led to an uncertain reimbursement situation.
However, yet another pathway does exist for some specific patients through the invalidity insurance (managed by the BSV/OFAS – Federal Social Insurance Office), which must legally pay for any drugs indicated for "congenital defects" for patients younger than 20 years old, as defined by a list edited by the Federal Council (highest executive authority). The criteria for coverage are similar to the inclusion on the LS, even if less formalized and transparent. In some cases, this pathway has proven to be successful, such as for Spinraza in spinal muscular atrophy, but it is still not ideal. Indeed, patients older than 20 years old at treatment onset or suffering from conditions that are not on the list of congenital defects cannot get any funding through this pathway. This has led to several cases that gained attention in the media, such as a successful crowdfunding for Spinraza by a 31-year-old patient. 
This partial funding of innovative therapies is not an ideal situation, as it keeps manufacturers from giving patients access to the care they need. Several attempts have been made to solve the issue, such as the decision of santésuisse, an association of insurance companies, to fund Novartis' Kymriah outside of any framework with a lump sum of CHF 200,000. There have also been some individual parliamentary interventions to increase/suppress the 20-year-old limit (although all have been turned down or withdrawn). However, these are all too limited to restore trust in the funding of these therapies, which is certainly not encouraging manufacturers to invest the costs related to a Swissmedic approval (Swiss EMA/FDA equivalent). Nevertheless, this situation may be resolved soon, as there are ongoing discussions in the Federal Commission for Healthcare Services and Principles to make a fundamental decision on how these therapies should be more systematically funded. Conclusions are expected in the first semester of 2020.
Product
Indication
Price
One time therapy 
Target Patient Age 
Congenital defect 
Luxturna 
Retinal dystrophy 
€690,000 (Germany) 
Yes 
None, but the younger the better 
No 
Strimvelis 
ADA-SCID (immunodeficiency) 
€594,000 (Italy) 
Yes 
1-6 years old 
No 
Kymriah 
Leukemia, lymphoma 
€320,000 (France) 
Yes 
<25 years old 
No 
Spinraza 
Spinal muscular atrophy 
Year 1: €420,000 (France) 
Year 2+: €280,000 (France) 
No 
None, but the younger the better 
Yes 
Yescarta 
Lymphoma 
€327,000 (France) 
Yes 
All ages 
No 
Zolgensma 
Spinal muscular atrophy 
$2,130,000 (USA) 
Yes 
<2 years old 
Yes 
Zynteglo 
Beta-thalassemia 
€1,580,000 (Europe) 
Yes 
>12 years old 
No
---
HEALTHCARE NEWSLETTER
Boosting revenue and profits in Life Sciences. Our experts share comprehensive solutions for the complex marketing, sales, and pricing challenges faced by healthcare players. Read our latest newsletter issue and subscribe here.
---