Digitalization in the Consumer Goods Industry
November 08, 2017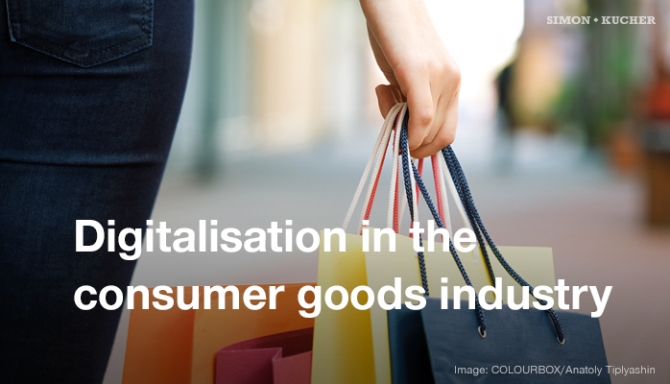 Consumer Durables: Emotion-driven solutions for digital price erosion
An impressive 80 percent of companies have invested in digitalization in the last 12 months. However, not even a quarter have managed to increase their profits, with many not knowing exactly which initiatives to invest their money in. Not surprising when you think about the broad scope of the topic: price erosion in the online shop, channel conflicts, and "appification" are just a few buzzwords that come to mind. Read on to find out how consumer goods manufacturers can get the most out of an improved customer experience to create digital added value for their customers and generate more revenues.
Findings
For many consumer goods manufacturers, online shops are now an old hat. Yet even though they have worked on making their own web shops more attractive over the years, their revenues remain disappointing, most in the low single-digit percent range. One of the main reasons for this is price. Hardly any consumer goods manufacturers will go below their RRP and so they automatically lose out against (online) retail and its 15-25 percent lower prices. This development is intensified by online price transparency and, as a result, an extreme focus on price among customers. To avoid conflicts between their sales channels, manufacturers continue to subsidize retail with discounts and purchase conditions.
When the buzzword digitalization makes its way into the executive meetings of consumer goods manufacturers, it's no surprise that it is often met with skepticism. The latest trend of developing an app for everything lies in the notion that "everyone is doing it, so should we". Too little thought is given to what exactly should be achieved by "appifying" an offer, to what extent this step is strategically important, and whether and how it can be used to make money.
But these strategic considerations are exactly what the industry needs to survive the digital transformation, and maybe even become stronger than ever before. Purely following an app-based strategy is not enough. The entire topic of "how do I reach my customers, and how do I respond to their requirements in a digital world" requires a fresh way of thinking. In this rapidly changing world, sensors, the IoT, cloud solutions, and unforeseen data storage capacities make the unthinkable possible, and consumer goods manufacturers can no longer continue with their old, product-focused, producer mindset. They need real customer-centric orientation toward solutions: What does the customer really want from a camera? A device? Photos? Memories that they can keep with them at all times? And what things related to the actual product do you need to create "unforgettable experiences"?
Only those who have answered these questions can enrich and emotionalize their offer with digital added value, e.g. with apps, smart IoT additional services, and cloud-based services. That way customers don't just buy the core product. Thanks to regular exchange with the manufacturer, customers are now revealing more about themselves, and this information can be used to build a strong and profitable customer relationship. What's important here is that manufacturers really think from the customer's perspective, and not just about their own product.
For example, an app for steering smart shutters first just seems a really cool gimmick – but when the manufacturers switch their perspective from the product to the customer, the digital added value for the customer turns out to be exponentially higher: Developed in cooperation with other household appliance manufacturers, a smart home app has the potential to not only control a customer's shutters, but also their heating, lighting, garden sprinkler, and washing machine. Much more than just a shutter app!
Pioneers in consumer experience
Grill manufacturer Weber has successfully made the step from a producer to a solutions and experience provider. Along with grills and accessories, Weber offers everything that makes grilling an event, from recipes to grill seminars. Their website, with its own login area, is of course accompanied by an app, providing information on everything to do with grilling, a digital grill timer, shopping lists, a community, and more. Emotions and strong images set the website's tone; Weber deliberately position themselves as grill lovers (their slogan is "by grillers, for grillers"), and communicate not only facts but also passion to their grill fans. There's also an elegant solution for the tricky topic of price. True, Weber's grills are no cheaper on their own website than with other retailers, but the customer is motivated to buy directly from the manufacturer thanks to attractive extras such as a high-quality (digital) grill thermometer.
Advice from our experts
Digitalization requires a broad and strategic mindset and is about more than just a sales channel! Customer behavior and expectations are changing and only those in tune with the times will succeed in an increasingly digital world. That's why every consumer goods manufacturer should have three things on their agenda:
Become a solutions provider! The paradigm shift from product to customer and the solutions to its "problems" are more complicated than you think, since you need to turn your entire company and its processes upside down. But there's no way around it. In a digital world of solutions, those who stubbornly continue to only sell products will become nothing more than component providers.
Develop a customer strategy before you "appify" everything! Clearly determine whether your brands and products are strong enough to create experiences and emotions, then get the customer to use your app or other additional digital services. If this can be achieved, cover the entire spectrum of services that is connected with the actual customer need. If not, form alliances with other providers instead of blindly following the trend.
Never forget monetization! Don't lose sight of the key principles: customer value and revenue potential. In the rapidly evolving digital world it has never been more important to invest in the areas of digitalization that generate more sales and profit.