Digitalization in the Life Sciences Industry
July 25, 2017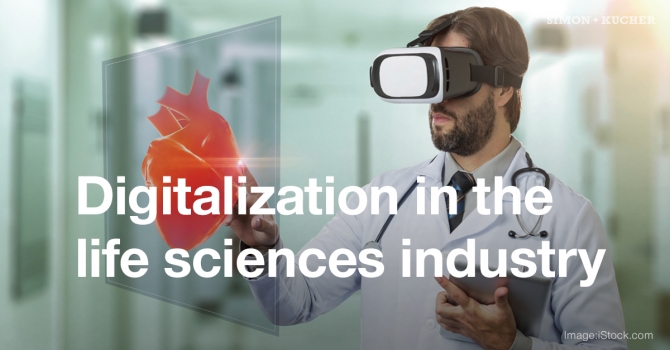 Analog: the necessary prescription for your digital strategy
Most life sciences companies feel cautiously optimistic about digitalization: Their market has relatively high entry barriers, operating there successfully requires a lot of very specific knowledge and assets, and as a result, the core business of big medtech and pharmaceutical companies largely remains free from attack – for now. Still, there is an undercurrent of nervousness, and many managers go to bed at night afraid to wake up and find some Silicon Valley startup has made parts of their business obsolete.

Insights
Digitalization is knocking at life sciences companies' doors. C-level executives are confronted on a daily basis with an endless number of digital buzzwords, technological possibilities, and the newest "must-haves." Meanwhile, many companies are unsure how to stay successful in an evolving digital world and are therefore vulnerable to knee-jerk reactions. Top managers who franticly send out the latest digital headline they've read that morning generally create a lot of chaos in their teams as everyone tries to understand the implications, and hastily following every new trend instead of thinking things through is one of the reasons why the industry's digitalization efforts represent a colorful mixture. Some work on digital marketing and social media activities to engage with physicians and patients, others strive to digitally enhance each and every device, and some can't decide and do nothing. However, the most advanced players are systematically preparing for a more digital future, forming or buying digital units, and undertaking C-level strategy exercises to define a digital roadmap and shape their future digital offer.
While it makes a lot of sense to map out the digital future on a top management level, this does not ensure future success. Digital units and teams for creating successful new offers require the right kind of people. Entrusting life science experts with digital ventures is a gamble for pharmaceutical and medtech companies, especially if the solutions they develop drift far away from the company's home turf. Successful digital offers combine both technological savviness and profound industry knowledge, and then fit perfectly to the company's customer base, product portfolio, and core business.
Developing digital services in adjacent fields to the core business is not the only option for life sciences companies. Another opportunity is to increase sales efficiency via digital sales tools. Equipping sales reps with digital devices can be beneficial for financial performance while at the same time improve customer relationships. Whether the sales rep is visiting a hospital or a payer, state-of-the-art digital sales tools provide them with accurate information about the customer's product and purchase history, preferences, conditions, and the economic impact of a product, service, or solution on their business.
At the forefront of digitalization
The most promising digital initiatives are closely linked to a life sciences company's core business. Merck's medication adherence platform for example helps patients take their drugs on time and thereby reduces overall healthcare costs due to fewer hospitalizations. It runs on many devices, from laptops to smartwatches, is very convenient to use, and allows the patient to include a Medifriend to help them keep track of their medication schedule. A key success factor for such adjacent digital products and services is understanding what value they deliver. Who is willing to pay for this value, and how much? Merck offers its app to patients for free while producing measurable outcomes for their partners across the entire healthcare continuum, from pharma companies, to insurers and providers.
Expert advice
Stay away from knee-jerk reactions to digital trends! Your digital strategy should feel like an evolving journey rather than a short-term reaction to the latest news headline. The good news is you still have time – but you should start now. 
Establish your strategic digital roadmap. In a world with countless new technological developments, the list of choices is almost limitless. To avoid getting lost, it has never been more important to have a clear vision of what you want, and what you don't. There's no need to try to accurately predict the next five years, but it's essential to understand three things. First, where you are today (capabilities, systems, processes, products, and sales), second where your customers are heading, and third how and where to adjust your company.
Stay on course. Revisit and adjust your strategic plan from time to time, but refrain from numerous and hasty knee-jerk reactions to the latest trend or minor comments about the market. There are significant hidden costs involved in changing the direction of your team too often.
Execute step by step. Digitalizing your company is a huge endeavor – from the business model, offer, pricing, and sales approach, to supporting functions and IT.