How to Tailor Portfolio Offerings to Appeal to European Customers
March 12, 2021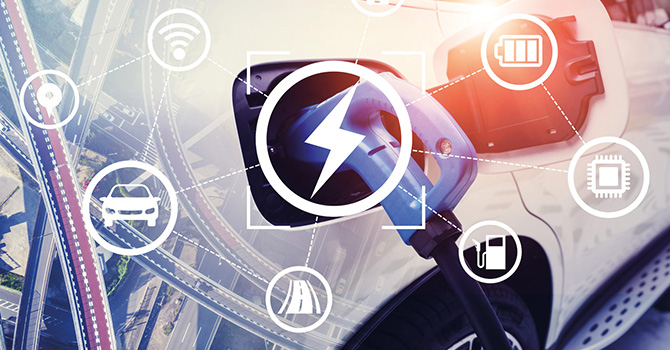 In our previous articles in this series, we discuss how carmakers from emerging markets can succeed in Europe, using the example of Chinese electric vehicle brands to highlight the importance of understanding the buyer's decision-making process. Continuing with the Chinese EV example, in this article we explore how entering the European market also calls for adjustments to the offering portfolio.
Buying a new vehicle can be one of the most expensive purchases a customer ever makes, closely behind buying a home. It is therefore not surprising that in Europe, over 35 percent of car buyers spend around one month deliberating their purchase before signing on the dotted line. Nowadays, it is rarely the case that a customer walks into a showroom and is immediately convinced by a sales rep's pitch.
As more and more Europeans regard their car merely as a transportation tool to get them from A to B, they are becoming more level-headed in their decisions. Lifestyle and feel-good factors no longer do the trick and it is becoming increasingly difficult for automakers to build competitive advantages around the car itself. Flashy showrooms aside, the offering needs to be in line with what the buyer is actually looking for in a vehicle.
Electric vehicle portfolio offerings in China
In China, the scenario couldn't be any more different. Chinese EV manufacturers are going all out to deliver an experience that stretches far beyond the vehicle, using the car as a customer touchpoint and introducing non-car related offerings to address customers' various needs in their daily life, such as socializing, entertainment, and working. Stores are not just places to buy cars, but locations that provide a luxury experience. Meanwhile, many EV manufacturers target young and wealthy consumers who see car brands as a symbol of social advancement, and online networks and word-of-mouth have become important strategic tools for promotion.
It is clear that Chinese manufacturers have a stronger focus on customer experience than their European counterparts. Without the burdens of heritage and ingrained expectations of what their brands should stand for, they have the freedom to start from scratch and put the customer at the center from the very beginning. However, many ideas are still in their testing phase and only time will tell whether all will be successful in generating demand and profits. And even if the NIO House concept proves lucrative in China, some elements may just be a step too far from automotive for European customers to digest. Would a customer in France take a cooking class from a car dealership? Would a German trust the sales rep to look after their kids, or host their birthday party above a car showroom? Could a car truly "go viral" in Europe?
NIO President Lihong Qin recognizes that the company's strategy needs to be tailored if and when they enter new markets, which he states in his interview with Automotive News Europe: "Europe is more of a mature market compared with China. Brand loyalty among car buyers in Europe is quite rigid. We need some time to make sure they understand our brand."
Will a car-and-beyond concept like NIO House work in Europe?
There is no denying that manufacturers need to become more than just "car makers". Our extensive industry experience shows that simply focusing on car sales and the aftersales business will no longer cut it. But does that mean becoming a full-blown lifestyle provider in Europe? We are not convinced, yet.
The trick is, you cannot assume what works in market A will fly in market B. The future clientele in the automotive industry will be diverse and diverging, and different retail formats will be in demand. Hyundai has so far seen success with its Experience Stores in the UK (albeit without the extra trimmings like daycare). In contrast, a new entrant would not have the same history in the market, and targeting the premium segment with a high-end offering like NIO House would be a bold and ambitious move indeed. Rather, we recommend other extensions to the portfolio that help alleviate European consumers' concerns about electric vehicles while offering a superior user experience and opening the door for potential revenue sources (alongside covering the key hygiene factors such as driving and aftersales experience etc.) These extensions would add resilience to the business on two fronts: profit orientation and customer loyalty orientation.
In this regard, William Li, NIO's founder and CEO, hit the nail on the head when he said "If you want to redefine an industry…you must redefine the user experience of this industry – just like a smartphone: hardware, software, and service."
Smart portfolio offerings that appeal to European customers
While not an exhaustive list, we highlight three offerings that stand a good chance of attracting customers when entering the European market.
1. Battery as a service (BaaS)
Electric vehicles have created new use cases and customer expectations, notably with regard to charging solutions. Here a redefined experience is evident in NIO's BaaS model, which provides charging and swapping of batteries for EV drivers. The prospect of future recurring revenues could allow the manufacturer to lower their vehicle prices, resulting in a lower entry barrier and improving their competitiveness in the market, potentially even qualifying for government subsidies. Moreover, this service would address customer concerns about a battery's life span and enhance its brand image as an innovator in the space. While other providers have failed with their BaaS models, including the Israeli startup Better Place, NIO is in a sturdier position thanks to its own fleet, a larger availability of power swap locations, and also the right timing against a backdrop of stronger EV uptake.
2. Home-charging infrastructure
Other automakers have added home-charging to their offerings, e.g. through the Wallbox charging network and card. Partnering with Wallbox to offer home-charging with vehicle sales generates additional revenue while meeting customer expectations around owning an EV. This could be a natural step for other EV providers too: our recent study on customer charging station preferences shows that home-charging is the most important charging location for customers and that they view this as part of OEM's offering.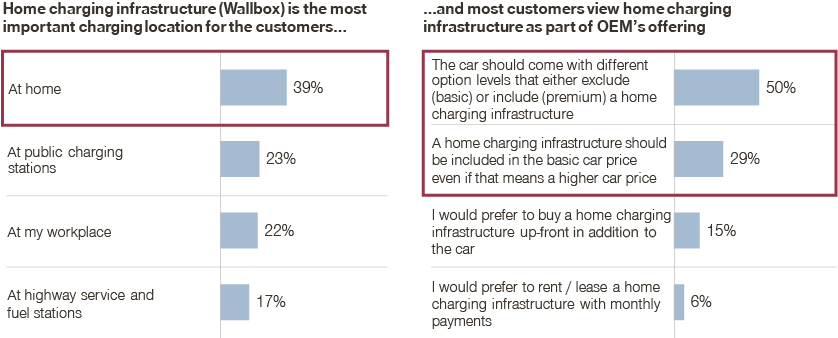 3. Over-the-air updates (OTAs)
Connectivity technology has also enabled automakers to generate more excitement among customers while creating new sources of value and revenue. These technologies include infotainment, heated seating, preventive maintenance, autonomous driving, and safety features. OTAs allow manufacturers to pre-install these locked functions and activate them on demand, often tied to software subscription services that enable customers to upgrade without ever visiting the store. Meanwhile, the manufacturer gains valuable knowledge on customer preferences and transactions, which can be used to create customized offers and increase customer loyalty in an ongoing relationship.
For example, Audi is expanding its digital business models as part of its consistently Audi strategy. Here, the manufacturer's goals include ensuring customer satisfaction, sustainability, advancing in eMobility, and creating an open digital ecosystem. In line with this strategy, Audi's Functions on Demand offering for its eight model series promises to keep customers "consistently connected." Updates are activated within seconds and users can enjoy a one-month test period in exchange for a small fee. The rollout is already fully underway in Europe and is expected to soon be available for other models. Results from Norway show that the biggest-selling functions have been the matrix LED and the light function packages. This highlights the importance of knowing the local market: "LED illumination is a great advantage in Norway during the winter, but not needed during the long days of summer."
---
Read more from this series:
Part 1: Six Pillars for Carmakers from Emerging Markets to Succeed in Europe
Part 2: How Upstart Carmakers Can Discover Their European Target Customers
Part 3: How to Tailor Portfolio Offerings to Appeal to European Customers
Part 4: Product Design: Helping Customers to Navigate Choice
Part 5: Succeeding in Europe: How to Build Trust through Price
Part 6: Automotive Newcomers: Sales Model for the B2C Market
Part 7: Automotive Newcomers: Sales Model for the B2B Market