Remote Selling in the Midst of COVID-19
May 11, 2020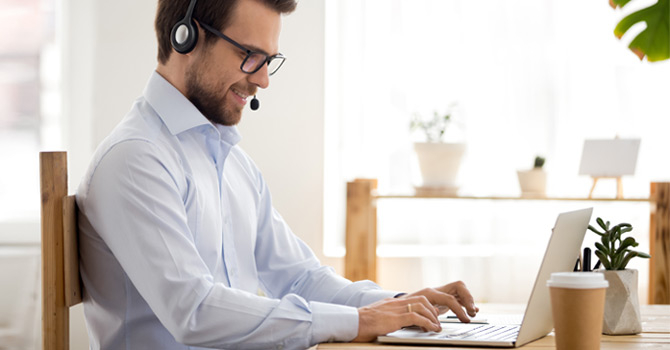 *The insights and recommendations shared in this article are based on the circumstances as of May 6, 2020
Businesses around the world are feeling the immediate impact of COVID-19 on their customers, suppliers, and employees. With lockdown measures enforcing remote working during the pandemic, the B2B sales profession has no other option but to adjust its highly interactive and in-person selling model. We share three key action points to support sales leaders in ensuring a smooth but rapid transition.

Before COVID-19, a B2B sales person would have told you that there were not enough hours in the day. Sales was very much an in-person activity, which involved several stretches on the road, traveling across the country to maintain relationships, then returning to a mountain of administrative tasks, expense reports, and follow-up. Working in B2B sales wasn't easy, even at the best of times.
Although technology companies have been selling digitally and remotely for a long time now, in industries such as chemicals, construction, industrials, and distribution the lockdown triggered by COVID-19 has come as a shock to a well-established selling model. Reps that have done their job the "traditional way" for decades are now being thrown into transition. Relationships can no longer be preserved over a monthly lunch meeting. Sales people suddenly find themselves with an abundance of time on their hands, but are left puzzled about what to actually do with it.
Remote selling is the new imperative. It is unavoidable, and is often addressed with one of two mindsets: You can either see this as a disruption to your business that "just needs to be fixed right now" — an unrealistic and shortsighted approach that relies on a swift return to pre-COVID times. Or, you can view this as an opportunity that will not only boost efficiency and effectiveness within your team, but also bring you closer to your customers, now and in the future. For those striving for the latter, we have prepared three key action points to ensure a smooth and rapid transition:
1. Protect your revenues
Protecting revenue at existing accounts is critical and should be top of the mind for all B2B sellers. Reduce the length of the sales cycle by ramping up on key deals where you are close to the finish line and have already overcome the time-consuming hurdles like contract negotiations. Then, among these late-stage opportunities, prioritize existing customers where you have already completed credit and legal checks and a strong relationship has already been built. Do you have the product to supply this order? Are the contracts ready? If so, have your reps focus their efforts and accelerate these deals. If there is capacity to target new deals, it's also more crucial than ever that sales reps spend their time on the right opportunities, rather than getting distracted by leads that have a low probability of conversion or revenue impact. Teams need to join forces to identify and prioritize the key opportunity areas. Previously, the traditional lead generation engine would have run with marketing (e.g. through trade shows and in-person events) who would identify leads and pass them on to sales.  Now, no one's doing trade shows, and probably won't be for quite some time. The sales reps who are normally inside and dialing will now be twiddling their thumbs, unless steps are taken to make their roles more efficient. Maybe they partner up with a field sales rep to exchange knowledge on how to identify and convert leads into opportunities, or team up with customer support. Although customer support's role is usually focused on solving problems, it can be adapted to identify the most satisfied customers or those where there is cross-/up-selling potential. It is worth providing them with a sales perspective, because, after all, it's much easier to sell to a customer you already have.
2. Set the salesforce up to succeed
What's the difference between a remote team that is unified and makes their numbers, and an isolated and disjointed one? Strong leadership. It's not just the sales reps whose tasks need to be redefined; the role of the sales leader will also take a new shape. Let's face it, even before the pandemic, there was little energy left for coaching. The training that did take place was likely for a manager to jump in the rep's car and accompany them on a visit to a customer. However, coaching is important now more than ever. It's not just a case of downloading the technology and the reps are good to go. Sales pitches, product demos, and value argumentation all work differently in an online environment, and require special skills to deliver them. Plus, longstanding relationships can only take you so far. Your customers need their businesses to continue to function, and they need you to adapt to how they are managing that. Otherwise, a digitally-savvy and experienced competitor may swoop in and use this as an opportunity to take your sale.
Meanwhile, sales reps are mostly commission-driven. If they're not out selling, they're not making anything. Bottom performers may not necessarily care — they're just going to ride it out. But for top performers, if they feel like they weren't protected or at least considered during the crisis, they'll jump ship at the next opportunity. Special incentive plans and management by objectives need to be in line with this new selling world. Strategic metrics should now focus on measures such as closing late-stage pipeline and fulfillment. Identify customer-deferred won deals and determine appropriate levels of reward/incentives, and lean heavily on your sales operations team during this time — this organization should modify, create, and realign reporting dashboards to increase visibility and decision-making.
Another pitfall is assuming that customers will still want to engage in the same way they did prior to COVID-19 once the crisis is over. Some of the changes they are currently making may be permanent ones. Many companies are just trying to keep the lights on so now isn't the time to come up with grand strategic visions. However, try not to exclusively focus on the immediate situation. "Survive on Zoom until this is all over" is a terrible strategy. 
3. Prepare for the uptake
While it may be difficult to think about the uptake, especially with so many immediate changes to grapple with, don't lose sight of your targeting, and take an operational approach. Continue to identify high-potential customers and create target lists for reps, but adapt your messaging so that it is relevant in a COVID-19 environment. This might mean switching from a model where you sell one product that they – or you – know everything about, to selling a solution that addresses your customers' specific problems. In times of crisis, customers are looking for someone who understands their entire business. Would you rather make two phone calls to get a hold of someone and place an order or would you rather click a button and have the product show up at your warehouse in two days? Value-selling becomes an integral part of the sales pitch. One feature just isn't enough. If a business is in trouble, the only way to solve their problems is through a solution.

In pre-COVID times, our surveys identified that almost 50 percent of a B2B sales rep's time was spent travelling and meeting with customers. An upside for sales during the crisis is that this time has now been freed up to be more productive. Instead of filling out expense reports or getting on flights, they can take time to prepare more tailored and segment-specific messages, convincing argumentation that defends prices and highlights added value, as well as answer sheets covering frequently asked questions. This is a unique opportunity to do all the things you didn't have time to think about before: value, digitalization, and connecting with customers in a new way.
Finally time for a new way of selling
The global consequences of COVID-19 will continue to impact businesses in the near-term, and the longer-term effects have yet to be felt. By protecting revenue, adjusting and optimizing the selling model to set teams up for success, and preparing for the uptake, B2B sales organizations can help minimize underutilized selling time. Enter the sales rep 2.0.