The Right Way to Address Customer Needs – A Data-driven Market Campaign
October 18, 2017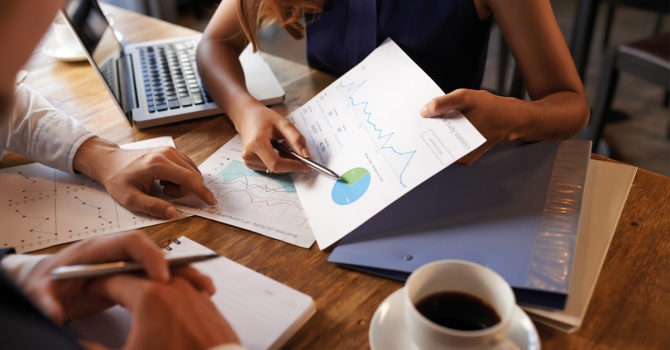 When it comes to advisory banking products, relationship managers are often overwhelmed in recognizing and reacting appropriately to both churn risks and customer development opportunities. However, using a quantitative customer behavior analysis, banks can identify the most important customer needs and churn drivers early on. A sales tool then provides this information to relationship managers in an intuitive way and supports a systematic market campaign.
A decisive factor for a bank's future success is its closeness to its customers. Only by understanding customer needs is it possible to maintain and develop customer relationships. However, customer needs change over time due to various factors, such as age, family situation, or technological innovations. In order to prevent potential customer attrition and bind customers in the long term, it is important to recognize these changes at an early stage. Additionally, a change in individual customer needs can open up cross-selling and up-selling opportunities for the bank, which should be addressed promptly.
"Recognizing customer needs and the associated opportunities and risks is a challenge for relationship managers."
However, how can relationship managers recognize ahead of time that their customers' needs are changing and that various opportunities and risks will arise as a result? For example, how can they find out when one of their customers is unwilling to continue making investment decisions alone and wants to delegate these decisions to the bank? Obviously, the relationship manager needs to promptly recommend a different product to this customer, preventing them from obtaining this kind of product from a competitor.
Therefore, in addition to daily business, relationship managers need to recognize relevant changes in their customers' needs and react quickly. Few banks have developed a systematic approach here. In most cases, the relationship manager must collect data on a customer's recent behavior from different databases. However, looking at the collected data individually is not enough. To gain insight into a customer's behavior and needs, customer data from different sources has to be intelligently combined. For example, a relationship manager looking at assets under management or the number of completed transactions will not be able to understand whether the customer wants to delegate their investment decisions to the bank. The relationship manager must look at the customer's portfolio in detail and gain an in-depth understanding of their investment behavior and decisions. This level of analysis is time-consuming and therefore cannot be carried out regularly for the entire customer book. In addition, it is often difficult for the relationship manager to decide which information is relevant for predicting customer churn or cross- and up-selling opportunities. Certainly, they know, for example, that customers who have inherited their assets have much higher chances of leaving the bank than regular customers. But it is difficult to determine what type of portfolio allocations or trading behavior differentiate churners from non-churners.
"Customer needs can be derived in a quantitative data analysis and be delivered to the relationship manager using a sales tool."
However, a comprehensive data analysis of customer behavior makes it possible to recognize churn risks at an early stage. The analysis examines how customers who have churned in the past differ from those who have stayed at the bank. The findings from this analysis are then used to predict the churn probabilities of all current bank customers. To conduct the analysis, hypotheses are formed on possible factors that could explain a customer's decision to leave the bank. It is important to check whether data on these factors is technically available at all. The data must then be extracted from the internal warehouse, and since it is partly information on customers who have already migrated, this sometimes presents a particular challenge. Next, the available data is analyzed to determine which factors in the past have contributed to customer churn. The result of this analysis is a collection of factors that favor a customer's chances of leaving the bank and those that reduce them. Based on the findings, the probability of leaving can then be predicted for each individual customer. The churn probability combined with customer value for the bank is the basis for prioritizing customers for the market campaign. Customers with high chances of leaving the bank and high customer value should be addressed first, those with a low churn probability and low customer value last.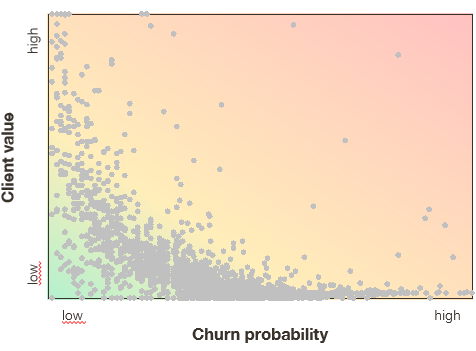 The next step is to develop measures for closely binding customers who are vulnerable to churn and for tapping into any unrealized cross-selling and up-selling potential. The measures should be individually tailored to the customer's profile. A measure may be very effective for one customer, while making no sense at all for another. Customers who are more vulnerable to churn can be offered more aggressive measures, such as a discount on the custodian and advisory fees. Customers with a lower churn risk can be offered lower-priced measures, such as a free of charge consultation.
All relevant information about the customer's banking relationship, their behavior, tendency to churn, and the proposed measures are then combined in a sales tool to support the relationship manager in a systematic market campaign.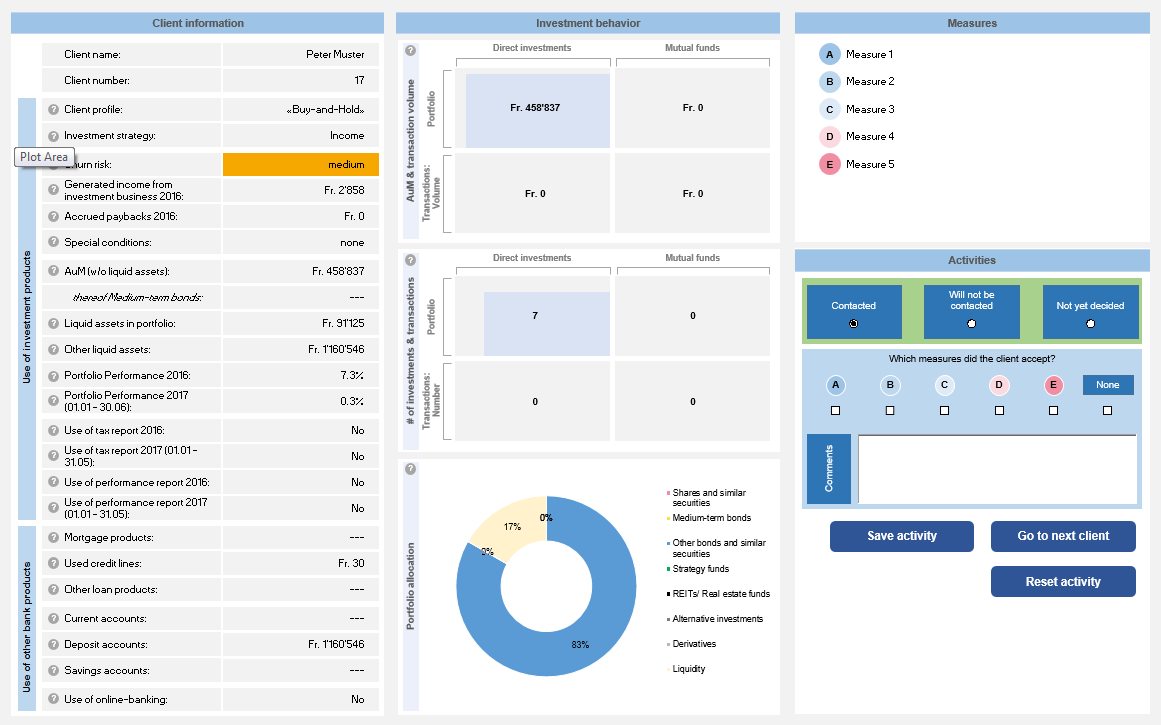 The relationship manager can then use the tool and the estimated churn probabilities to quickly identify which customers they need to prioritize. Before contacting a particular customer, the relationship manager takes a look at the customer profile in the tool and derives possible customer needs. During the ensuing conversation, the relationship manager then proposes sensible and promising measures from the tool.
The customer thereby feels much better taken care of, since the relationship manager does not simply offer generic proposals, but makes relevant offers. It is also easier for the relationship manager to find a meaningful entry into the customer conversation and to proactively respond to changing customer needs.
"A tailor-made, comprehensive consultation requires well-prepared, tool-based information and leads to higher customer satisfaction and less customer attrition."
By conducting a comprehensive data analysis of the available information on customers' behavior, it is possible to recognize churn risks and cross-selling and up-selling potential early on. If this information is provided to the relationship manager in an intelligent and intuitive way, they can provide their customers with a much more individual and proactive service.