Unlocking COVID-19 Diagnostic Testing Bottlenecks: Interview with Oguzhan Atay from BillionToOne
May 05, 2020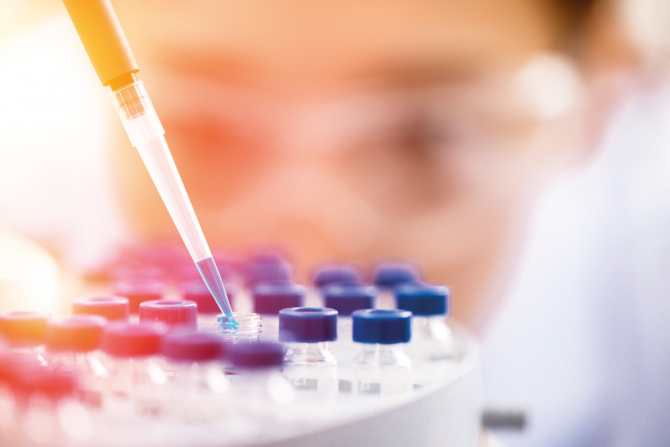 *The insights and recommendations shared in this article are based on the circumstances as of May 6, 2020
The lack of adequate diagnostic testing capacity remains a large systemic gap for coordinated pandemic response in many parts of the world, severely limiting the roll-out of practical solutions due to fear of infections returning. We asked Oguzhan Atay, CEO and founder of BillionToOne, a genetic testing startup that detects and measures diseases at the molecular level, to share his experience in developing a COVID-19 test.
Oguzhan, form your point of view, what are the biggest issues for the current COVID-19 crisis?
Oguzhan: I think that we have at least 12 to 18 months until a vaccine will be available. As a consequence, almost everyone agrees that we need to do significantly more testing in the meantime. The most conservative estimate I have seen is that we need to do 500,000 tests a day to reopen the economy and let people interact with each other.
So, our response needs to be much more coordinated. Even if we conduct one million tests per day, if we don't also do contact tracing or follow social distancing orders, the infection curve won't stay flat. And if we don't manage that, when the economy opens up again, there will probably be a few waves of infection before an effective vaccine is in place.
One major challenge is that especially in a large country like the US, it is difficult to ensure consistent policies across all states. If one state opens prematurely, and people are still able to move between states, they are jeopardizing the other states that have not yet opened.
The current deficit in testing worldwide is certainly one of the biggest problems preventing re-opening of the global economy. Could you tell us about how your company BillionToOne's test could aid on this front?
Oguzhan: At BillionToOne, we have developed a molecular counter platform that increases the resolution of cell free DNA by 1,000 fold to identify a wide range of diagnostics from single gene non-invasive prenatal testing to quantitative liquid biopsy applications for cancer.
We didn't initially set out to develop screening tests for infectious diseases, which is usually a straight forward process with qPCR (quantitative polymerase chain reaction). Or so everyone thought. That was until the US needed to conduct more than 100,000 tests per day. Then, everyone realized the current process and workflow are not set up for such high throughput testing.
To go into a little bit more detail, one of the bottlenecks of the usual process is the RNA extraction step.  Out of hundreds of Emergency Use Authorizations, a vast majority are based on qPCR.  The FDA is focused on safety, and tends to authorize things similar to what they have done before.  All protocols rely on the same kit manufacturing, and the RNA extraction kit manufacturers have sold more kits in the past two to three weeks than in past two to three years.  But the issue is that a factory can't suddenly scale 1,000 fold.  Maybe tenfold, or 30 fold, but you can't scale a factory to do 1,000 fold more every day. 
I see two main issues with diagnostic testing today: 
All tests rely on the same extraction kits. 

The FDA approves tests that are similar to each other. 
We decided to develop a COVID-19 test because the technology developed for one of our prenatal tests is very well-suited to high-throughput COVID-19 testing. With our test, the RNA extraction step can be bypassed, and thus eliminates the limitation of the number of RNA extraction kits needed.
Our test is based on Sanger sequencers, which are widely available. These machines drove the core of the decade-long Human Genome Project, and at the time, could do more sequencing in a day than labs were able to do in a year. Today, Sanger sequencers are still used in both clinical and academic settings, although not at full capacity. The idea is to use these automated machines for COVID-19 tests. Then, you can unlock 4,000 tests a day with a single machine, resulting in four million tests a day with 1,000 Sanger instruments.
It's reassuring to see that companies like yours are stepping up to apply existing technologies to help solve the world diagnostic testing crisis. What are some challenges you have come across as you roll-out your COVID-19 tests?
Oguzhan: There are many roadblocks. First, we are waiting on authorization from the FDA, and they are working through many approval requests right now. Second, the US healthcare system is very fragmented, not just in terms of state-level decisions, but also in terms of types of labs (e.g., hospital lab vs. central lab vs. academic lab). The key questions are: How do we use all the potential capacity and what is the relationship amongst all of the key players and decision-makers?
To overcome these obstacles, we are working closely with one of the largest labs, and they already have 20 Sanger machines that can do 100,000 tests a day. We are working together so that they can also obtain an EUA for their lab to use Sanger-based COVID-19 tests.
What does using your test look like, in terms of turnaround time and workflow, once you have FDA approval?
Oguzhan: Our test has less than a 24 hour turnaround time. The process once you have an emergency use authorization (EUA) is simple.  I could see that even in a lab with ten people, one could process 50,000 samples a day. It's stamping a sample plate to a reaction plate, and then incorporating it into a Sanger instrument workflow.
Current workflow regulations require all of these steps to be done within a single lab. In my opinion, this limits the potential capacity to run many more tests via a more distributed model. In terms of process, the first thing we need to do is to establish the process in a large central clinical laboratory so that it can be a broadly accepted practice. Later, depending on FDA's stance on this issue, it may be possible to move to a distributed model, where the accessioning and initial processing and amplification of samples can be done at a central lab, and then Sanger sequencing can be distributed to any labs that have Sanger instruments.
Earlier, we discussed the need for contact tracing and how it should be used in addition to testing widely. Could you speak about the trade-off between privacy vs. public health safety concerns?
Oguzhan: Privacy is an important concern here and the companies that facilitate the contact tracing or the transmission should be held accountable for destroying that data after it is used for that express purpose. 
That said, if there was one time in the history of modern society, this is the time I personally would be willing to share personal data.  We have given so much data to large companies for much more trivial reasons.  I think this is one area that is actually important and worth the sharing. It is critical for society. Prior to the crisis, I think it's fair to say that individuals have given too much data away for not enough in return, but this is a once-in-a-century pandemic.  I think we should use all the modern tools that we can.
Let's talk about your core business and the noninvasive prenatal testing (NIPT) you are doing. How has the roll-out been going and what are your plans there?
Oguzhan: We have had positive responses from physicians to our NIPT tests. We work with KOLs and presidents of societies and top universities who are now using our tests commercially. Medical societies agree that these disorders, like sickle cell and cystic fibrosis, should be screened for during pregnancy. But, the approach today has similar challenges to the COVID-19 response. It just doesn't work in the current healthcare system, especially the current carrier testing workflow that requires many steps. 
What is great about our approach, is that similar to the current methods, we screen the mother for carrier status, but we also tell the provider whether the fetus is affected by these disorders. And we only charge for the maternal screen, which is covered by insurance. We continue to grow more than 100 percent each quarter. Because of the paternal follow-up and amniocentesis problems, the current carrier screens miss more than 50 percent of affected fetuses, but we are working with large academic institutions to show that we catch 95 percent of babies with disorders, and keep costs the same while increasing sensitivity. Roll-out has been growing exponentially, our growth has continued even during COVID right now (albeit more slowly). 
One of the post-COVID changes is engagement with providers. In many instances, companies may have had a combination of in-house and field sales teams. Is that still the right model going forward? How is BillionToOne addressing these changes to physician engagement models?
Oguzhan: For maintaining relationships and current sales relationships, it's definitely possible using other interactions that are not face to face. But, if you really want it to grow, you still need to go and service accounts. Even as simple as: Use this kit, not that kit. Fill out this form vs. that form. A lot of things are still difficult to do in a virtual environment. At BillionToOne, we are putting initiatives in place to provide support to physicians beyond our core offering. For example, we are combining our test with a trisomy NIPT component, so that they have one test that takes care of all issues and they don't need to deal with two separate labs.
We also started offering complementary mobile phlebotomy for all our patients.  Providers fill out a form and fax the order. We then contact patients, arrange for mobile phlebotomy, and providers don't even need to see their patients.  We are doing all these things to make it easier for doctors to adopt our tests, and provide the same level of service to patients.
To wrap-up, what is some advice you would give to pre-commercial startups regarding crisis response?
Oguzhan:
I would tell them to focus on three measures:
Be flexible:

Have multiple plans and scenarios to approach (a startup goes through many phases, and it's important to be able to do things that have no precedent).  There may be opportunities to try to do something for customers or from a regulatory perspective that might not normally be possible. 

Look out for new opportunities:

 A crisis shakes up everything. A big competitor may go out of business, or you might be able to hire extremely talented and experienced people.  There may be some opportunities that come out of this, especially for growing business with sales reps.

Maintain existing relationships:

Even during this time, if a provider isn't providing business right now, you can support them in small ways that can make a difference in the long-term.
Thank you for these exciting insights!