Simon-Kucher's large global automotive practice has been advising manufacturers of passenger cars, trucks and agricultural and construction vehicles for decades. We create effective solutions to complex marketing and pricing problems, such as pricing for new vehicles, equipment strategies, package strategies and price structures for spare parts. 
Our solutions have had a significant impact on OEMs' top and bottom lines. As a result, we have established long relationships with many of these companies, which turn to us time and again to meet new challenges and stay successful.
A key challenge for automotive OEMs today is the growing diversity of customer preferences. Manufacturers must offer a much greater number of variations. This means automotive manufacturers and suppliers need consistent yet adaptable global price and product management methods for their vehicles, equipment and spare parts. With customer behaviour changing in many core markets, revenue models must change and become more flexible without sacrificing profits. We help these companies systematically examine their product and price structures and find additional revenue potential.
Our projects for OEM clients have included:
Creating price strategies: list prices, leasing rates and transaction prices
Establishing price positioning of new vehicles and equipment in different markets
Setting prices, price systems and price processes for spare parts
Creating and pricing equipment lines and packages
Quantifying marketing efficiency and promotion effects
Developing and pricing service packages
Developing new revenue models, especially in the face of growing digitalisation
Original Equipment Manufacturers Experts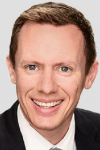 Managing Partner Australia