Simon-Kucher's large and experienced telecom team has broad expertise with all facets of the telecommunication industry. We have supported more than 60 telecom, cable and pay-TV clients worldwide – market leaders as well as challengers, in mature and emerging markets, from MNOs over the entire value chain to VAS providers, in B2B as well as B2C.
We have completed more than 150 pricing, marketing, sales and customer value management projects for this industry and worked for 10 out of the top 20 global telecom companies. Our teams have supported clients on all continents, and we are sure that no other consultancy can match our experience in our consulting area.
We are the top-rated consultancy in pricing, marketing, sales and customer value management; we help providers to become marketing and pricing champions. We have access to global benchmarks from the telecom industry and others. Our clients include service providers (MNOs, MVNOs), cable/pay-TV providers, wholesalers, handset manufacturers, infrastructure vendors, "Internet of Things" solution-providers and many others. We have helped them achieve an average improvement of 100-300 basis points in annual profitability; in some cases our projects even lead to double digit profit growth. We not only advise our clients' C-level with innovative and creative ideas that are customised, practical and doable; we also help them to implement them.
Our projects for telecommunications clients include hot topics across the complete go-2-market chain in B2B and B2C, such as:
How to overcome toxic pricing structures (e.g., WiFi threat) with future-proof data revenue models
Price/value alignment with new pre-pay and post-pay offer portfolios to improve monetisation
Strategic pricing excellence initiatives (mindset and capabilities) to return to price maker status
Strategic telecom revenue model/pricing 2020 enabling the digital lifestyle
New offer models for digital services
Short-term revenue boost initiatives to meet budget targets
Fix to mobile conversion strategy framework to make right decision on intensity between "Go/No Go" (including price model)
"Internet of things" and cloud services revenue and pricing models
B2B decision support Peer Pricing approaches to achieve more sales and more profit
Enriching product marketing with successful segment marketing measures (acquisition and base view)
Positioning, differentiation and steering of brands (main brand, second brand(s), wholesale partners)
Optimising sales channel play: reallocation of sales budgets to optimise channel mix and spend
Instituting customer value management to maximise value across the lifecycle
Telecommunications Experts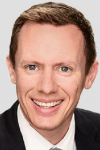 Managing Partner Australia