Runway to Simon-Kucher: High-Flyer Lands in Consulting
August 11, 2020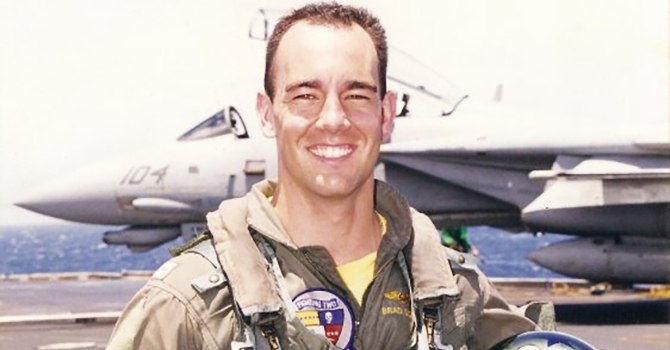 Sometimes our colleagues join us through diverse paths. Before "taking off" with Simon-Kucher, Brad Soper had already soared to extraordinary heights… He tells us about the turning points in his career:
Brad, today you are a Board Member of Simon-Kucher and located in Atlanta. But your former career differs completely from consulting work or business at all! 
My path to Simon-Kucher & Partners was nonlinear at best! After high school, several public universities tried to recruit me to play American football, but I chose the US Naval Academy for its mix of athletics, academics, and interesting post-graduation work opportunities. I spent the first nine years of my professional career as a commissioned officer in the Navy flying the F-14D Tomcat, including a couple of combat tours abroad an aircraft carrier. In case you are wondering, flying a fighter jet is like being on the best roller coaster ever! 
What made you change professions?
Once my wife and I started having children, I decided life in the military would be difficult with a growing family. Leaving the safety net that the military provided behind and applying to business school was stressful, as I only applied to the top programs in the US. Fortunately, I was accepted at my first choice, Harvard Business School, where I earned my MBA.
How did you join Simon-Kucher?
Initially, I worked for one of the big consulting firms and eventually transitioned into private equity as an operations advisor at a leading investment firm. While supporting a portfolio company, I enlisted Simon-Kucher & Partners to help me increase their profitability. The project was a big success, and I was so impressed with the team that the former project head didn't need to do much convincing to get me to join. 
So you were convinced to join. What convinced you to stay?
Since joining I really believed in what Simon-Kucher was doing and wanted to be a part of the growth story. I was initially worried about being able to sell consulting work to clients, but this was not a problem thanks to the sheer depth of our knowledge and functional expertise.