Wellbeing at Simon-Kucher: The Perks and Challenges of Working Remotely
July 19, 2021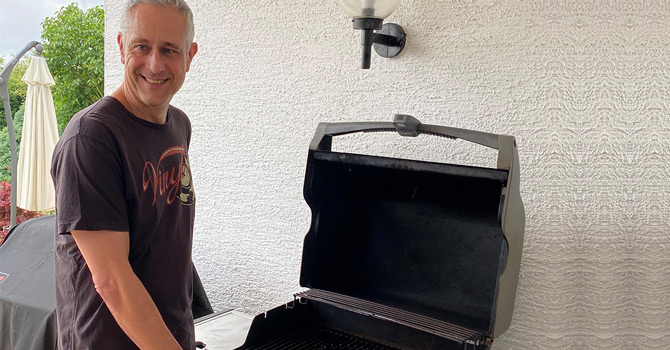 In April 2020, when working from home had only just become the new norm, our HR colleagues launched a series of Pulse Surveys to ensure that despite being physically apart, colleagues were staying connected, feeling positive, and adapting well to the change. The team has conducted 11 surveys so far, with as many as 800 colleagues participating each time. CHRO Stephan Butscher tells us why these surveys have been instrumental in implementing work from home best practices to support employees' wellbeing.
Stephan, looking at the results of our Pulse Surveys so far, what would you say some of the biggest challenges people have faced when working from home?
Unplugging after work remains the #1 challenge while working remotely, with over half of the survey participants consistently finding this difficult to do. So one of the things we have emphasized throughout the pandemic is that working from home does not mean working more hours or having to be more responsive than normal. We encourage colleagues to use the saved commuting time for their wellbeing, whether that's meditation, half an hour of office yoga, spending time with family, or going for a walk – whatever helps to reduce stress in a mindful way.   
Another one of our aims throughout home working is to ensure that everyone is staying connected. Whether that be regular check-ins from team leaders, or fun virtual office social events, we wanted to make sure that people were reaching out and sharing their experiences.
It was thanks to everyone participating, sharing, and generally connecting with one another that we were able to find what people were struggling with and ways in which we could support them through it.
What about the positives of remote working?
Well, it wasn't a surprise to see that the majority of colleagues were happy not to have to commute into work, and therefore could spend more time with family and friends, as well as gain flexibility as to when they could take breaks.
The second most positive aspect was the ability to cook more meals at home. Many colleagues have commented that they have tried new recipes, bought a new BBQ, noticed their oven for the first time, etc. So we decided to turn this into something positive for the team as a whole. We asked everyone to share their favorite recipes with one another and accompanied this with an initiative we called "Cooking with the leaders" – an opportunity for our partners and department heads to show how they prepare their favorite meals.
Were teams able to work coherently despite not being in the office?
Working remotely as a team and working together were areas that we consistently scored highly in the surveys. The majority of participants said that they were being treated fairly by their coworkers, and found that they had the resources to work as effectively from home as they would in the workplace. But we also understand that not seeing your team in person at all for many months in a row is not ideal. No online social event can replace the coffee chat in the office in the long run.
What resources would you recommend for those who wish to focus on their wellbeing but don't know where to start?
One of the easiest things is to vary your tasks so that you have the opportunity to get up and walk around regularly. You can also stretch while you are sitting or while you are walking. Replace some of your Zoom meetings with a phone call and both parties can go for a walk while they talk.
In March, last year, we started a regular virtual 20-minute "yoga at your desk" session run by a professional yoga teacher, Nathalie. It covers basic stretching and mobility exercises sitting or standing in front of your desk, so you do not need any yoga experience.
Last year we also launched a burnout prevention and stress management page on our intranet which shows the wide range of trainings we offer, available health resources, local support, etc. This is also where we publish our Quick Cards – short summaries detailing helpful tips to maintain wellbeing, work more efficiently and effectively and thus reduce stress, burnout prevention, etc.
One of our most exciting new resources is our partnership with Headspace. Since early this year every permanent employee can sign up for a free premium account. Headspace is a meditation app fantastic for beginners and those who wish to maintain good wellbeing practices.