Health Goes Digital: Why the Life Sciences Industry is Embracing Digitalization
June 07, 2019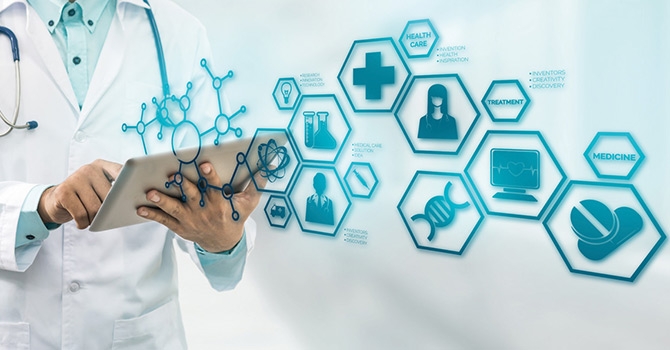 Digital health solutions have long been on the radar of life science companies but haven't been considered major strategic initiatives – that is, until now. Our short survey* of leaders from the pharma and medtech world revealed that digital health strategies and solutions are now at the very top of C-level agendas. Find out about the first result of the short study: the four key strategic opportunities identified by life science leaders.
72% of life science leaders see digital health solutions as an opportunity to develop new business models. The flood of new data points makes it possible to track performance with new data driven KPIs, opening the door to innovative contracting models, such as performance-based or risk-sharing agreements.
63% of pharma and medtech companies are aiming to gain a competitive advantage by complementing their core products with digital features. Digital health solutions could be leveraged to create differential value vs. competitors, particularly in more commoditized product categories, such as pacemakers or hip implants. Most companies will choose not to directly monetize these digital solutions and instead will generate lock-in effects to indirectly drive sales of their core products.
41% of life science leaders believe new digital solutions provide new opportunities to establish payer-provider partnerships. Building close relationships with payers and providers can help generate real word evidence or create new end-to-end solutions that cover the entire patient pathway. Digital solutions are also able to support payers and providers in optimizing patient care, clinical outcomes, and even financial impact.
41% of life science companies intend to create new revenue streams by positioning digital solutions as standalone products with their own profit and loss statements. This also means that 59 percent of life science companies aren't aiming to monetize digital solutions directly; they will leverage them to strengthen the position of their core products and collect data to fuel the R&D pipeline.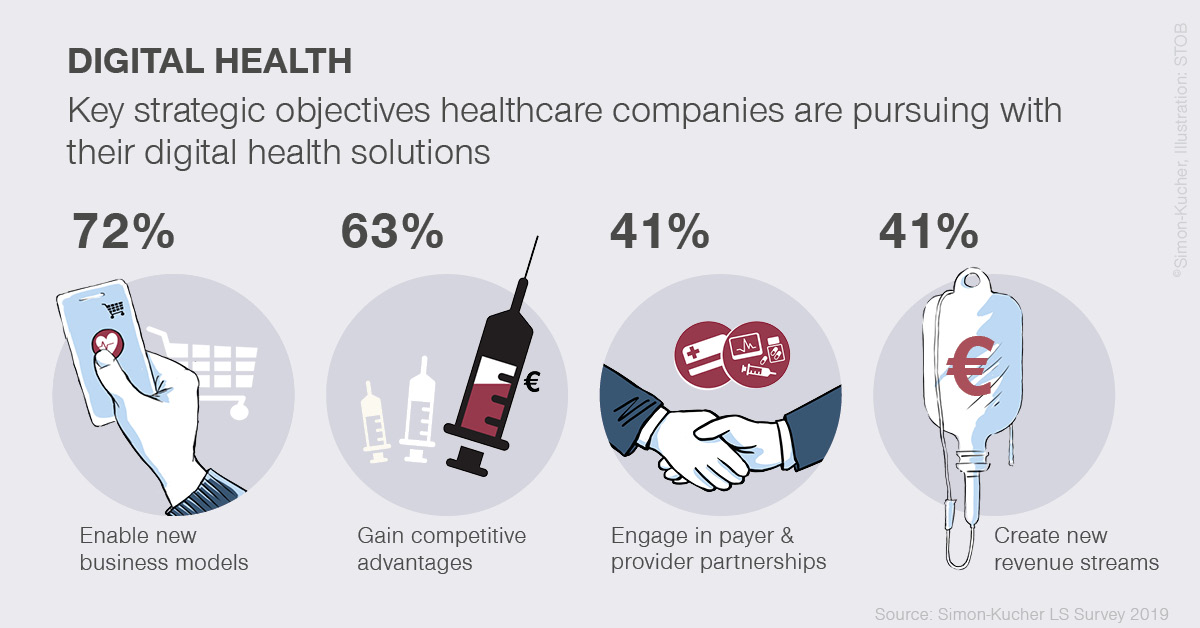 Conclusion: 
Life science companies that adopted a digital agenda early on and promoted the development of digital solutions will have a competitive advantage. Companies need to clearly define overarching strategic objectives for their entire portfolio as well as individual solutions. Once the objectives are clear, they need to determine which monetization model —direct or indirect—will fully tap the value of their digital health solutions.
What is your strategy to unlock the full potential of your digital health portfolio? Contact our digital health experts to discuss your objectives!
*Source: Simon-Kucher LS Survey 2019, N=32
Have a look at further insights on our series:
Facing the Digital Revolution: Life Sciences Companies Invest into Digital Health Solutions
Staying on Track: Action Items for Commercializing Digital Health