Retail Strategy: Foot Traffic Trends and Opportunities
October 11, 2018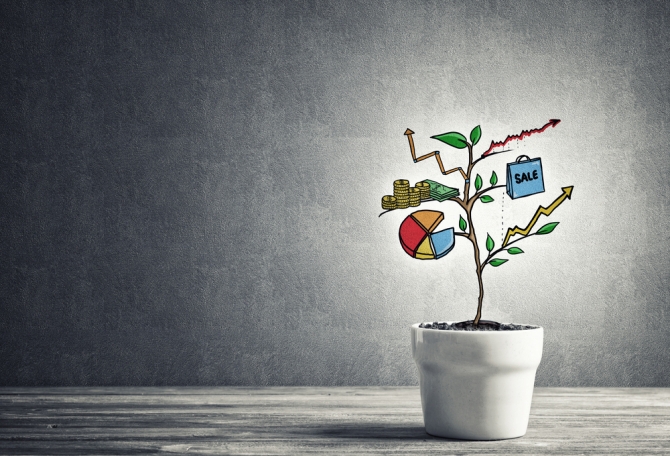 Toni Puigdellivol discusses the uncertain and challenging US retail landscape for apparel and footwear brands, and shares tips on how major retail stores can drive foot traffic through a successful retail strategy.
Apparel and footwear brands, especially non-athletic ones, are on high alert because of the recent US market evolution. Retail foot traffic is slowing down, and brick and mortar stores are closings at their fastest pace in years. Bankruptcies are also at their peak. True Religion filed for bankruptcy protection on July 2017, Nine West and J. Mendel followed on April and June of 2018 respectively.
If all this isn't threatening enough, the US government announced the fourth round of China tariffs on $267 billion of goods. This could ground some of the retail industry's most well-known brands.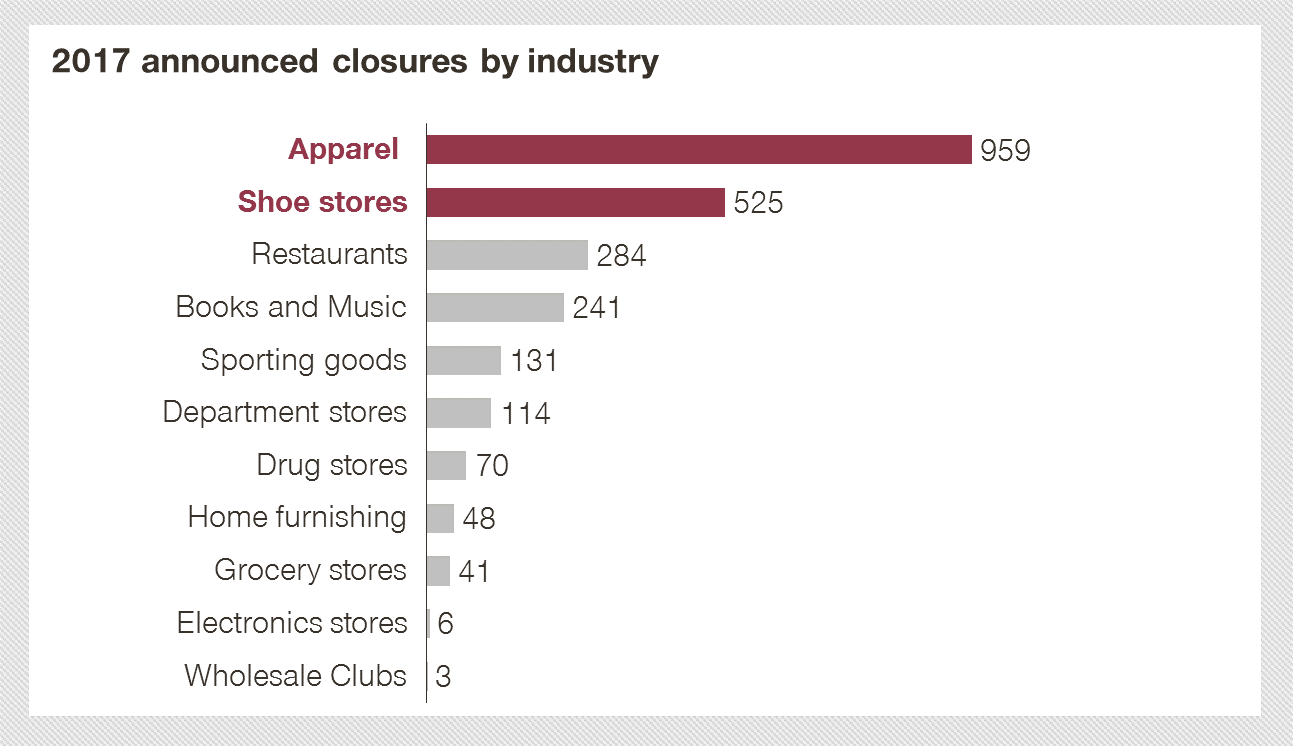 Source: Simon-Kucher and Partners analysis over Statista database
In this context, brands are working hard to improve their profitability by shortening their lead time, rationalizing their own retail store footprint, and expanding direct-to-consumer sales. However, these levers may not be enough to succeed. Companies should be looking into additional opportunities if they hope to drive revenue growth.
Let's get a clearer picture of what manufacturers can do to grow their revenues and profits. In this article, I will review the top four opportunities that consistently generate significant, measurable impact for apparel and footwear companies.
Opportunity 1: Curate your assortments
In recent years, most brands have significantly expanded their seasonal product offerings. Product teams have been rushing out new products to offer variety and innovation to meet a perceived consumer demand. However, this perception is not necessarily reality. Approximately 80% of the time shoppers are simply looking to replace an item they already have with a similar one.
This increases the complexity in all areas of the business. Collections are positioned at a greater markdown risk because, despite initial appearances, most of the new product launches are not profitable.
In a recent study we found that a brand could improve its profitability, without affecting sales volume, by simply delisting five products. These designs didn't capture new shoppers, and often traded down customers from more profitable items in the brand portfolio. Convincing the team to implement the changes was difficult because those items accounted for over 20% of the company's spring-summer collection revenues. However, we pilot tested the proposed changes in a few stores. Sales volume remained static while revenues and gross profit jumped 6% and 9% respectively.
Product teams should consider the impact of introducing a new product variation on the rest of the portfolio sales when planning their collections. Limit the number of product line variations have proven to generate high returns. Instead, focus on developing innovations that upsell current consumers or capture new shoppers.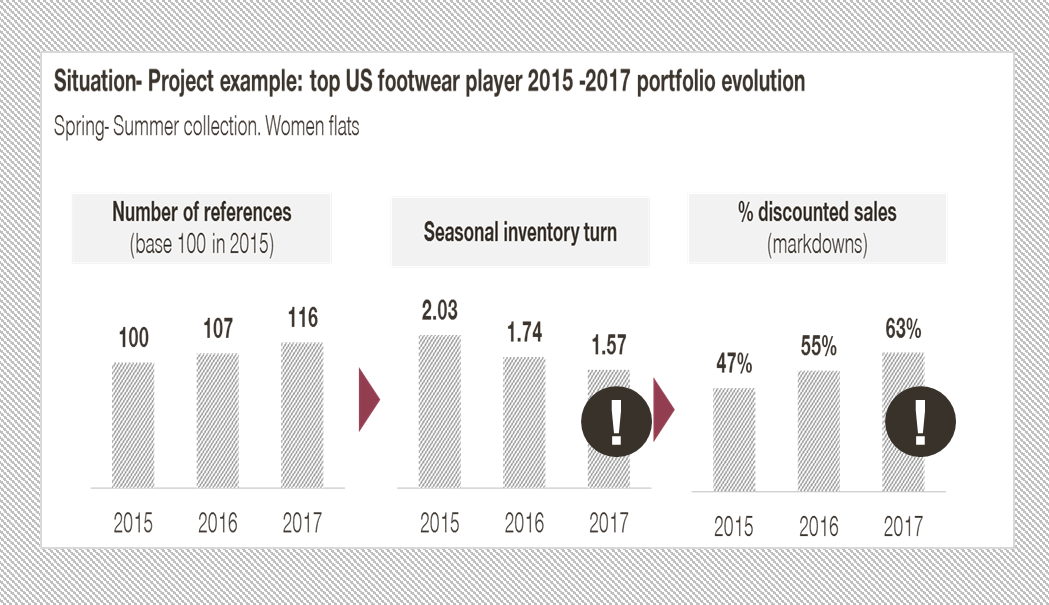 Source: Simon-Kucher and partners project experience; data anonymized to protect client confidentiality
Opportunity 2: Incorporate a value-based pricing approach
Most manufacturers and retailers currently use a basic "cost-plus" approach when pricing their items. They multiply the product cost by a required profitability factor to dictate their wholesale and retail price. Many companies do this, but it's not optimal:
Some prices end up being above consumer's willingness to pay, and products don't sell through.
Some prices are too low – below consumer's willingness to pay – and products sell through too quickly. This scenario is particularly tricky as brands celebrate these type of events and rarely notice how much money they left on the table.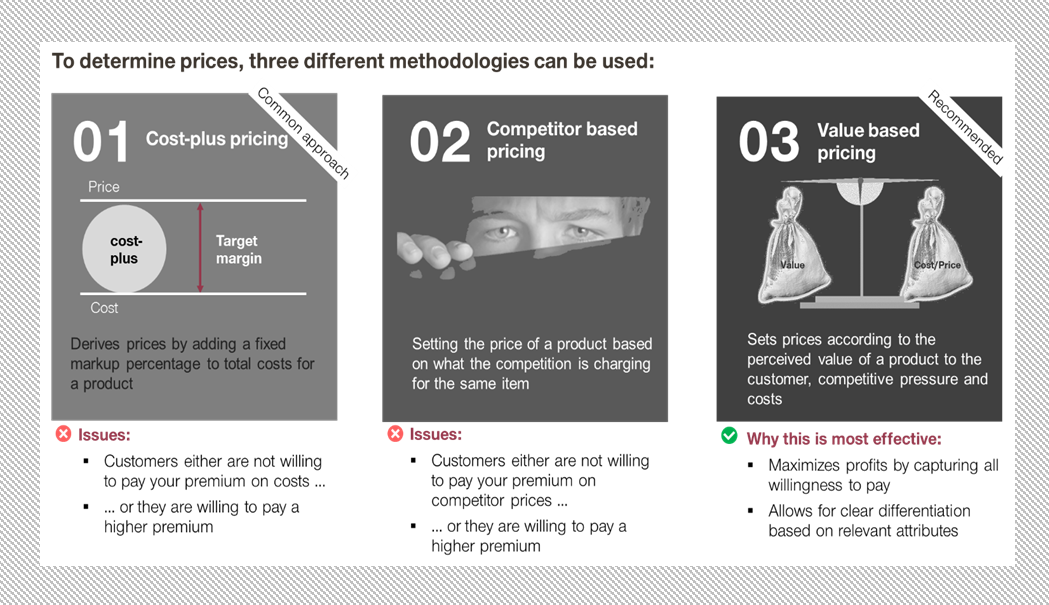 Source: Simon-Kucher and Partners
Manufacturers should build their price architecture with a value-based logic. This will maximize profits by fully capturing all the value they have created in their products.
This requires knowing:
Costs. It's extremely difficult to calculate how different scenarios may impact profits without this data.
Competition. This may sound obvious, but isn't always the case. In every project in which we've shown a client their actual top three competitors from a consumer perspective, there has been a surprise.
Competitive advantages and disadvantages.
Key psychological price thresholds. These are the price points the brand must cover in each category and determine the optimal price range.
Value drivers. How much each style, upper material, and extra features are worth from the consumer's perspective compared to other items in your product portfolio.
Beyond having quality products to sell, pricing may be the single most crucial factor for your business. Getting pricing right is the fastest, most effective, and sustainable way to grow profit. Companies can often achieve a 3-7% gross profit improvement by simply aligning their prices to shopper willingness to pay and competitive positioning. But the price lever is a double-edged sword: get it wrong, and your profits will shrink.
Opportunity 3: Improve the accuracy when planning inventory purchases
Deciding how much of each style to order has always been challenging because:
New product launches have increased on a seasonal basis, with limited historical sales data
Demand is highly volatile and strongly impacted by seasonal factors including design trends and weather
Lifecycle of seasonal products is short
Supply chain lead times are long
Still, in recent years, some brands have managed to dramatically improve their performance in planning and ordering. But those companies are still limited in number.
Most of the manufacturers still plan their sales volume based on the intuition of a handful of employees. Past sales history is also used to plan carryovers, however, few companies actually account for lost sales due to stock outs. Price levels, promotional plans, and new product introductions are the other significant demand drivers that are often overlooked. As a result, the overall level of accuracy is poor, leading to:
High inventory levels on products consumer do not want to buy
More and more mark-down sales
Bullwhip propagating through the upstream supply chain
Many planning teams have turned to one of the popular production-scheduling systems to improve forecast accuracy. But most of these systems are simply not up to the task. In order to limit markdowns and stock outs, brands can greatly reduce the cost of their forecasting inaccuracies by:
Taking into account stock outs and mark downs when incorporating historical sales
Including price level as part of the demand function
Incorporating consumer preference measures over new product launches
Including the impact of new product releases on other items of your portfolio
Integrating impact of marketing campaigns and store events on sales
Measuring the forecasting performance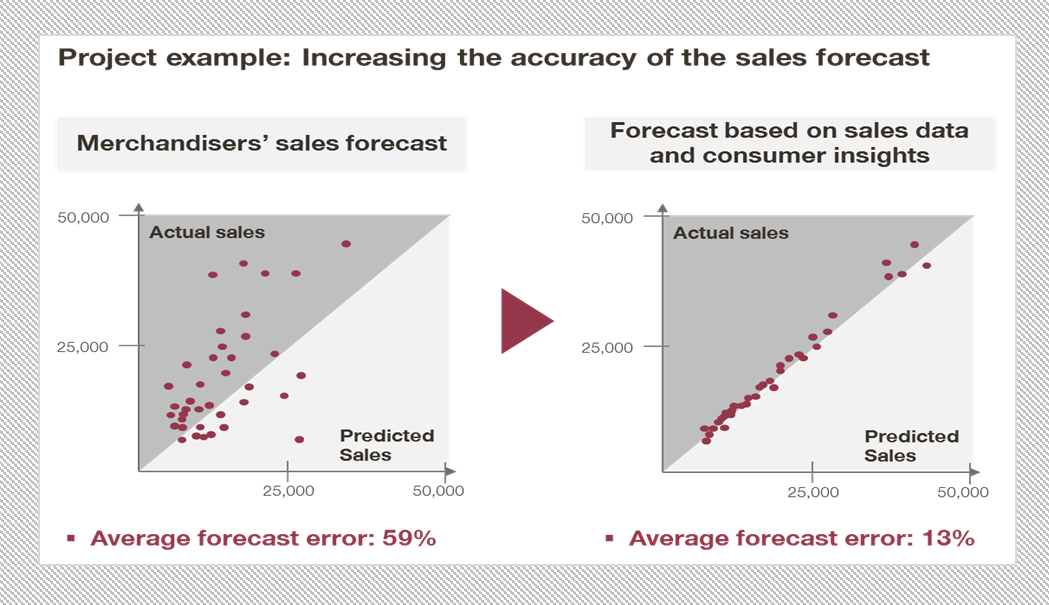 Source: Simon-Kucher and partners project experience; data anonymized to protect client confidentiality
Opportunity 4: Harmonize your trade spend and revamp your relationship with the traditional channel
Apparel and footwear companies usually don't consistently manage their trade spend across wholesale accounts. Data analysis frequently highlights two types of inconsistencies across clients:
Large share of unconditional terms: Most retailers have a large share of unconditional rebates that do not steer their behavior. There are also important differences between trade component buckets.
Large differences of depth: Commercially and legally undefendable price differences between customers. Discount level is not related to sales volume or sales growth.
These inconsistencies are typically amplified over time as online retailers and discounters have taken business away from traditional retail and department stores. With fewer people shopping in stores, and direct-to-consumer selling on the rise, the wholesaler -brand relationship has been strained. As a consequence, most manufacturers have compensated their retail partners with greater discounts.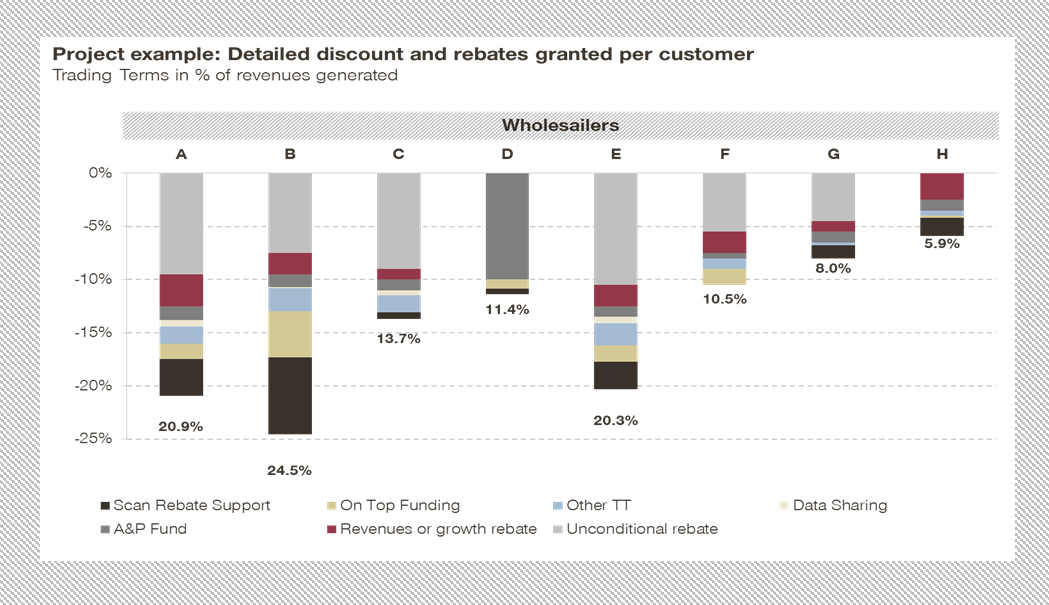 Source: Simon-Kucher and partners project experience; data anonymized to protect client confidentiality
Brands should change their mindset and earn more for what they spend. They should strengthen the relationship with retailers while simultaneously placing performance-based commercial terms and conditions.
The concept is simple: replace the non-productive terms with new, performance-based ones – i.e. distribution, revenue growth and assortment KPIs. This approach enables customer steering based on company objectives, with a fair, long-term differentiation in net prices across customers.
However, the implementation remains the greatest challenge. Brands that wish to capture this opportunity need to make certain they allocate enough resources to thoroughly prepare and monitor the implementation thoroughly.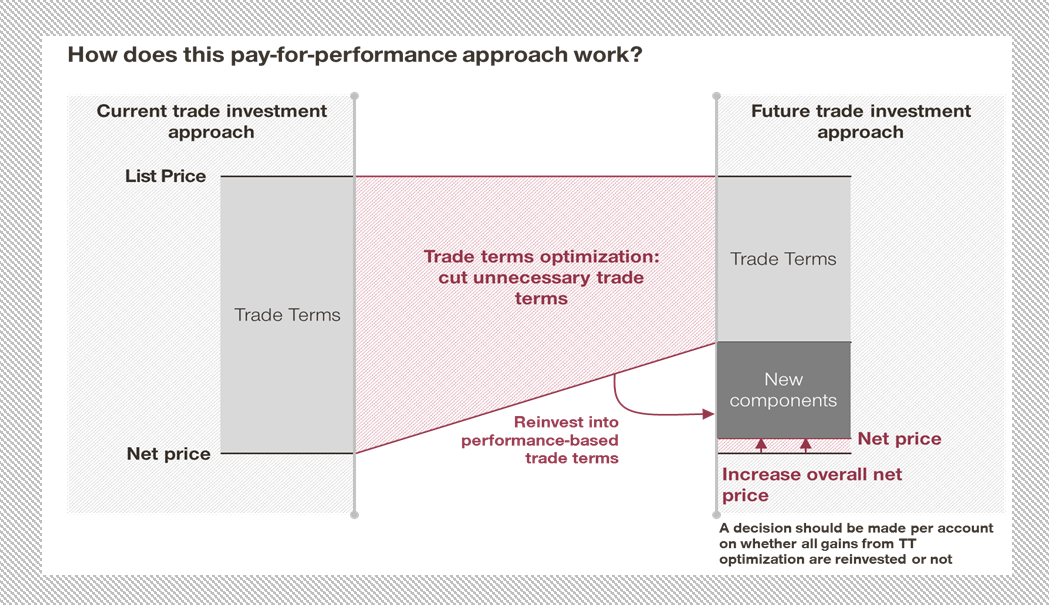 Source: Simon Kucher and Partners
Rethinking how you do business
The current landscape will affect most of the brands in the industry, forcing them to rethink how they run their business. The opportunities presented here are real and attainable. The investment and risks of implementing them are relatively low. And, as our experience indicates, the payoff is exceptionally high in both sustainable profit improvement and valuable strategic insights. With its great risk-effort-reward profile, these opportunities may be the most attractive ones available to most apparel and footwear brands.