RFT Report on European Supermarkets: Dutch and German Chains Outperform their Peers
October 29, 2019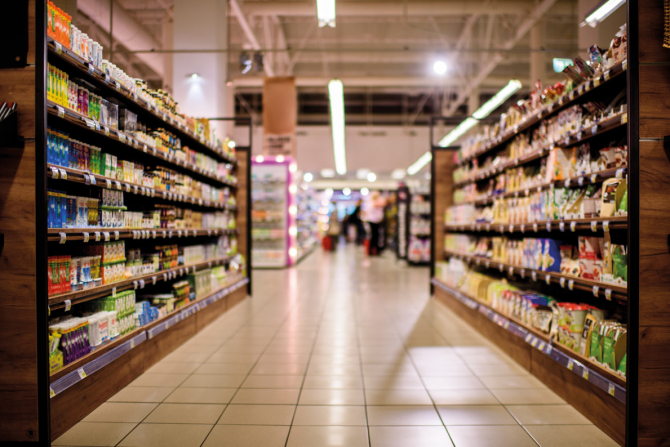 We recently launched our new revenue-flow-through (RFT) methodology to forecast the impact of topline uplift on enterprise value. In this first edition of the Simon-Kucher RFT Report, we focus on European supermarkets, with one clear winner: Dutch chain Ahold is in the top position to grow, with a potential share price increase of 4.5%. Plus (Netherlands) and German supermarket REWE also display strong pricing potential.
In today's dynamic and evolving business climate, small levers have a big impact. Digitalization, big data, omnichannel, and automation are changing all levels of business. The retail sector has experienced the profound effects of these mega trends, perhaps more so than any other industry. Supermarkets have increased their service level in recent years, and their brands have become more specialized. These refined value propositions represent an opportunity to optimize pricing for growth. 
That's why, in our first ever RFT report, we compare European supermarkets and their potential to drive enterprise growth through pricing.
Dutch and German supermarkets lead the way
This quarter's RFT report reveals that the majority of European grocery chains have significant potential to increase enterprise value, with Dutch and German supermarkets outperforming their peers. Especially impressive is publicly-traded Ahold Delhaize, with outstanding revenue and growth potential. In our report, we identify that the Dutch supermarket Ahold could realize a 4.5% uplift in its share price through pricing measures. We've also identified two strategic initiatives for Ahold. Increasing consumer demand for ready meals and a higher willingness to pay for convenience represent distinct room to improve the topline, while the continued growth of the healthy lifestyle food segment represents an opportunity to capitalize on a willingness to pay for healthy alternatives.
Plus (Netherlands) and German supermarket REWE also have high EVP and uplift. Plus could realize a 3% uplift in its share price (well above the peer group median of 2.0%). Similar to Ahold, the chain can benefit from a growing demand for healthier, green products. In addition, changes in shopping behavior and channel preferences due to urbanization and an aging population create new opportunities for Plus to improve the top line through pricing and retail revenue management. 
Meanwhile, REWE Group (uplift of 2.5%) is investing heavily in digitalizing its operations and increasingly focusing on delivering an omnichannel experience. As an early mover in "omni," and driven by its industry-leading customer experience, REWE is also in a strong position to grow.
How do the winners compare to their European peers?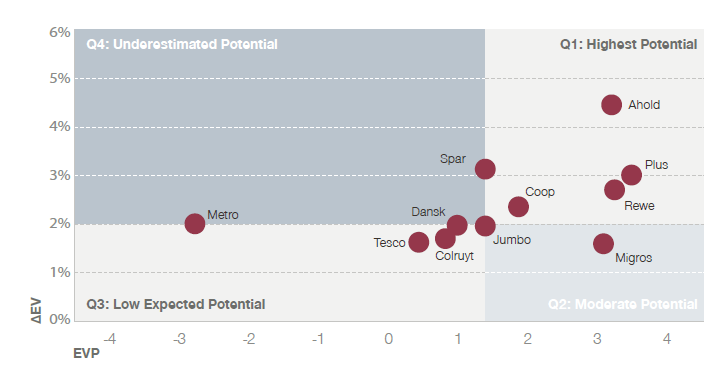 Dutch supermarket Coop (2.3%) is another strong performer, while, Jumbo (1.8%) is the lowest performer in the Netherlands, slightly below the 2.0% median.
As the market leader in Switzerland, Migros has both high EVP and uplift, indicating strong market expectations for its pricing potential as well as high modeled enterprise value uplift from pricing improvements.
British chain Tesco (1.5%) and Belgian chain Colruyt (1.7%) have low pricing potential compared to the peer group, but their EVPs and uplifts are still positive. The low potential also comes with good reason. In the first quarter of 2018, Tesco decided to keep its prices at approximately the same level as 2017 to shield its customers from inflation, while Colruyt continues to invest in the expansion and refurbishment of its existing stores.
French supermarket Metro, however, has a relatively low EVP score. This is due to the devaluation of the company following disappointing results in a number of individual markets.
About the report
Focusing on a different industry vertical every quarter, the Simon-Kucher RFT report is a hallmark for top-line performance. It ranks companies by their pricing opportunities and growth potential using two prescriptive metrics: 
EVP (enterprise value of pricing)  which indicates the potential of pricing in a company's growth. The higher the EVP number, the greater a role pricing can play in driving growth.
RFT (revenue flow through), a percentage of enterprise value, indicating projected uplift due to a 1% increase in the topline.
The RFT report provides real insights into how effectively a company can use pricing to drive its enterprise growth compared to the relative performance of industry peers, and facilitates companies in justifying to shareholders why they need to invest in pricing.  Download this quarter's full report here.
Stay tuned for next quarter's RFT Report, where we will assess the revenue flow through of European fashion companies.