Staying on Track: Action Items for Commercializing Digital Health
June 19, 2019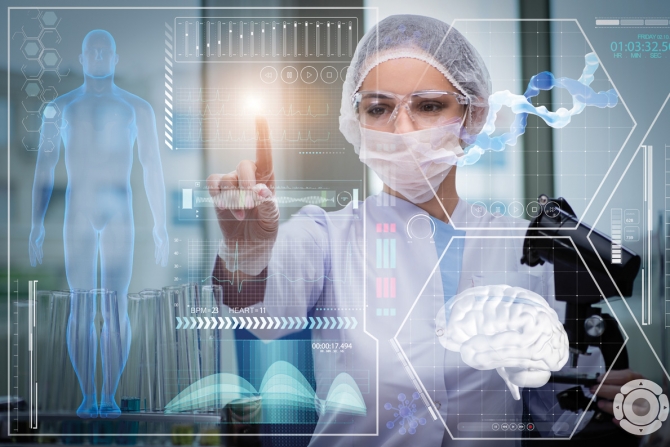 Our previous posts focused on the key strategic objectives and investment categories of life sciences companies embarking on their journey to go digital. What we have not yet covered are the most important action items to successfully commercialize digital health solutions. Keep reading to find out what healthcare companies are doing to achieve their commercialization objectives.
65% life sciences leaders see having compelling evidence on economic cost savings (e.g. data from reference centers, clinical studies) as the most crucial success factor to successfully commercialize their digital solutions, many companies still fail to provide it and lack a clear roadmap on how the evidence should be generated.
58% of health and pharma companies express that identifying innovative payers with strong digital agendas is a crucial commercialization driver. In decentralized payer systems such as Germany (sick funds) and the US (commercial plans), we see significant differences in how individual payers tackle digitalization – some are more receptive to selective reimbursement. But we also see new legislation drafts which facilitate market access for digital health solutions and will eventually lead to a broad adoption by payers. Still this an ongoing process and will take time to be implemented.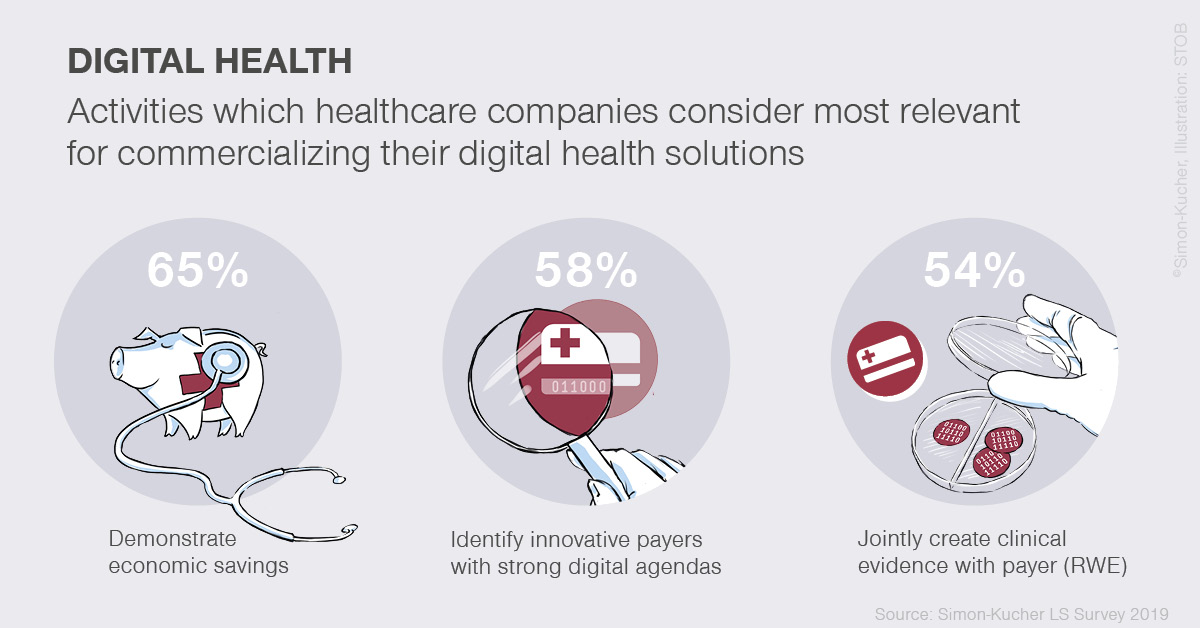 54% of life sciences leaders plan to cooperate with payers to create clinical evidence and reduce the payers' skepticism. Jointly creating real-world evidence is key to overcome a lack of clinical evidence, setting the stage for innovative contracting models and reducing the financial risk of payers. In Germany a new legislation draft proposes that companies with a lack of compelling evidence are granted 12 months temporary access to generate real-world evidence.
Conclusion:
A wide range of activities has to be carried out to successfully commercialize digital health solutions, but we have pinpointed the top three: demonstrate cost savings, identify innovative payers, and jointly generate clinical evidence. In addition to these top 3 action items most life science leaders also expressed to engage with physician and patient associations from an early stage to generate a market pull for their digital solutions. A broad market pull would reinforce the necessity of permanent market access and broad funding. All of these activities are interrelated and cannot be seen independently. For a successful commercialization of digital health solutions all of these action items should be considered.
What are your key action items for the successful commercialization of your digital health solution? Reach out to our digital health experts to sharpen your focus on the right actions.
Stay informed: Check our insights on
Life Sciences key strategic objectives and investment categories to go digital!
*Source: Simon-Kucher LS Survey 2019, N=32