What Your Business Can Learn From Amazon's Recent Price Increase Announcement
May 03, 2018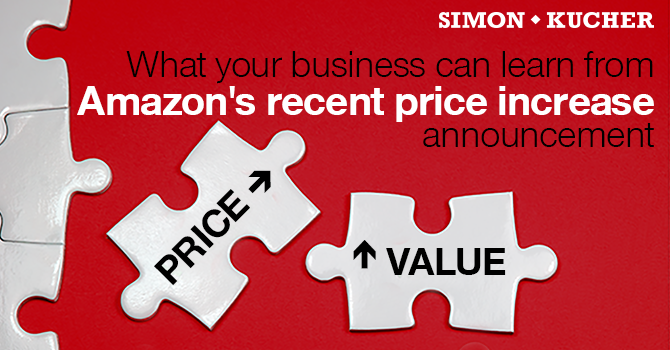 Pricing is the number one profit and EBIT improvement lever in any business. In fact, Warren Buffett is quoted as saying, "If you have to have a prayer session before raising the price by a tenth of a cent, then you've got a terrible business." Amazon likely did not have a prayer session before their recently announced ~20 percent increase in Prime from $99 to $119. 
A lot of commentary has questioned both the level and timing of the increase. In fact, a few recent surveys cite almost half of Prime users indicating they would not renew at the higher price. Given the stagnant price of Prime over the past four years, a 5-fold increase in eligible products, increased digital content and inflationary shipping costs, both the level and timing of the increase is well justified for their 100M + subscribers. Furthermore, the hike to $119 should come as no surprise given their public consideration of this price point in 2014.
Perhaps more intriguing than the decision itself is the manner in which it was announced. Although your business may not have the pricing power of a company like Amazon, there are still three primary elements of the announcement your business should master:
1.     Leadership support: The announcement came from the top via Amazon's CFO, Brian Olsavsky, as opposed to a letter from customer service. This demonstrates that pricing has the support and attention at the highest level of the organization.  This move further reinforces and emboldens the company's decision.
2.     Value-based argumentation: Too many price increase announcements lead with a cost-based justification. The announcement first associates the price increase with increased value. Value-driven excerpts include:
"Expanding free-same day shipping and one-day options"
"It's now available on over 100 million items, up from 20 million"
"The value of Prime to customers has never been greater"
Cost is mentioned as a secondary consideration and is posed as an investment in "shipping options" and "digital benefits."
3.     Perspective: Finally, Mr. Olsavsky simply reminds folks that Amazon hasn't increased the price of it's key service since 2014 by stating, "We haven't increased the U.S. annual price of Prime since our single increase, which was in March of 2014." This statement further reinforces the increased value from which customers have benefited over the past four years at a constant price, positioning the price increase in a reasonable and justifiable range.
We won't fully know the success of the price increase strategy until months after it takes effect. However, if your business is planning a price increase in the near term, I encourage you to reflect on Amazon's statement and read Philip Daus' best practices on making price increases stick!