Who Will Emerge as a Winner Among Online Food Retailers Post-COVID-19?
April 29, 2020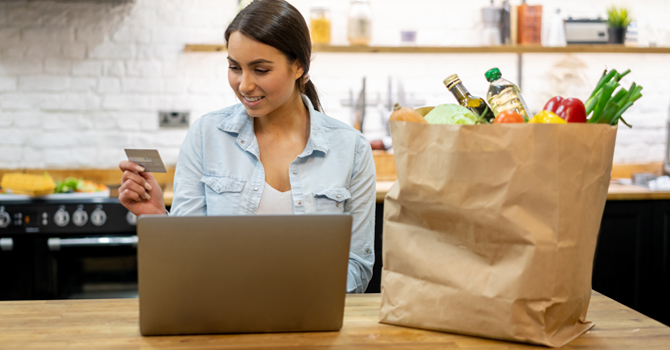 Four months after the onset of COVID-19, curfews and strict lockdowns have restricted consumer movement, pushing more consumers away from physical stores and toward online channels. Based on the results of our recent survey, we discuss the new face of online grocery shopping in a multi-part article series. In part 1, we shared critical success factors. In this article, we look at how the crisis impacts online food retailers' market share and discuss who will emerge as a winner once the crisis is over.
Online food retailers have emerged as a thriving segment in the retail space, as more consumers choose to shop for groceries online. A recent study conducted by our team in the UAE and KSA highlights increased online grocery penetration in both markets upon the onset of COVID-19, as well as the impact on consumer online grocery shopping behavior.
Impact on retailer market share and changed consumer priorities 
Penetration of online grocery shopping doubled in the UAE and tripled in the KSA. An impressive 20% and 28% of the total population, respectively, have adopted online grocery shopping, impacting the market share of main online food retailers.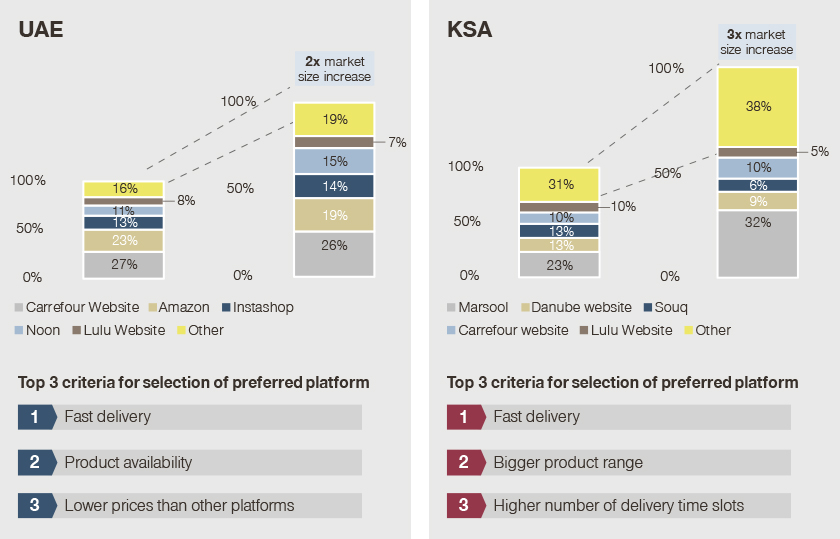 The UAE witnessed a proportionate increase in its online food retailers' market share despite the two-fold increase in market size, with no market player emerging as the clear winner with leading market share acquisition. 
On the other hand, the KSA's landscape experienced a visible shift in the market share of online food retailers. Mrsool leads the way compared to the situation pre-COVID-19. While some main players like Carrefour have maintained their share of the online grocery shopping market, other players' share declined as consumers shifted platforms, seeking quicker deliveries and wider product ranges.
Increased spend accompanied by economization measures
Currently, 49% of online grocery shoppers in the UAE and KSA have increased their online grocery spend, prompted by a fear of going to physical stores and more frequent home-cooking. Despite an increase in spend, 56% of online grocery shoppers are adopting economization measures prompted by the uncertainty around COVID-19 and its financial impact on households. Online grocery shoppers are opting for groceries already on promotion, value pack or family sizes, and are seeking price bargains by comparing different platforms in an attempt to adapt to their current situation.
"Fresh Meat, Poultry and Fish" among the biggest grocery category winners
The UAE and KSA saw a sizeable increase of 300% and 408% respectively in the number of consumers purchasing fresh meat online. Nonetheless, fresh fruit and vegetables remained the leading category in the UAE with 75% of online grocery shoppers adding them to their baskets. Dairy products lead in the KSA at 69%.
How should retailers position themselves to sustain their online channel penetration?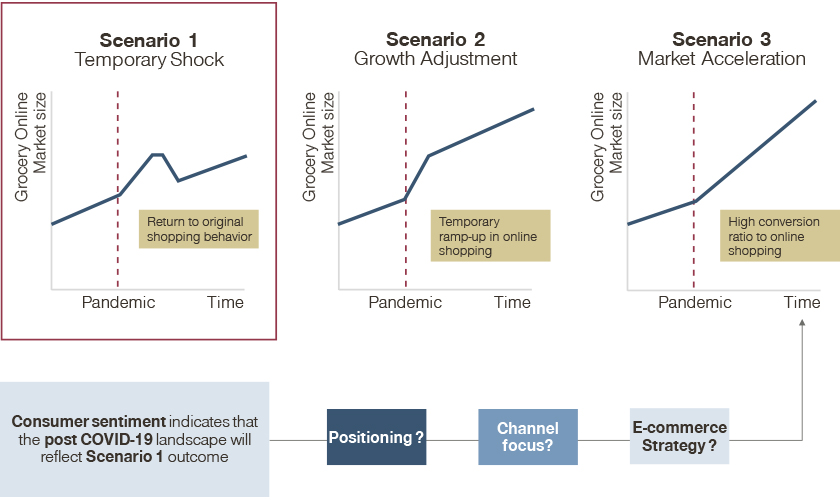 Where should retailers focus?
To actively leverage current consumer engagement and changing behavior, and develop a sustainable long-term e-commerce strategy, retailers need to prepare for the long term. The true 'winners' during and after the COVID-19 crisis will be businesses that not only focus on their rapid approach response, but also answer the strategic questions that will challenge the longevity of their online business.
Interested in the detailed report?