Simonkucher : Digitalization
​A google search on "digitalization" yields over 4.6 million hits. And it feels as if the number of buzzwords around the topic is even greater. No wonder many business leaders are unsure what action they need to take to develop a digital strategy to succeed in an evolving digitalized world.
Find your digital transformation strategy 
As an expert in digital strategy consulting, we at Simon-Kucher look at the change that comes with the application of digital technology in business life. By conducting a digital strategy audit and developing thereupon an individual digital business strategy, we take care of the market and customer facing side of digitalization – as opposed to purely taking an IT, efficiency, process or cost based view. We advise our clients how to adapt or reinvent their business models, or on how to improve the customer journey from acquiring over monetizing to developing customers in a digital environment. True to our clear focus on revenue, profit and growth, we help our clients by means of digital monetization strategies to accelerate their TopLine Power with smart digitalization of all customer facing activities such as pricing, sales and marketing.
How to create a digital strategy
When commercial challenges become digital, we combine "bits and brains" – knowledge of the latest technological possibilities plus profound industry and functional expertise – to give our clients a competitive edge. We ensure that revenue models are transferred to the digitalized world at the right pace and with the right focus. And whenever we help our clients creating an offer to sell digital products, we integrate a state-of-the art digital marketing strategy, pricing methods and a digital sales strategy such as behavioral or value based pricing. Of course we also take into account what our clients know about their customers and couple this with our long experience with monetization, pricing and revenue models.
Our digital experts' network spans the entire globe and knows about the challenges of finding the right digital go to market strategy, whether it's traditional companies "going digital" or digital pure players that want to optimize their digital excellence.
Experts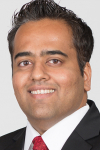 Executive Vice President and Member of the Board
San Francisco, USA
Silicon Valley, USA