Celebrating Asian American and Pacific Islander Heritage Month 2022
May 04, 2022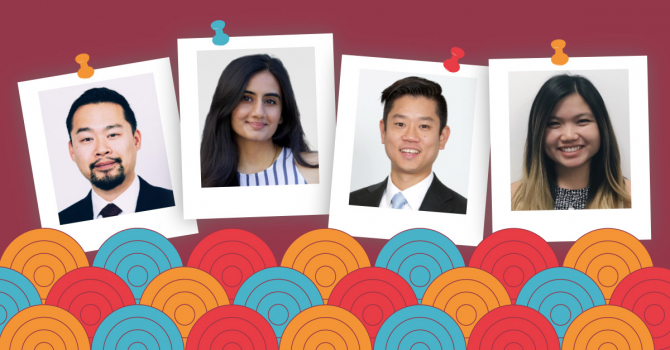 Asian American and Pacific Islander Heritage Month is an opportunity to pay tribute to the generations of Asians and Pacific Islanders who have enriched and shaped America's history. Join us this month in celebrating our AAPI colleagues and the contributions, achievements, and successes they have made at Simon-Kucher.
Celebrated in May, Asian American and Pacific Islander (AAPI) Heritage Month reflects on not only the history, heritage, and influence of AAPI individuals and communities, but challenges, as well.
More than 20 million people of Asian and Pacific Islander descent live in the United States, representing a breadth of cultures, stories, and experiences. At Simon-Kucher, we are proud of our diverse talent and the AAPI cultures that are represented within our company.
While we are mindful that recognition should not be limited to a single month of the year, we'd still like to take this opportunity to highlight the contributions of our AAPI team members.
What are our team members most proud of in terms of their work at Simon-Kucher? What does their unique perspective bring to the company? In honor of this month's celebration of heritage, enjoy getting to know some of our wonderful colleagues as they share their personal experiences and thoughts.
---

"I'm most proud of the positive impact I can make on the careers and personal development of our team. It's about paying forward the impact others had on me during my time here at Simon-Kucher – leaders I worked with who really helped to pave the way for someone like me. And hopefully I can do the same.

So much of what I can bring is simply just representation and how much it really does matter to see someone like you in a specific role or position. The lack of representation for Asian Americans and Pacific Islanders extends to the most senior levels across industries, but thankfully there were others here who came before me, and I can attest to the fact that "seeing is believing".

The range of AAPI experiences in the US is incredibly diverse, so I don't expect every Asian American and Pacific Islander to share my experience. Growing up as a Burmese-Chinese American in the northeast, much of it was about minimizing my uniqueness. This was due to the lack of representation, as well as many of the same challenges we still face in the US today when it comes to diversity. What I hope to do is to be a resource for those who resonate with these challenges, while also help to increase awareness of the issues that AAPIs face in order to drive continued change."
---

"I am most proud of being an enthusiastic team player while working with my project teams to drive impact. Whether that involves curating marketing strategies or revising pricing for our clients – I take pride in being part of teams that deliver tangible and effective recommendations. I'm also very grateful to have made many meaningful personal and professional connections while at Simon-Kucher.

I try to approach my work at Simon-Kucher with a great deal of openness and authenticity because I truly believe in collaboration over competition. Not being afraid to ask questions or to challenge the status quo will only improve the work we do today and help us learn with and from each other."
---

"I love that I have the freedom to make genuine connections with not only fellow Simon-Kucher colleagues but also with our client counterparts. While the work we produce is of the utmost quality, we can provide professionalism with a personality. Especially more recently throughout the pandemic, I am able to learn more about people's lives and also share mine to make the work environment much more comfortable.

With a wife, dogs, and now kids (yes, plural), I feel like I have opinions on a much broader landscape of consumer and retail experiences. Similar to the above, I relish the opportunity to inject my own personal biases and validate (or invalidate) them with other team members and the broader market."
---

"There is no one-size-fits-all approach for what it takes to grow and succeed at Simon-Kucher. I'm saying this as someone who took some time at the start of their career here to find their footing, who needs to be able to listen and process first before speaking, and who has been empowered and enabled by amazing mentors and advocates to this day.

Because of these experiences, I always try to engage and lead with empathy. In particular, it's important to me to help my team members and mentees realize what success and their path to it looks like for themselves personally."
---
Stay tuned for more colleagues' stories, experiences, and accomplishments and continue celebrating Asian American and Pacific Islander Heritage Month with us!