Global Office Tour: Working at Simon-Kucher's Paris Office
December 10, 2021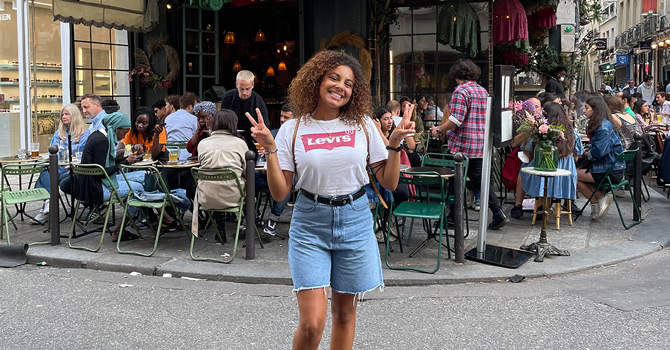 Just a stone's throw away from the Opéra Garnier, hidden in a little square in a charming neighborhood lies the Simon-Kucher Paris office. For our Global Office Tour blog feature, Dana Saed Osman, an events coordinator in the Paris office, talks to us about her friendly colleagues, favorite spots in the City of Light, and love for choux.
Hello, Dana! Thank you for taking the time to show us around the Paris office. Would you mind briefly introducing yourself?
Sure! My name is Dana Saed Osman, and I'm an events coordinator at Simon-Kucher's Paris office. Together with my colleague Camille Fouillade, we manage the events for the Paris and Brussels offices. I started out as an intern back in September 2019, and as of January 2021, I am a full-time employee.
What is something unique about your office?
For me, it's the location. It's situated in a little hidden square, surrounded by cafés, restaurants, and boutiques. We're right next to the Paris opera house, and the neighborhood is beautiful. I enjoy working at the office the most when it's sunny outside. On our breaks, my colleagues and I like to eat lunch together or go for a quick browse around the shops. On Thursdays, we all get together after work to have a drink, hang out, and relax. It's so convenient to have so many options right outside our door!
How would you describe your office culture?
It's a very welcoming atmosphere, which I experienced right from the beginning. When I started working at Simon-Kucher as a trainee back in 2019, I was worried I wouldn't be able to meet everyone, since I was only working three days a week. But everyone was so friendly! People came up to me right away to introduce themselves and ask me questions about myself. Even people from other teams had no reservations about talking to me on their coffee break or during lunch. All the colleagues I've met are very approachable and genuine. It made me feel very welcome and included right from the beginning.
What do you like most about living and working in Paris?
Although I've always lived in Paris, I will never get tired of it. I love walking around the city and its bustling streets with its lovely cafés, because there is always something new to explore and experience. One of my favorite spots in Paris is the sixth arrondissement, right next to the Palace Saint-Michel and the Notre Dame Cathedral. It's a charming neighborhood, and I enjoy spending time there, eating a crêpe and taking in the city.
What do Parisians like to do in their free time?
People in Paris, or France in general I would say, like to take things slowly. We enjoy sitting in a nice café and having a coffee with friends or doing some people-watching. When it's nice out, all of the restaurants and cafés are packed with people trying to get a seat on the terrace. Some of them are quite high up, so if you do manage to snag a good seat, you can have an amazing view of the various districts.
If you could only recommend one thing to eat while in Paris, what would it be?
What's special about Paris is that you can find all kinds of food from everywhere! But what I like the most is French pastries, especially "choux"! There is a little patisserie called Popelini in the sixth arrondissement, which has some of the best choux à la crème in Paris. It's very simple – just made with butter, water, sugar, flour, and eggs – but you can fill it with whatever cream you like, and it tastes heavenly! So, if you're ever in Paris, definitely schedule some time to visit Popelini!
What would your perfect day in Paris look like?
It would definitely be a sunny day so I could go walking around the city. I would take some pictures of whatever caught my eye and just eat everything from my favorite French dish bœuf bourguignon or a good blanquette de veau to crêpes to ice cream and, of course, some choux. Another thing I would do is visit a museum or an art gallery. And in the evening I would probably go to the theater and watch a play – French theater is really excellent in my opinion. There is just so much art and culture here in Paris, and I don't think I'll ever get tired of it.