New Partners at Simon-Kucher: Creating Value for B2C Companies
January 25, 2021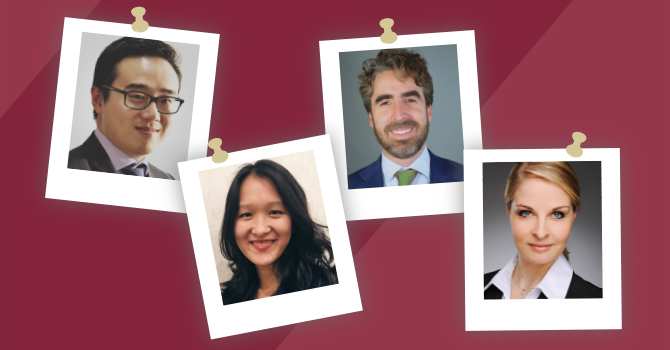 We are happy to start the New Year with good news: Our company continues to grow, and with it, our leadership team: On January 1st 2021 we welcomed 16 new partners! What are their favourite things about working at Simon-Kucher? And what do they want to achieve as newly appointed partners? We talked to four of the "newcomers":
Antonio, Ellen, Lisa, Shengyun: First of all, congratulations on your new roles! What are you most looking forward to in the coming months, which will be your first months as partners?
Antonio: Thanks a lot! I'm very proud of becoming a Partner at Simon-Kucher. Even though the last months have been challenging, I'm really looking forward to bringing this new role to life. I have been with the company for six years and working in the Mexican consulting market for ten years, so expanding our business in Mexico will be my highest priority in the coming months.
Ellen: Like Antonio, I am also very excited. I plan to tackle the tremendous growth potential for Simon-Kucher in the US consumer goods market. To do so, I'm looking forward to collaborating closely with my global colleagues to further develop innovative consulting products that ensure we continue to provide cutting-edge solutions for our clients. In addition, I am keen to support the continued expansion of our diversity and inclusion initiatives by supporting mentoring and recruiting efforts with our women's affinity group.
Lisa: This is also a very important topic in the industries I focus on: the software and tech sector, and the travel industry. COVID-19 has presented both with individual challenges (be it an overpowering demand for digital solutions or the shutdown of an entire industry) and I am determined to not only help our clients to overcome them but even increase their revenue and profits. I'm also very excited about continuing my professional growth story and supporting others in my team to do the same.
Shengyun: As a newly appointed Partner in our Shanghai office, my main focus will be the automotive, consumer goods and retail, and software/internet and media industries in China. I had the opportunity of opening our new office in Shanghai, which was a unique opportunity to experience real entrepreneurship. I want to continue on this path and concentrate on three different areas: value creation, office development, and people development. I will continue to develop our skills and expertise in order to bring more value to our Chinese clients and I'm also looking forward to our focusing on office and people development so that our consultants carry on enjoying working at Simon-Kucher.
The four of you focus on clients in B2C industries. Please tell us about special challenges you want to tackle.
Ellen: My focus is on fast moving consumer goods, e-commerce, and digitally native consumer brands. I draw heavily from my experience also working with tech and internet companies to advice consumer goods brands on digital challenges and opportunities. This comes in especially handy right now, when the COVID-19 crisis has accelerated the shift to digital sales channels and providers. To succeed in this environment, consumer goods companies have to develop omni-channel strategies, digital capabilities and tactics for improving loyalty and retention – challenges which we have a strong track record in delivering impactful solutions.
Shengyun: Looking at the three core industries in which I advise clients (automotive, consumer goods and retail, and software/internet and media), many companies could do with increasing their pricing excellence. Tackling special challenges is hard if you don't have the basics right, like price setting and sales performance strategies. Chinese Unicorns and start-up companies especially will need to think more deeply about how to monetize their innovations and engage themselves in a sustainable and profitable growth in the future. For this, I believe, I know the right solutions.
Becoming a Partner is a significant step at Simon-Kucher. Why did you choose this company in the first place and what convinced you to stay?
Antonio: I joined Simon Kucher in 2014 and by helping our clients, leading the growth of our company in Mexico, and working within this passionate and exceptional team, my professional dream really came true. My colleagues, both in my practice and my office, enrich every day for me; they've been great to work and have fun with from day one. My inspiring colleagues, the value we deliver to our clients, and the challenge to help our company grow in Mexico all motivated me to pursue partnership.
Lisa: I also started in 2013 at Simon-Kucher – as an intern. After having an amazing time I was hooked. Here, I found great people, exciting topics, and an entrepreneurial spirit: to sum up, the right place to grow and to contribute. I was motivated to become part of our leadership team for two reasons: the exceptional people that I have the pleasure to work with and whom I want to help grow and develop. And the unique Simon-Kucher entrepreneurial environment that pushes us to grow personally and professionally.
Having a functioning work life balance is important, especially in consulting. How do you unwind?
Shengyun: I deeply believe in our company culture, and have always felt a strong support from my colleagues. This, and the flexibility the company provides ensures I'm able to find the right balance between work and personal life. In my spare time, I like to read, especially books about economy and philosophy. Besides that, I spend my time with my family, who support and motivate me every day.
Lisa: I enjoy tackling challenges – not only in the office, but also in my spare time. That's what I like about being outdoors. Christmas 2019, for example, I spent in a tent whilst trekking the eight-day circuit in Torres del Paine, which was an incredible (but rather chilly) experience. In general, I love traveling and experience nature – whether while hiking, trekking, or running.
Ellen: While I also love spending time in nature, I also enjoy taking advantage of all that New York City has to offer, especially exploring new restaurants and cocktail bars. While that hasn't been totally possible during the last months, I've had to get creative with new hobbies like jumping on the bread baking train and trying to learn Japanese online. Apart from that, I enjoy word games and do the New York Times crossword and spelling bee every day, which helps me disengage mentally from the workday.
Antonio: As with many of us, I couldn't indulge in one of my favorite pastimes during the last year, since I really love traveling and exploring foreign countries as well as Mexico. On the other hand, I was more than happy to spend more time with my family and friends.
I thank you all very much for this interview!
Get to know more new partners in the other parts of this blog series: