Company Profile
€10bn annual revenue
Leading company in global air and sea freight forwarding
Situation and Objectives
Price levels constantly under pressure
Unsystematic pricing approach
Determine systematic but pragmatic approach to derive prices/mark-ups
Identify the key factors driving willingness to pay
Let these factors determine the price level
Approach
Based on customer survey, data analysis and profound industry experience, we determined a structured yet simple and pragmatic approach for price setting.
Using only four easy to identify criteria (current revenue, weight of freight, density fit, special requirements) we developed a system how to calculate the price.
As the pricing rules were so easy to follow and fit on one page, we printed them on the sales team's mousepads. Thus they could give the correct quote to their customers immediately while talking to them on the phone.
Pricing Rules on a Mousepad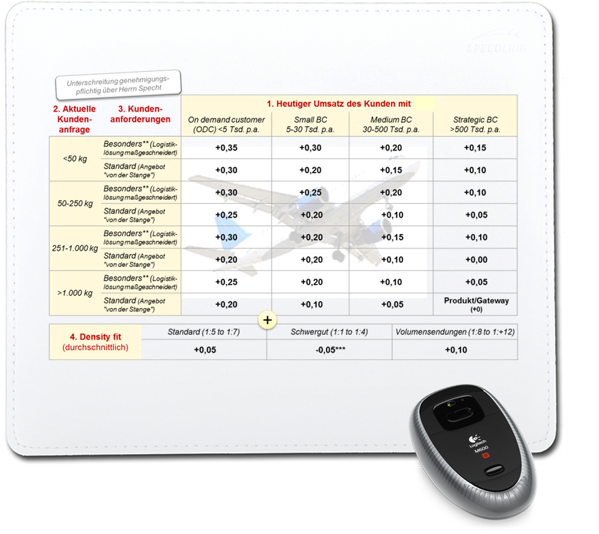 Results
Price decision based on four key factors
Easy to use and implement, with no additional tool usage required
Significant improvement of price setting behavior (more in line with willingness to pay, higher profits, and hit rates maintained)
Impact
2.4% points profit increase