Inflation remains stable for June but increasing petrol prices will impact UK holiday makers
June saw another month of stable inflation at 2.4%, unchanged from May and remaining comfortably above the Bank of England's 2% target. This masks significant changes behind the scenes however with prices for fuels being the biggest upward driver and groceries returning to their price levels of 4 years ago.
Prices at the pump continue to rise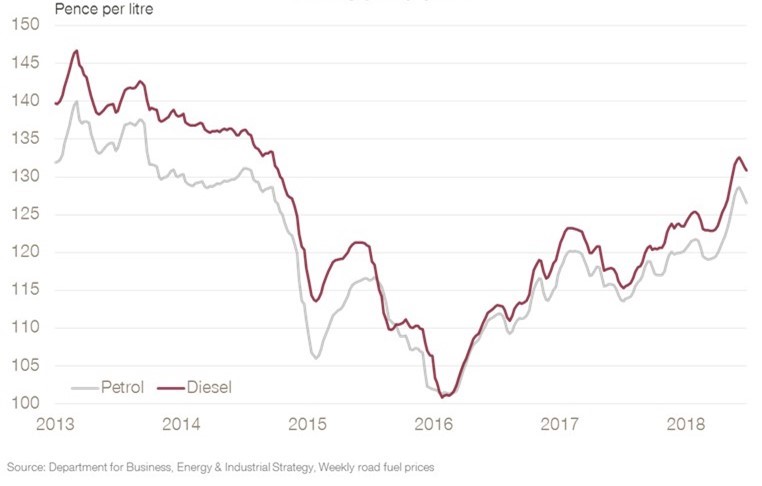 Against a backdrop of heightened geopolitical tension stoked by US foreign policy fuel prices have dramatically climbed, with an increase of 8p in the prices at the pump of both petrol and diesel between mid-April and the start of June according to figures from the Department for Business, Energy and Industrial Strategy, this is seen in this month's inflation figures with motor fuel, alongside domestic electricity and gas being the biggest upwards drivers.
Prices are now around rates seen 4 years ago which means those planning to holiday in the UK, or even drive to the airport, will be paying more than last year.
Depending on the journey length the impact on a return journey can be over £10 per car. We estimated some impacts based on some common destinations based on the fuel consumption of a Ford Fiesta, Britain's most popular car:

Staycations closer to home become a greater temptation
Fuel prices are high, but tame compared with the recent increases in package holidays, up 4.9% in the latest figures. In contrast, domestic accommodation only increased to 1.7%.
These figures need to be viewed in context though: versus food and petrol prices which are only just reaching levels of 4 years ago, flights have increase 9.5%, package holidays 7.7% and UK accommodation services 13.7% when comparing June 2014 to May 2018.
Rosalind Hunter commented:
"Holidaying in Britain presents good value for money even with increases in petrol prices impacting those travelling by car, and with Brexit looming staycations may become increasingly common."
"Simon-Kucher's latest research shows that due to Brexit 11% of the UK population are now planning to substitute some of their holidays abroad with some in the UK over the next year. An additional 7% are planning on taking fewer holidays overall due to an increase in cost pressures observed over the last year. As demand for UK destinations grow we may see an increase in local hotel prices in response."
Grocery prices return to 2014 levels alongside fuel while alcohol prices continue their slow increase
Food and non-alcoholic beverages have almost returned to 2014 prices. With the price war between supermarkets seemingly halted for the time being, prices for those wishing to self-cater this summer will increase albeit slowly.
Alcoholic beverages have increased in price by only 0.4% in aggregate over the last 4 years, 0.3% in the last year. Consumers in Scotland will also be continuing to experience the impact of the Scottish minimum alcohol price introduced in May.
Rosalind Hunter commented:
"Alcohol prices continue to increase, partly impacted by the minimum alcohol pricing introduced in Scotland last month. Meanwhile in England supply, rather than price, is the focus as CO2 shortages continue to loom over the industry."
---
Want to know more? Read our previous Inflation Bulletins
January 2018 | February 2018 | March 2018 | April 2018 | May 2018 | June 2018