Blockchain in the Automotive Industry: A Soon-to-be Multibillion Dollar Business
February 05, 2019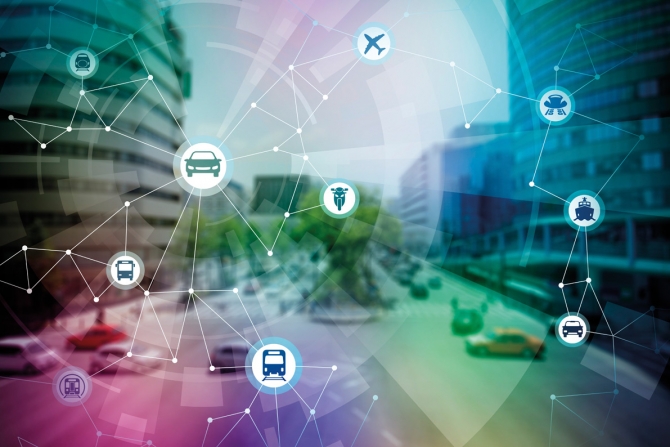 Is using blockchain technology in the automotive sector profitable? According to a study by Simon-Kucher & Partners, car manufacturers could benefit from market potential of over 100 billion euros. However, in order to achieve this, they need to develop applications to offer customers specific mobility, communication, and security solutions.
Blockchain is an important topic that quickly arises in any conversation about industrial digitalization. What is the idea behind this technology? It is essentially a publicly accessible, decentralized, distributed ledger with a constantly growing set of transaction records referred to as blocks. Blockchain provides a way for information to be documented, shared, and managed by a community, not a central authority. The blocks contain digitally stored information, including transaction data (e.g. date, time, amount of purchase), details about the participants (e.g. buyers, sellers), and a code that makes each block unique. Chains of blocks are encrypted on the computer of each transaction participant. Every transaction must be verified by all participants, providing full transparency between everyone involved due to distributed networking.
New services rather than more efficient processes
Apart from bitcoin transactions, how can companies implement this technology in a profitable way? Many companies in the automotive sector already recognize blockchain's potential to improve business processes. However, deriving added value for their customers and monetizing this value aren't yet priorities.
Not making this a focus is a missed opportunity because many companies stand to generate significant profit. A recent study by Simon-Kucher & Partners predicts that blockchain based applications in the global automotive sector will reach an annual monetization potential of 104 billion euros by 2030. However, this won't happen through increased operational efficiency alone; new high-value-adding solutions for customers are needed.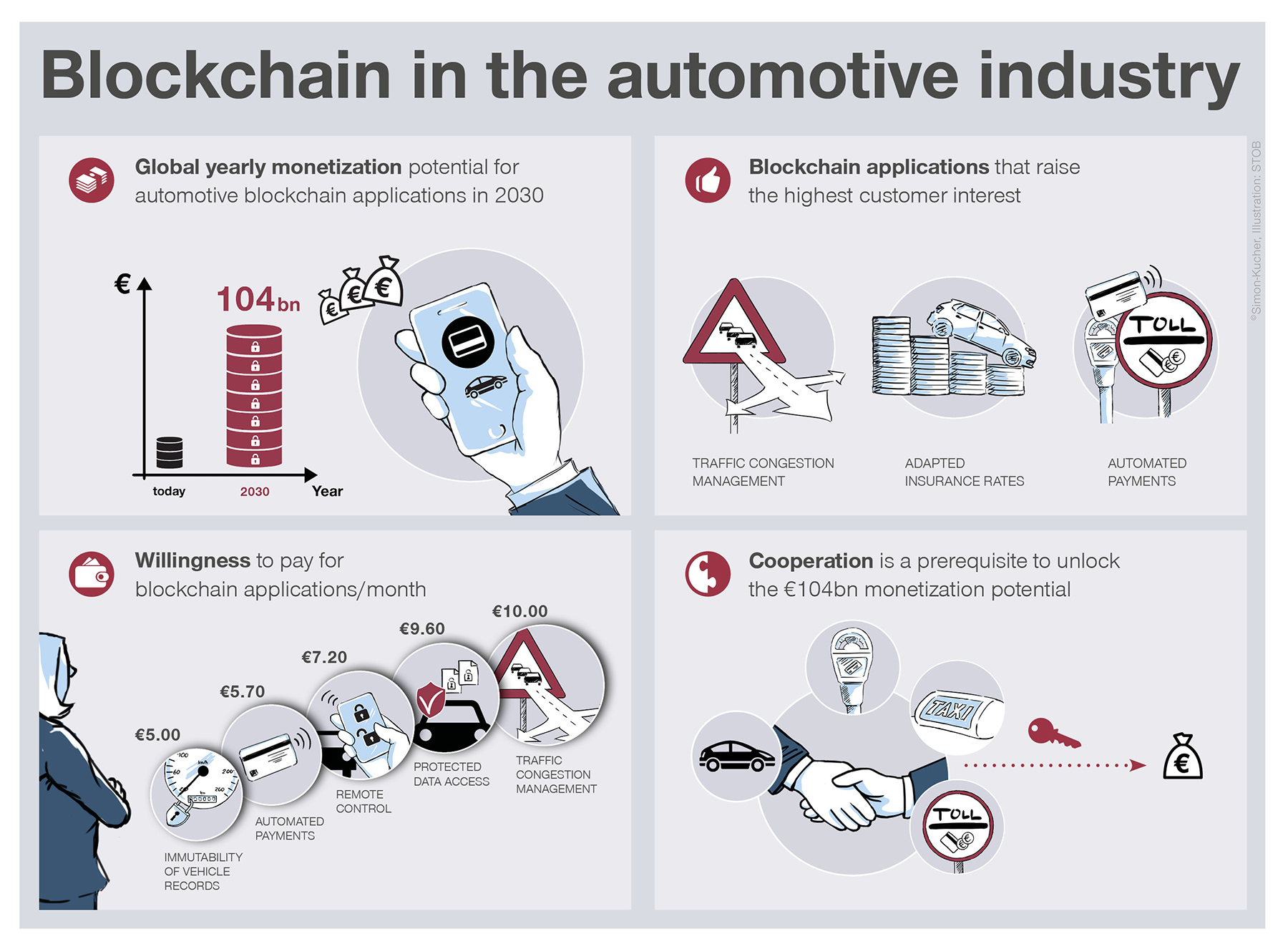 Communicative cars
What shape could solutions take? Possible applications include a smart traffic-jam avoidance system. Here, information about street congestion would be shared via networked cars and car-to-car communication. Users would then pay a fee to drive on traffic-free roads and these transactions would be processed via blockchain technology. More than a quarter of the study's participants reported they would be willing to pay ten euros per month on average for this kind of service.
Furthermore, 17 percent of survey participants would spend just under six euros per month on average for a solution that allowed their car to make real-time payments autonomously at parking meters or toll stations. However, regional preferences were clear. Study participants from South America were significantly more interested in this payment service than drivers from North America, Europe, or the Asia-Pacific region.
Added safety through blockchain security
Most importantly, safety plays a key role in possible blockchain applications in the automotive industry. Study participants would be willing to pay five euros per month for a solution that provided potential buyers full transparency over used vehicles' mileage and history reports. Blockchain apps for remotely locking and unlocking car doors that are six times faster and safer than the competition were valued at over seven euros per month. Guaranteed vehicle data protection – for example, against cyberattacks – is a solution that was valued at almost ten euros per month by participants.
Increased customer value through cooperation
Customers are definitely prepared to pay for blockchain solutions in the automotive industry. Their willingness to pay is reflected in the study. Now, it is up to automotive manufacturers to identify and implement suitable business models. Only then will they be able to unlock the enormous monetization potential of this database technology and profit from it.
For this to happen, a considerable amount of know-how and external advice is required. As the study shows, the applications participants are primarily interested in require the collaboration of numerous players from within the supply chain as well as outside the automotive industry. For example, connected cars build upon existing telecommunications infrastructure. While the various providers and operators, such as parking meters, toll booths, and taxi companies, must also be brought on board. Therefore, cooperation and a shared vision are key to unlocking blockchain's full potential in the automotive sector.
---
AUTOMOTIVE INSIGHTS
Boosting revenue and profits in the automotive industry. Learn about our experts' comprehensive solutions for the complex marketing, sales, and pricing problems automotive players are confronted with and subscribe to our quarterly newsletter.