China Medtech Industry: Trends and Recommendations
October 05, 2020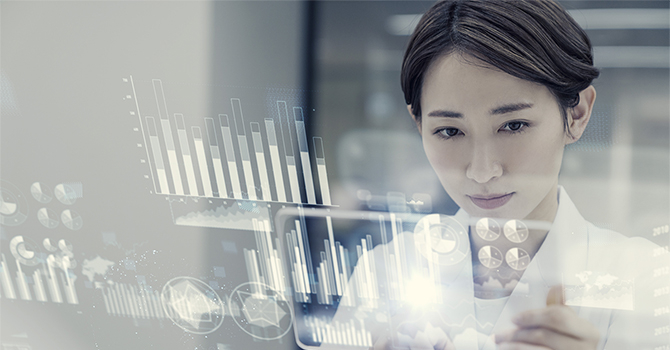 The Chinese medtech and consumables market has been growing at a fast pace over the past decade, driven by strong underlying demand, healthcare infrastructure buildup, and innovations from the supply side. While these underlying drivers remain robust, 2020 will also be an eventful and watershed year for the sector. In this article, we discuss the results of our recent China Medtech Market Access Trends Survey 2020 and share recommendations for the industry based on our findings.
Over the last ten years, medtech and consumables have seen strong growth in China. Going forward, a number of policies coming into effect in 2020 onwards will have far-reaching implications on the industry. Moreover, the impact of COVID-19, dynamic changes in the downstream market and channel structure, and the evolving stakeholder landscape will all be at play to shape the industry dynamics in coming years.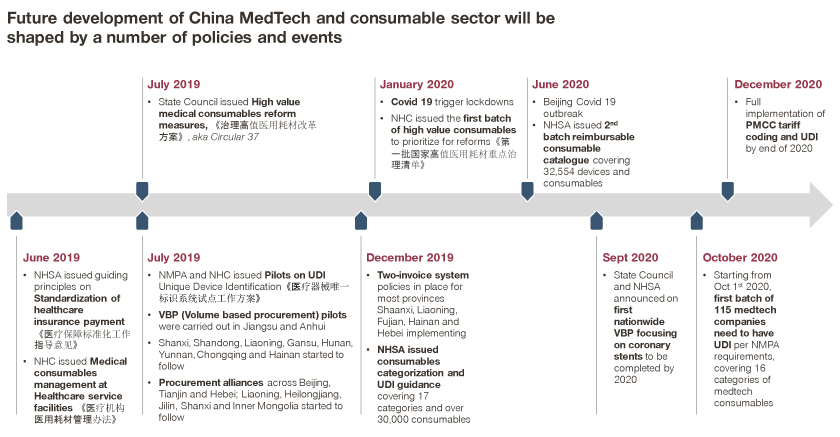 Our team at Simon-Kucher recently conducted the China Medtech Market Access Trends survey with leading players in the industry, in order to gain an in-depth understanding of how these developments will shape the strategies and outlooks of industry leaders, and how medtech companies should respond in terms of their market access capabilities and change readiness. We draw on our wealth of project experience in the industry, as well as interviews with executives from Medtronic, Johnson & Johnson Medical, Smith & Nephew, Agilent, Danaher, Arjo, WS Audiology etc., who shared with us their first hand insights and outlooks for the industry.
Here is a summary of our key findings:
Policy impact and trend
Among the recent wave of new policies, "High-value medical consumables reform measures" are widely expected to have the most significant impact on the industry. In particular, they will shape the registration and approval process, distribution and volume based procurement (VBP), as well as the dynamic adjustment of the all-important consumables catalogue for hospital listing and reimbursement, and the payment models thereof. These reforms encompass all aspects of the high-value consumable business and come with clear implementation timelines.
Among the many policy thrusts, volume-based procurement (VBP) is expected to have the highest impact, with pilots already underway at a number of provinces like Anhui, Shanxi, and Jiangsu. Jiangsu for example had two rounds of VBP so far for high value consumables across cardiovascular, orthopedics and ophthalmology etc., with average price cuts at 51% for stents, 74% for vascular intervention balloons and 47% for orthopedics. Leading medtech multinationals (MNCs) in high-value consumables report that these pilots have resulted in significant price pressure, while volume commitments sometimes remain unclear. National level VBP is also on the way and is widely expected to bring about much broader impacts. In September 2020, the State Council and National Health Security Administration (NHSA) announced the plan for nationwide coronary stent VBP, which will take place by November of this year, and come into full effect starting January 1st 2021. Taking notes from the pharmaceutical VBPs, which started in 2018 with a small pilot covering 25 drugs in 11 cities but now at full scale with over 600 drugs to be included by 2022, it is only safe to assume medtech and consumables VBPs will in all likelihood forge ahead with fast pace and broad scale, as well as unrelenting price pressure and immediate implications to most in the medtech and high value consumables industry.
At the same time, diagnosis-related grouping (DRG) is believed to have a lasting and long-term impact, and is expected to be rolled out over the next few years especially when it is fully implemented by 2023. Leading medtech players expect DRG to fundamentally change hospital behavior and drive significant changes in payment mechanism. Under the current fee for service (FFS) model, hospitals are reimbursed on a per-procedure or per-head-cost basis, and hospitals count on mark-ups of drugs and consumables for additional income. With the diagnosis-related group system (DRG), hospitals will be reimbursed based on the fixed fee for any given category, regardless of the actual costs incurred. Drugs and consumables will therefore become the cost items for hospitals, and we will see more price pressure at the hospital level, and fundamental changes to the pricing and market access environments for medtech and consumables in China.
COVID-19 impact on Chinese medtech industry
The current medtech business took a hit for most categories in the first half of 2020, but started to recover gradually and steadily as COVID-19 came under control. Some leading medtech players reported impacts of 20 to 40 percent in the first few months, but are gradually getting back on track in the second half of 2020.
Besides the immediate COVID-19 impacts, long-term implications could be multifold: On the one hand, many hospitals were hit hard in the first part of the year, and there is a general sentiment of budget pressure and tighter sourcing management felt by many in the industry; On the other hand, the importance of public health has gained new appreciation from the government and healthcare security, which may translate into more funding opportunities for disease prevention, diagnosis and control; In fact, some medtech categories like PPE, IVD, imaging, ventilators and other ICU equipment have benefited as new priorities to better cope with COVID-19 and other pandemics alike, and may see stronger growth going forward.
Another silver lining of the COVID-19 pandemic is the fast growth of digital health business. Online consultations and telemedicine have long been around in China. In August 2019, Internet+ healthcare was first included in the healthcare security and reimbursement system by NHSA, and leading players like AliHealth, WeDoctor and PingAn Good Doctor have flourished. COVID-19 has been another timely and powerful catalyst, as the core value propositions of digital health become more compelling amidst of the pandemic, and the National Health Council issued more policies in Feb 2020 encouraging digital health and online consultations for more effective COVID control, as well as better remote care for chronic diseases, infectious diseases, critical care and psychological health etc. As a result, digital health has become a reality well accepted among stakeholders across the regulatory bodies, healthcare professionals, patients and payers alike, and increasingly embraced as a future game changer in China healthcare landscape, as well as for the medtech industry.
Changing channel dynamics
Industry structure and channel dynamics are evolving across the value chain. Today, there are more than 15,000 medical device manufacturers in China. In the high-value consumable segment, MNCs account for the bulk of the market, and national champions are making inroads. In the future we expect to see market consolidation and an emphasis on import substitution and localization, and many MNCs have been emphasizing localizations as key to its China strategy, not only in local manufacturing and supply chain, but also across its R&D, product development, business development, as well as pricing and market access.
Meanwhile, the currently fragmented and multi-layered distribution landscape is also consolidating, with provincial distributors playing increasingly important roles going forward, as their direct coverage of the hospital market prove to be key for major medtech players. Wholesalers like Sinopharm Holdings, Shanghai Pharma, and CR Pharma are also proactively pursuing opportunities in selected categories like in vitro diagnostics and consumable etc., and striving to build up capabilities to provide upstream partners with more value-added services.
Additionally, market and channel dynamics are also set to change among healthcare providers. Besides Class 3 hospitals, which currently account for the majority of the market for most high-value consumables, lower tier hospitals and non-public hospitals are gaining in importance but with distinct needs and buying behaviors. Despite the COVID-19 impact, non-public hospitals demonstrated remarkable resilience and stronger growth at around 40% over last year. Capturing the growth opportunities in theses growth segments has become an increasingly important priority for the medtech industry, and deep insights into these customers are key to success there.
Market access decision-making among stakeholders
Having been the driving force behind healthcare security policy development in recent years, the NHSA has its sights set on medtech industry reform, and is playing an increasingly dominant role in access and reimbursement. While containing costs has been one of the major focuses of the NHSA so far, it has also shown an open and progressive façade, and a number of factors like encouraging innovations, balancing disease burdens and budget impacts, as well as assessing value based on health economics evidence and HTA assessment may become increasingly important on NHSA future agenda.
At the same time, provincial healthcare securities are also recognized for their impacts on the industry, as many are tasked with reform pilots and key initiatives that may herald the future of nationwide measures. Zhejiang Healthcare Security Administration for example led the first online reimbursement scheme rollout for online consultation in Feb 2020, and Tianjin Healthcare Security Administration is currently spearheading the upcoming nationwide VBP for coronary stents, and the key learning from these pilots will no doubt help shape the rollouts in near future.
Most medtech companies have been on the receiving end of policy impacts in the past, but many are acutely realizing the importance of being able to different on value instead of price of their offerings, to engage key policy makers and stakeholders more effectively, and to contribute to shape the healthy development of the industry going forward.
Simon-Kucher recommendations for the Chinese medtech industry
With the dynamic changes taking place within the Chinese medtech industry, leading players all recognize the importance of building foresight and commitment into their growth strategy. In addition, many have shortlisted capabilities development and P&MA (pricing and market access) excellence as the areas of near-term focus.
Based on our experience in the medtech industry and the insights gained through our interviews, moving to world-class P&MA excellence will require the following efforts and capabilities:
Ongoing payer and policy understanding efforts to ensure insights and foresights on payer environments and key trends, as well as competitive landscape;
Tailored evidence generation, value dossiers, and value stories for key payers and influencers;
Clear roadmap to engage payers in evidence and value discussions throughout the different stages of the product life cycle;
Embed P&MA in growth strategies, optimize P&MA and HTA processes to enhance efficiency and impact, and build the organizations and capabilities accordingly.
Furthermore, digitalization is no longer just a buzzword, and has become a reality much faster than many expected. Most medtech companies recognize the need to embrace the new digital age, and use that to empower their marketing, sales, customer engagement, and data-based decision-making. We've have identified four key areas where digital health can help drive innovations and growth, and have helped many of them in rollout and implementation.
Outlook: navigating the watershed year and beyond
In summary, 2020 marks a watershed year for the Chinese medtech industry. Fundamental changes are taking place on multiple fronts, as policy impacts, pricing and access environments, downstream market dynamics and channel evolutions all coming into play. The industry has weathered many of the storms so far, and is expected to emerge stronger going forward, with new appreciations for strategic foresight, innovations, as well as the importance of capabilities building and P&MA excellence in their respective organizations.