How Chinese OEMs are Benefitting from Electrification
July 22, 2022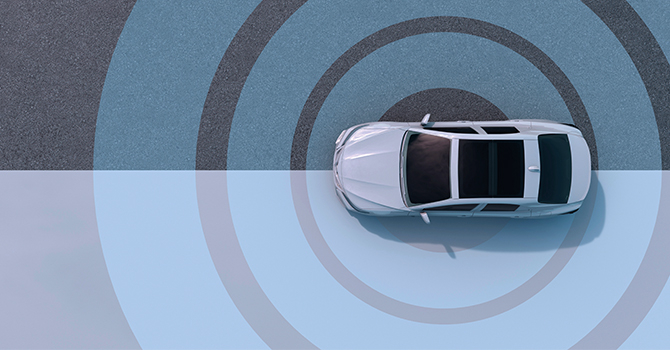 Electric vehicles and autonomous driving are leading the automotive industry into the future. Yet in this challenging economic environment it can be hard for companies to realize the best strategies. In our new series we will update you on how Chinese OEMs are faring overseas and demonstrate how they continue to leverage new opportunities for better growth.
Last year, our series highlighted how for the first time in history Chinese car manufacturers began presenting a serious challenge to traditional western brands. This was especially true for electric vehicles (EVs). Chinese EV sales increased by 155 percent in 2021 – a considerably higher number than in Europe and the USA where sales grew by 66 percent and 96 percent, respectively. 
In fact, the global automotive market seems hungry for electric vehicles. While total sales for light vehicles only recovered by 4.6 percent in 2021, the global market share of EVs almost doubled from 4.2 to 8.3 percent. And this year, our Global Automotive Trends Study 2022 found that 53 percent of consumers are considering a fully electric vehicle as their next purchase.
The question is: What can the industry do to fully harness this opportunity? In our new three-part series, we establish that some of these solutions can be found in what the competition in China is already doing.
Despite mixed success overseas, Chinese players are gearing up to become a formidable force to be reckoned with. Not only are they spearheading future car technologies through the advancement of autonomous driving, but they're also leading optimal pricing strategies in this field. What's more, much can be learned from Chinese suppliers who are futureproofing their businesses by capturing a bigger slice of the pie.
How popular are Chinese cars overseas?
Chinese car manufacturers have been making waves in the global EV market. The total market share of major Chinese OEMs worldwide has increased from 19 percent in 2020 to 24.3 percent in 2021. China's automotive giant BYD is leading the charge, gaining ground against market leader Tesla – the latter has been losing market share in recent years as it faces stiffer competition.

Global awareness of Chinese EVs has also increased in recent years. In our Global Automotive Study 2022 we surveyed over 10,000 car customers from 15 different countries. Not only did we find that 81 percent of respondents are aware of Chinese EV manufacturers, but that half would consider buying a Chinese EV model.
At the same time, it's interesting to see that Belgium and Denmark were among the countries most unaware of Chinese brands. This implies that Chinese OEMs aren't quite making their mark in Europe – despite the likes of NIO, Xpeng, and Aiways drastically expanding their market reach on the continent.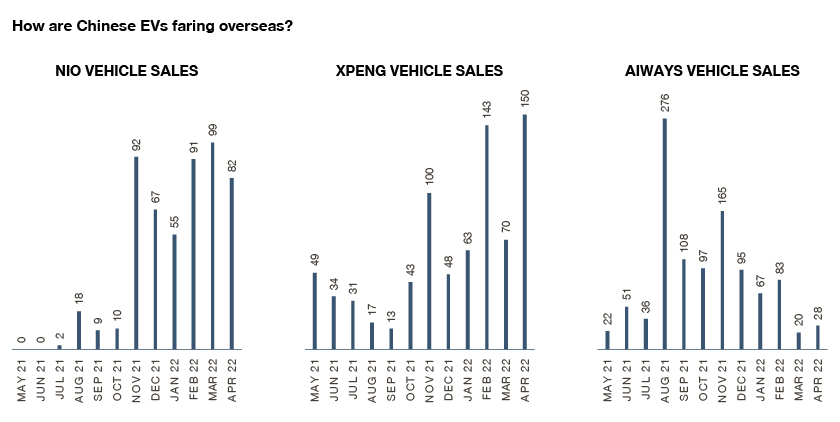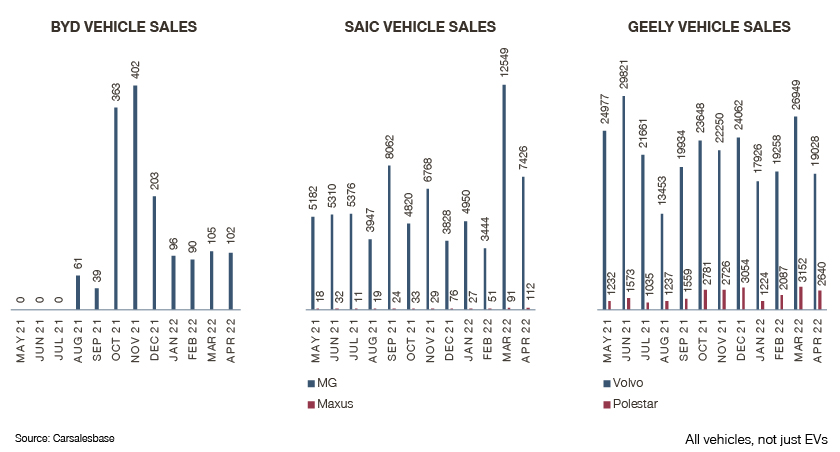 These figures indicate that there's still a long way for Chinese car manufacturers in the European market, especially for newer EV upstarts. That said, 2020 sales figures show a general upward trend, even if it's not always consistent. For a lot of the newer Chinese EV upstarts, it remains to be seen if their venture to Europe will be successful.
Chinese OEMs: The slow expansion to Europe
The European automotive market is often described as stubborn. Its automobile industry still gives European local brands an absolute advantage, making it very difficult for international brands to penetrate. Even Toyota, which has been in Europe for 40 years, only has a 6.4 percent market share in Europe.
It's no surprise, then, that from the sales figures displayed above, the most successful Chinese-owned EV brands are household European names - Volvo, Polestar, and MG. The sales of these far exceed purely Chinese vehicles.
Moreover, Chinese OEMs have a long history of failed ventures on European soil. Incidents such as Jiangling Motors' and Brilliance's failed crash tests in Europe in 2006 and 2007 have built a poor reputation for Chinese companies, which is still felt by consumers today. 
According to our survey results, only 13 percent of our 10,624 respondents would strongly consider buying a Chinese EV, and 43 percent would consider these models among other options. While consumers appreciate the affordability and cutting-edge technology of Chinese EVs, there's a distrust in Chinese brands and an overall expectation that the design will be of low quality.
This is an issue that has plagued any attempts from Chinese OEMs to enter the European market, where loyalty to local brands has always been high. Many car manufacturers with big European ambitions have been forced to pull out of the market as they struggled to make a mark or even come close to competing with other brands.
For example, not only did we find that consumers in Belgium are some of the least aware of Chinese EV brands, but they expect these models to have safety issues and be of low quality more often than the global average.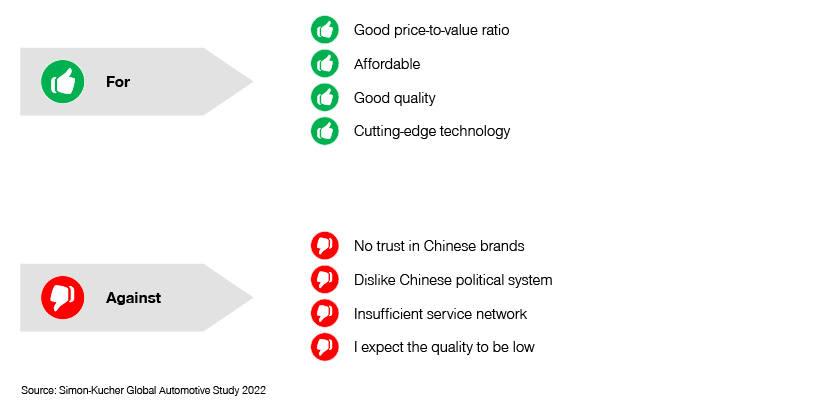 Electric vehicles present a new era for Chinese OEMs
In the past, Chinese car manufacturers were always second when it came to internal combustion engine technology. Today, they're right at the forefront of advancements in autonomous and electric vehicle technology.
Our survey confirmed that while there's still some work to be done, the image of Chinese products is slowly changing across the world. Once the copycats and poster boys for poor quality, the rapid development and advancement of Chinese cars has not only consumers, but other car manufacturers taking notice.
Much of this is thanks to the consistent development of pricing, marketing, and sales strategies, as well as innovation in technology and design. In this series, we highlight how Chinese players are continuing to harness new pricing strategies and create new business models for better growth.
Stay tuned for Part 2 where we explain what ADAS autonomous driving technologies are and how Chinese OEMs are monetizing them.
If you would like to find out more about how to optimize your strategies for better growth, contact our experts!  
Read more from this series:
Part 2: How China's OEMs are Monetizing ADAS Autonomous Driving for Future Growth 
Part 3: Bridging the Gap Between OEMs and Suppliers in China