It's Crunch Time! How Can Banks Survive in a MiFID II World?
May 31, 2019

Meeting the MiFID II compliance requirements will not be easy or cheap. Based on recent analyses, the cost of implementing the new financial instruments directive will exceed 2.5 billion euros. In addition to increased costs, a considerable amount of revenue will be put at risk. However, there are six measures that can bring profits back to their target levels.
Profits will drop significantly in the near future
Commission payments – also known as inducements, retrocessions, or fund rebates – are the revenue area that will be most affected by the new directive, as they will be banned in both discretionary business and for independent financial advisors. Simon-Kucher research indicates that the financial impact will be substantial. When analyzing current financial situation of major wealth managers, and taking into account the expected changes, one thing becomes quite clear: If no concrete action is taken to strengthen the revenue side, most institutions face revenue losses of between 10 and 25 percent. For some wealth managers, more than 30 percent of their current revenues is at risk. Given the enormous costs associated with MiFID II and ongoing digitalization initiatives, the increasing costs to serve, and changing client behavior, the key question is how can wealth managers stay profitable and survive in the new environment?
Six measures that can help bring profits to target levels
1. Develop new products and migrate clients:
At most banks, between 70 and 80 percent of assets held for clients are held through "execution-only" services. However, many clients are actually being advised by third-party advisors and therefore need to be migrated to contractual agreements. To do this, the product mix offered to clients needs to be adjusted and combined with new appropriately priced add-on products, e.g. entry-level or limited advisory mandates. By migrating clients, wealth managers can achieve revenue uplifts of ten basis points on migrated assets.
2. Enhance revenue and monetize services and innovation:
When abolishing commission payments in discretionary or advisory mandates, direct and visible fees need to be aligned and increased. Generally, there is considerable potential to optimize and adjust different fee components. In addition, many banks have granted discounts on custody or management fees in the past in order to promote funds with particular distribution agreements. Such discounts obviously need to be revised given the new environment. This also applies to services that have previously been provided free of charge. For this reason, intelligent monetization strategies are essential and can increase revenues by more than ten percent.
3. Manage discounts effectively:
Managing discounts on wealth management products has always been a key challenge. Most clients are receiving some kind of discount and banks usually struggle to quantify and monitor them on an ongoing basis. This is often due to there being multiple, unconnected IT systems in place. By implementing discount management software that links the various systems and sources of information together, discounts can be significantly reduced. Many cases have demonstrated that revenues from these products can increase by ten percent when effective discount management and monitoring processes are implemented.
4. Innovate in discretionary portfolio management:
Most banks manage their conventional discretionary mandates by combining single lines with funds. When using external funds, clients not only pay direct fees to the bank, they also pay the TER of the funds and other costs that do not generate additional revenues for the bank. In order to generate lower costs for clients and higher revenues for the bank, portfolio managers can replace external funds with pre-defined "building blocks". They are primarily based on single lines and are meant to fulfill the same purposes as funds. Every building block focuses on a specific asset category as well as a geographical region and can therefore be used to manage discretionary mandates efficiently and more profitably with even lower total fees for discretionary clients. Overall, even if direct and client-visible fees increase by between 5 and 25 percent (thereby increasing the bank's revenues), the client's total charges, including TER, can be decreased by 5 to 15 percent. It's a win-win situation.
5. Internalize external funds:
If banks want to offer external funds to execution-only, advisory, or discretionary clients, they can also internalize parts of the value chain and increase their revenues. Therefore, white label funds are put in place while fund management is delegated to external fund managers. By following this approach, the bank's clients gain access to exclusive, externally-managed fund solutions that can only be accessed by a limited number of people, while also generating additional revenues for the bank. By applying this strategy, about 50 percent of the external funds' TERs can be kept, leading to increases of 10 to 30 basis points on the assets of internalized external funds.
6. Implement platform fees:
By definition, commission payments are intended to remunerate the bank's sales activities. In recent years, many banks have worked intensively to launch platforms that provide execution-only and advisory clients with an overview of the bank's universe of accessible products. Given that commission payments will significantly decrease, banks can change their current business models, charging external parties a fee to access the platform and promote their own products. These kinds of platform fees are common practice in other industries and have already been implemented by some banks. Although platform fees will not replace existing commission payments on funds entirely, initial results show that they can compensate 25 to 50 percent of current revenues. Depending on the bank's specific situation, overall revenues can be increased by two to five percent.
Bringing the profits back to a targeted level is a challenge for the whole organization
Following these initiatives has a significant positive impact on wealth managers' margins and revenue situations. As indicated in figure 1, it is possible to compensate the negative impact of MiFID II by implementing these six measures.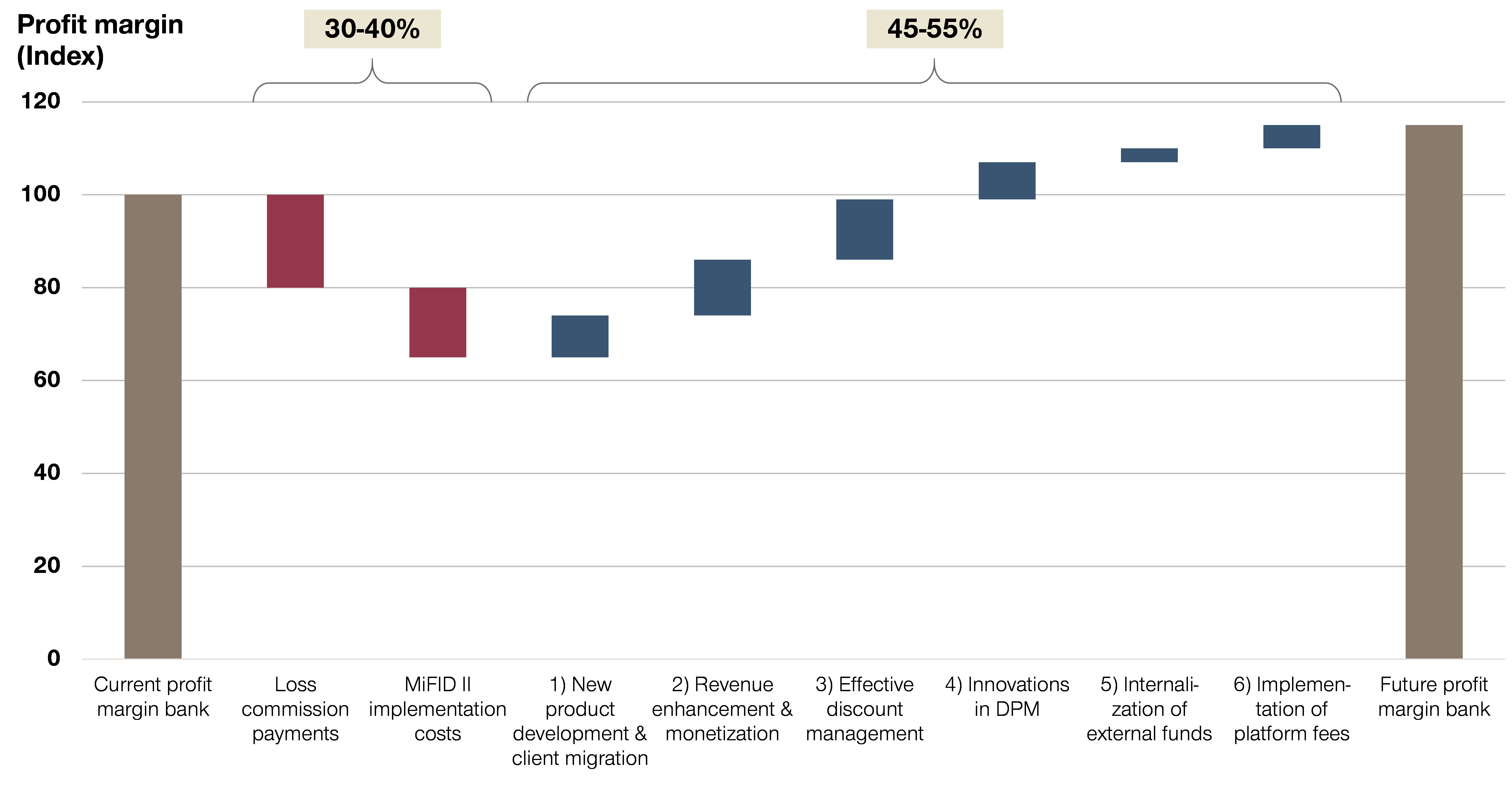 Three success factors for secure profits
In order to tap the full potential of the measures, wealth managers need to consider three key success factors:
First, given the associated importance and risks, it is essential to have profound market insight and knowledge of the best and worst cases when working with the current business model. Second, specific measures will only be effective once there is transparency regarding the current situation. Therefore, banks need a comprehensive database that covers all dimensions of client behavior as well as the associated revenues. This database is the key source to validate hypotheses, simulate economic impact, and implement specific measures. Third, effective implementation is probably the most important and, at the same time, the most challenging part of this strategy. Comprehensive training, preparing the underlying documents, and supporting tools are therefore integral to a successful outcome. Changing people's behavior takes time and cannot be achieved quickly through a top-down approach.
Monitoring costs is important, but the key focus needs to be revenue
In view of the increased costs and decreased revenues associated with MiFID II, wealth managers are facing serious challenges that threaten their business activities and are now being forced find ways to ensure they survive in the medium term. Based on the experience of hundreds of projects to strengthen our clients' top lines, Simon-Kucher & Partners' six key initiatives focus on the relationship between the bank and end clients, portfolio management, and the interaction between the bank and external asset managers. Since costs have already risen and revenues will soon start to decrease, it is essential that banks initiate specific measures now! When it comes to achieving target cost-income ratios, every basis point counts.