What Role Will Medtech Solutions Play in the Future?
August 01, 2019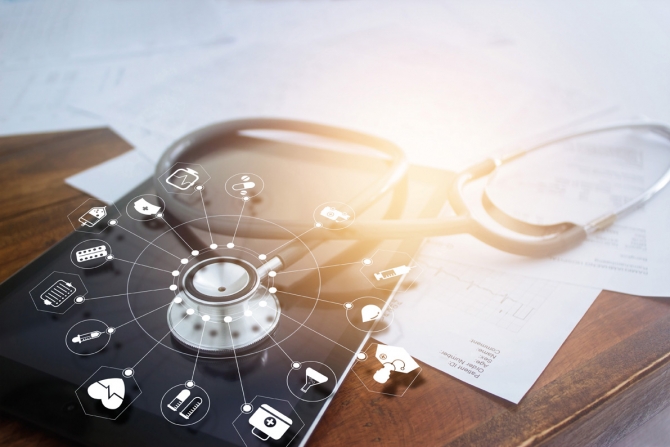 How can medical technology companies remain competitive in the healthcare industry? We interviewed life sciences experts Omar Ahmad and Jan Bordon to find out how medtech solution offers are the key to success.
One clear finding of the MedTech Barometer 2019 is that innovation is becoming for difficult in medtech. What are reasons behind this? And what measures should companies take?
Jan Bordon: In recent years, we have seen market pressures steadily rising due to price erosion. This is caused by more intensive competition, controlled healthcare budgets, and a drop in reimbursement rates. Patients are also demanding more information and higher involvement. Therefore, healthcare providers expect medtech suppliers to support them in improving their treatment efficacy and efficiency. Companies need to go beyond plain product-selling and start moving toward full customer solutions.
So medtech companies need to become more solutions-oriented than product-driven?
Omar Ahmad: That's right. Already we are already beginning to see companies implementing innovative solution offers to differentiate themselves from the competition. They're combining products, services, and new business models to solve specific healthcare providers' problems. These solutions also offer significant and incremental value to customers.
What are the different types of solution offers in the medtech industry?
Omar Ahmad: We have identified five main types of solution offers: operator model, new business model, integrated service offering, product bundle offering, and innovative product offering. All of these solutions help customers to tackle one or even several specific challenges. Useful or successful doesn't always have to mean full-scale sophisticated approaches. Companies should choose the model that best reflects the maturity of their core offers and their financial muscle.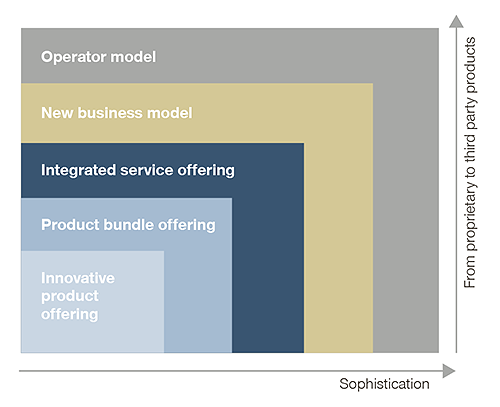 Is risk-sharing the way forward for medtech suppliers?
Jan Bordon: In many cases with new business models, we see offerings linked to budget guarantees with the medtech companies taking over the majority of budgetary risks. In return, solution offerings are often tied to binding exclusivity agreements. Innovative product offerings always include a certain level of risk-sharing between medical device companies and their customers. Customers can be charged per treatment, per patient, per month, etc.
Does this mean medtech companies are actually turning into healthcare providers?
Omar Ahmad: Not exactly. But with the operator model, the medtech supplier has a much higher level of ownership of customer processes. They may also collaborate with external, third-party companies. Here suppliers manage the operation of facilities or a part of the customer's infrastructure through long-term service agreements. And suppliers take over all of the budgetary risk from the customer. This paves the way for the medtech company to become a healthcare service provider.
What are the pain points of the medical devices market?
Jan Bordon: Solution offerings are going to be key for future commercial growth opportunities within the medical technology industry. Unfortunately, our experience shows that the majority of companies are unable to fully monetize this opportunity. By definition every solution, regardless of its design, targets a specific customer challenge. The key to configuring effective solutions is to understand the customer's needs. But the majority of medtech companies find this to be a main obstacle. Then there's the internal capabilities for selling solutions, such as the skills of the salesforce, the available resources, and the IT infrastructure. All of these things play an important role. To support with this challenge, our team of experts at Simon-Kucher developed the Solution Commercialization Framework.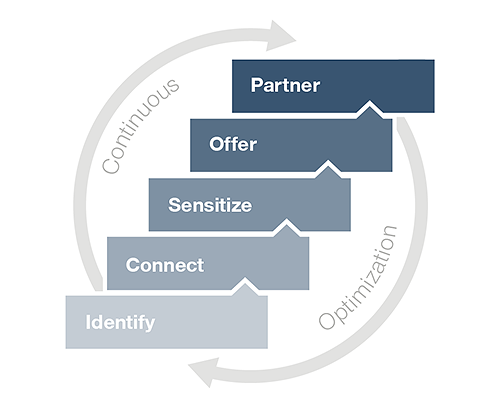 What's in the framework?
Omar Ahmad: There are five steps. First, identify, which is about understanding and prioritizing the customer needs, segment accounts and stakeholders benefiting the most from the solution. Next is connect, which involves determining the most relevant value drivers for customer stakeholders. Sensitize means generate customer awareness of the challenge and position your company as the expert who can deal holistically with the customers' specific needs. Then, offer requires you to provide evidence-based value and set the direction for value-based pricing and contracting to close the deal. Finally, partner is about establishing continuous impact monitoring. It's important to create awareness of the solution's added clinical and economic value.
Can you share some examples of successful medtech solution offers?
Omar Ahmad: Let's take the case of a supplier to a fertilizer company. In addition to its pharmaceuticals, the supplier launched lab technologies and introduced Standard Operating Procedures to ensure process quality. They were able to increase revenue by 3.7% despite the market contracting by 7% at the time. So not only was this company able to increase the effectiveness of its drugs, selling solutions also helped them to combat market pressures.
Jan Bordon: Another example is a supplier to homecare providers. It introduced a web-based logistics solution to optimize the management of patients with incontinence. The new interface helped develop patient care plans, anticipated product demand, and automated order processes. By pricing per patient rather than product usage, the solution meant risks were shared between the company and its customers. Costs were reduced for homecare providers, and the supplier experienced a strong boost in sales.
What do you see for the future of the medical devices market?
Jan Bordon: In the future, medtech companies will be required to offer even more added value beyond pure products and services. By gaining a better understanding of customer requirements, medtech suppliers have a unique opportunity to set themselves apart from the competition. Not only can they take full advantage of untapped value pools, it is also possible to secure customer lock-in through solid long-term partnerships.
Want to learn more about the future of medtech and discuss with industry experts? Register for our Annual European MedTech Strategy Forum in February 2020 in Zurich!
This insights from this interview were originally published as an article on MedTech Views