Global Office Tour: Working at Simon-Kucher's Zurich Office
August 03, 2021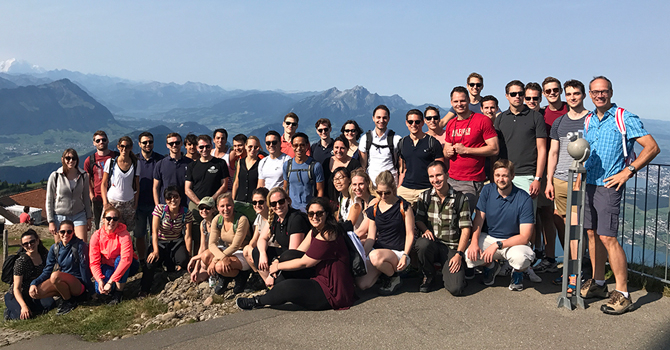 A short walk from the Old Botanical Garden, surrounded by clear clean waters and historical landmarks, lies our Simon-Kucher office. For our Global Office Tour feature, Office Manager Stephanie Kehlringer divulges some of Zurich's best kept secrets, and top tips for tourists.
Hi Stephanie! Thank you for taking the time to show us around the Zurich office. Would you mind briefly introducing yourself?
I'm Stephanie Kehlringer. I'm the office manager responsible for the two offices in Switzerland – Zurich, and the smaller one in Geneva. I'm from Germany originally, and have been with the company for more than 20 years now. I was based in Munich at first, but I moved to Switzerland to be part of our exciting new venture here.
I've been involved with developing the Zurich office since it opened, but I moved here full time in 2010. There had been other office managers in Zurich before me, but when I joined I think there were only 10 people in total. Now, I believe we have about 80 people working in both Zurich and Geneva.
So when did we open the Zurich office?
It was in the millennium – 2000! An amazing year to have an opening party. Unfortunately, we weren't able to celebrate our 20th anniversary last year due to the coronavirus. We plan to do a big party in the future with clients to make up for it.
We hope you get to do that soon. Having worked in different offices at Simon-Kucher, what would you say is unique about the Zurich office
The Zurich office is very special. From the outside it looks like a normal building, nothing spectacular, but as soon as you walk into the entrance hall you are met with a marble staircase. Most are taken aback when they walk inside.
Also, we are right at the heart of the city. You can walk everywhere, or take the tram or the train, and it's only 20 minutes from the airport. So, it's a very convenient location.
I look out of the window now and I can see life coming back to the city. Cafes and restaurants are opening, you can easily grab a coffee or lunch with colleagues again. It's nice.
We're very intrigued by this marble staircase! Are there any other "special" areas in your office?
Yes. We used to only be on the first floor, but about two years ago the ground floor was completely renovated with a terrace looking out onto the river. So, if the weather is nice, we can have lunch outside on the terrace. As coronavirus regulations continue to ease, we hope to start having beer busts again – when we get together, usually on a Friday, to drink beer and relax after a hard week. In summer, we even have barbecues there from time to time!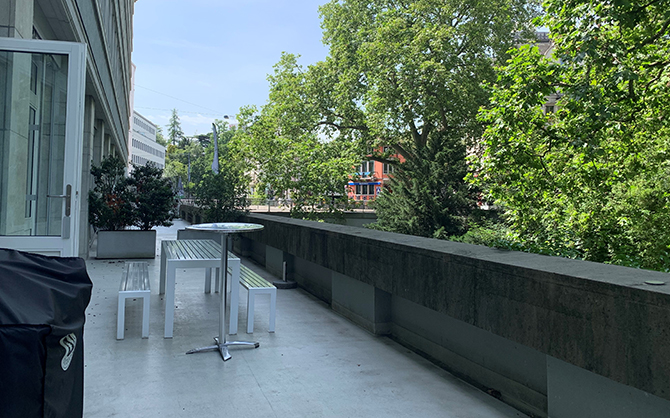 How would you describe your office culture?
We're all quite casual people, so there's no hierarchy. Every intern can talk directly to a partner, and vice versa. Everyone is respected – it's a face-to-face (or Zoom-to-Zoom), direct, honest culture. Actually, I would say that about Simon-Kucher as a whole, but I really see it here in Zurich.
We can't wait to get back to the office and do our spontaneous social events, which we have found hard to do over Zoom. Events like the beer busts I already mentioned, or just getting together in the office kitchens for a coffee break, are things we all can't wait to do again once it's allowed.
What has been your favorite office event?
We have done so many different things it's hard to choose. I think our summer events, in general, have been some of the best we've done. We always try to set up an afternoon activity like hiking, kayaking, or going on boat trips. The great thing about Switzerland is that there are lots of different activities right on your doorstep. We also plan things in the evenings like go somewhere on Lake Zurich, sit outside, and have fun until midnight.
Zurich is cozy in wintertime, so I also enjoy our Christmas dinners. We usually go to a chalet-type restaurant and order cheese fondue. It's great!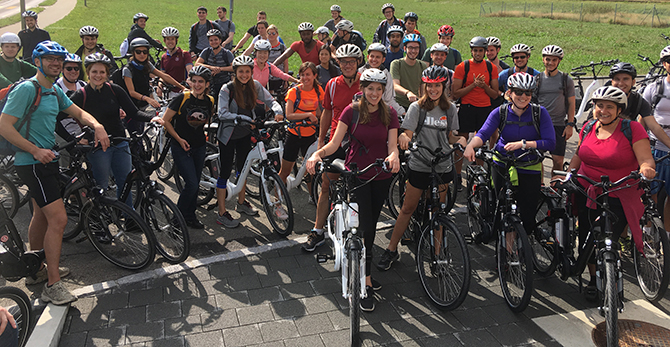 Speaking of cheese fondue, what dishes are most popular in Zurich?
Cheese fondue is, of course, the most well-known. No matter where a tourist is from – Asia, Latin America – they'll want to try cheese fondue; even in summertime! You'll never catch a Swiss eating cheese fondue in summertime, it's a winter dish. I would say that's the same with raclette – another famous Swiss cheese dish. Both are fantastic, but my advice is not to have them in summer. If you want to eat like the Swiss, you've got to try Luxemburgeli. Every Swiss person loves Luxemburgeli. They are a bit like French macarons, and are absolutely delicious!
What do you like most about living and working in Zurich?
What I love about Zurich – and Switzerland in general – is that no matter where you go you always have a lake or a river with water so clear you could probably drink from it! I personally don't drink from the lake, but I think you could if you wanted to. In fact, in the whole of Switzerland you can drink from any public fountain.
What is so special about Zurich is that you are surrounded by nature. One minute you're in town and the next you're in the countryside. The countryside has more or less integrated with the city – it's very typical to find a sheep in your backyard.  
If you could recommend one thing to see while in town, what would it be?
I would recommend going up Uetliberg, which is a good hill to hike in Zurich. It has fantastic views with a restaurant at the top, which not many tourists know about. Of course, you can look around town and see the Lake, but if you have some time you can hike, or you can also take the train up.
If the weather is bad, I'd recommend going to Zürichberg hill, which is on the other side of the city. You can go to there by tram, and by cable car. Once you get to the top, you get to Zurich Zoo. It is one of the best zoos I've ever been to. It's especially pleasant for families, but anyone can enjoy it.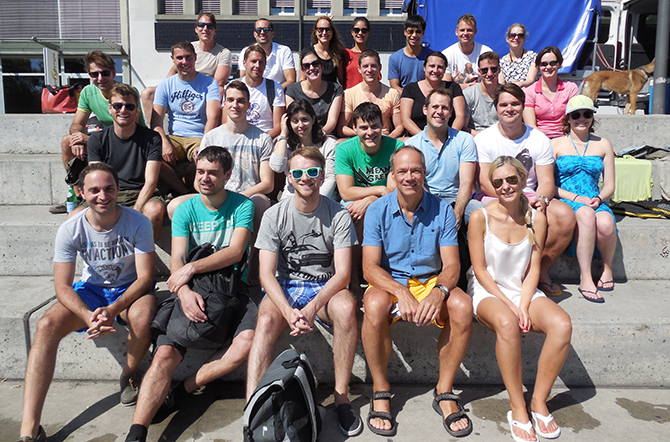 That sounds amazing! Thanks Stephanie for taking time to talk to us, and taking us on such a magical tour of the Zurich office.