Our IT Team: Working Hard Behind the Scenes to Keep Everyone Connected
November 05, 2021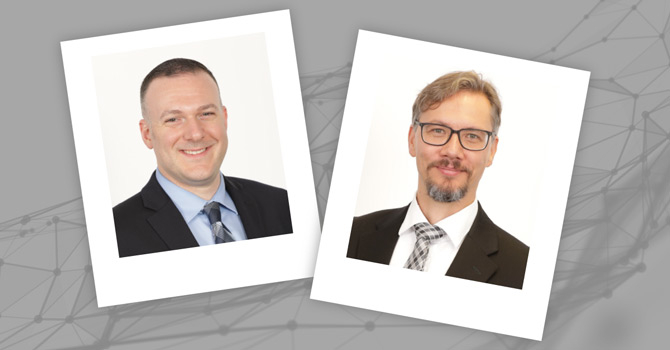 There are many key success factors to working remotely – a structured daily routine, regular check-ins with colleagues, and great teamwork, just to name a few. Another crucial ingredient is our fantastic IT team, working tirelessly behind the scenes to make it all happen. Jim Bowen, Director of IT Operations in Boston and Marco Schroeder, Manager of Compliance and IT Governance in Bonn, share their stories. We think you will agree that this team belongs to Simon-Kucher's own "hidden champions"…
"Calm cool and collected on the surface, but paddling furiously underneath!"
Some people see 2020 as the lost year. With so many things put on hold or canceled due to the global pandemic, how can you blame them? However, I offer a slightly different perspective. I see the concept of traditional work evolving to something more dynamic and exciting. Businesses have finally realized that they need to digitalize and future proof to stay competitive in the market. People now expect fast, intuitive, smart technology they can use anywhere.
Even before any lockdowns started, Simon-Kucher's IT department was well prepared and we were able to seamlessly transition to an almost 100 percent remote working environment. Our project teams were able to stay connected using Zoom and Microsoft Teams and continue providing valuable services to our clients as we all navigated uncharted waters together.
IT worked tirelessly with our Global Events team to help transition from classic in-person events to fully virtual and interactive. Even post-pandemic we will continue offering a hybrid approach to reach a broader audience. I think this will be a common strategy going forward.
Since the IT department is essentially an internal service provider for our organization, it's always important for us to keep open lines of communication with the dynamic and ever-changing requirements of our business. I feel that we do a good job at anticipating business needs but are always looking for feedback and suggestions.
A lot of work goes on behind the scenes to make sure everyone has the resources, tools, and support to offer world-class service to our clients. One of our partners recently made the analogy that we are like ducks swimming in the water; calm cool and collected on the surface, but paddling furiously underneath!
Overall I think Simon-Kucher & Partners not only survived the past year but thrived. I look forward to what the future brings!
Jim Bowen, Director IT Operations, Boston
"Solutions that meet the requirements of both our clients and our project teams"
Working in the IT Compliance team at Simon-Kucher, we had to cope with new challenges as ways of working changed during the pandemic. Our clients' compliance and security teams took a closer look at our ability to maintain a high level of security, confidentiality, and availability of resources. Having an IT infrastructure that was already designed to be "mobile" meant that we were quickly able to answer any questions concerning remote work and the security of our laptops and mobile devices.
The pandemic also shed a light on the way we communicate. As an international IT compliance team, virtual meetings were already part of the daily routine for us. We have continued to focus on ensuring the highest of security standards for both our business and our clients, in line with the requirements of local authorities in the many countries where we are present.
The pandemic has shown that compliance and good planning is even more crucial in times like these. It was and is very satisfying to work with the colleagues in the IT compliance team as well as with all the colleagues in IT to find suitable and feasible solutions that meet the requirements of both our clients and our project teams.
Marco Schroeder, Manager (Compliance) & IT Governance, Bonn