COVID-19 as a Catalyst for a New Era in Diagnostic Testing
April 02, 2020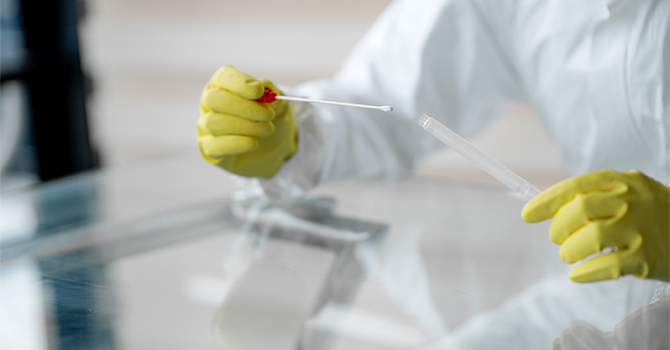 COVID-19 has triggered a global crisis, causing significant public health and economic damage. At the time of writing, close to half of the world's population is living under heavy restrictions, and record-breaking relief packages have become standard news headlines. Although it is uncertain how the pandemic will unfold, there is one thing that we can be assured of: diagnostics, and specifically rapid, point-of-care (POC) testing, are taking center stage.
Despite being a fundamental part in the provision of healthcare, the diagnostics sub-sector has traditionally not been prioritized by national/ local payers, especially, for instance, when compared to the attention to new pharmaceuticals. Payers and other decision-makers struggle to isolate the value that diagnostic testing can bring compared to the resulting treatment. Diagnostic testing is primarily benchmarked against the technology (and its cost), rather than through a value-based approach. Historically, POC testing has had slower uptake than central lab tests, despite enabling patient friendly access, and faster clinical decision making. One reason is that POC testing is often more expensive compared to traditional lab tests, and reimbursement is oftentimes lacking or insufficient to push adoption and cover the additional costs.
The COVID-19 pandemic provides an opportunity for all stakeholders in the healthcare system to revisit key assumptions around value of diagnostics and POC testing: 
The return on investment of diagnostics. Diagnostic testing constitutes around 2% of total healthcare spending. At the same time, around 70% of all medical decisions are based on diagnostic testing results1. Many countries are now experiencing the implications of having insufficiently invested in diagnostic equipment and infrastructure. It will be a healthcare imperative to invest in our frontline POC diagnostic capability to enable more targeted and timely public health responses.
The value of decentralized testing. At a time when hospitals and labs are under unprecedented pressure, the benefits of patients accessing tests outside the traditional hospital environment are becoming evident. Besides reduced pressure on hospital labs, POC testing reduces movement of patients, increases access to tests, and enables earlier intervention. Historically, central lab efficiency has be prioritized at the expense of decentralized resiliency, but we fully expect a better balance between these competing factors in the future.
The value of rapid testing. In times like these, it is even more important to get responses quickly. Consequently, the demand for rapid tests has skyrocketed. The ability to deploy rapid testing and enable tracking and monitoring has shown to be key in the war against the virus. Effective use of POC testing is the scalpel to enable rapid disease control through measures such as home-quarantine versus the blunt instrument of widespread lockdowns.
The value of data and artificial intelligence. To combat the virus, some countries are using big data, such as disease curves to determine the next measure (e.g. Sweden) and mobile data to track travel history and assign individual risk levels (e.g. Taiwan). Although many countries are limited in terms of how they can legally use data, the current crisis has shed further light on the importance of smart digital solutions and the barriers of data protection laws.
The value of sufficient reimbursement and authority support. Diagnostics have, in terms of attention and reimbursement, traditionally been neglected compared to therapeutics. For example, payers typically use a "cost-of-technology"-based approach rather than a value-based approach to determine reimbursement levels. When decision-makers eventually observe the implications of not being sufficiently prepared for events such as the current pandemic,

more attention will likely

be turned to preventive measures such as diagnostics in general and particularly POC testing.
Moving forward, we see three potential scenarios for the future diagnostics market landscape, once the crisis passes:
Status quo – Back to normal. The strict restrictions imposed by governments around the world result in a rapid reduction in confirmed cases and deaths. Restrictions are lifted. People return to traditional habits. Decision-makers' focuses shift to other areas such as enabling economic recovery and re-establishing the way of life. No major changes to the manner in which diagnostic testing is viewed or diagnostic infrastructure is implemented.
Progressive change – Preventive diagnostics. Learnings from the crisis result in an increased focus on preventive measures to prepare for future health crises and pandemics. The value of diagnostics and its impact on societal costs are acknowledged. POC diagnostic capabilities are seen as a critical part of future pandemic preparedness initiatives which triggers regulatory changes. New reimbursement pathways are developed and investment in diagnostic testing and infrastructure are increasing substantially.
Radical change – Holistic disruption. The impact of the crisis triggers radical changes to healthcare systems. Governments are taking strong actions to show decisiveness. Heavy investments are made into healthcare and preventive measures. Examples of changes include a large-scale rollout of diagnostic solutions. Vital parameters such as body temperature are measured at airports and all large gatherings routinely. Data protection laws are being relaxed to enable faster tracking and monitoring. New reimbursement pathways are developed and private spend on preventive measures goes up.
After the crisis, there will be an opportunity to revisit the discussion around diagnostics' place in value-based healthcare, and better support public health outcomes on a global basis.