Global Black Friday Forecast: "Retailers need to pull spontaneous shoppers to their online shops"
November 23, 2020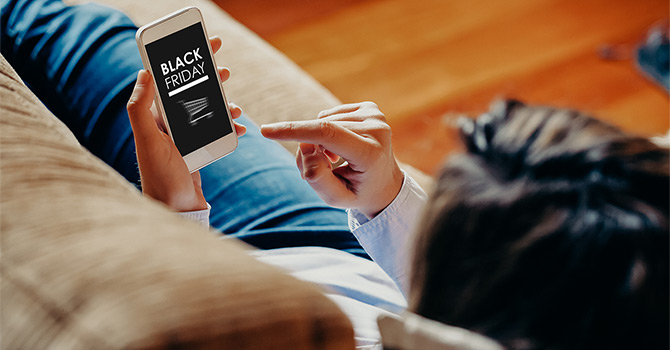 Only two more days until Black Friday – but will this lucrative start in this year's holiday season create the same positive impact for retailers as in the years before? To find out how consumers' behavior has been changed due to the COVID-19 crisis and derive clever strategies for retailers from these insights, we conducted the Global Black Friday Forecast. Consumer goods & retail experts Nina Scharwenka and Shikha Jain about the key findings:
Nina, Shikha, every year, Simon-Kucher researches consumers' shopping behavior regarding Black Friday and Cyber Monday. Why is that such a relevant topic?
Nina: Black Friday, Cyber Monday, and in China Singles Day are important occasions for retail businesses where they create a lot of revenue. Due to the current situation caused by the ongoing health crisis, retailers already had a very challenging year. Therefore, reliable profits are more important than ever. To facilitate them, retailers have to meet the needs and wishes of their customers to an even greater degree. Insights on their behavior is the basis to design appropriate strategies, for example appealing promotions and cross-selling deals.
Shikha: Some retail experts feel that Black Friday and Cyber Monday are major indicators of global consumer health and that preferences detected on these occasions are pointers towards general consumer behavior trends. For this reason too, it is an interesting subject for retails to educate themselves on.
Could you give us some details about the study design?
Shikha: Of course. Our Global Black Friday Forecast was conducted in September and October 2020. A representative sample of more than 11,000 people across 14 countries (Australia, China, Denmark, Germany, Italy, the Netherlands, New Zealand, Saudi Arabia, Spain, Sweden, Turkey, the United Arab Emirates, the United Kingdom, and the United States) was surveyed about their shopping preferences and behaviors for this year's holiday season.
What were the key takeaways?
Nina: The good news for retailers are: The majority of the study respondents intends to buy something on Black Friday/Cyber Monday. This statement holds true almost everywhere, the absolute lion's share of countries reported consumers' willingness to buy to be over 50 percent. However, this number has decreased compared to 2019.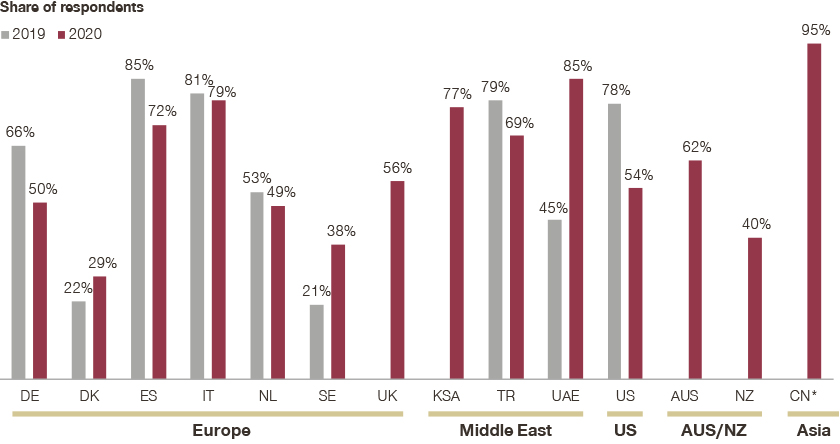 This also corresponds with another key insight from our study: Shopping expenditures also have gone down across all countries. Globally, the average budget for shopping during Black Friday and Cyber Monday is between 230 and 300 US dollars respectively 200 to 250 Euros. Last year, budgets in all surveyed countries were higher. For example, in the US, the average budget for 2020 Black Friday and Cyber Monday shopping is 236 dollars, down from 267 dollars in 2019. And in Germany, the average budget decreased from 242 Euros last year to 205 Euros this year.
You were surveying so many people, did all of them even know what Black Friday/Cyber Monday is?
Shikha: To a very high degree, yes. Black Friday and Cyber Monday and similarly Singles Day in China are continuing to grow in popularity across the world, with Black Friday remaining the most widely-recognized sales event of the holiday season. In fact, in six of the 14 countries surveyed – namely Germany, Spain, the Netherlands, Sweden, the UK, and the UAE –, an entire 100 percent of respondents said they are familiar with the term Black Friday. Awareness of Cyber Monday is a bit lower, but in 11 of the 14 countries the majority knew what we are talking about. As expected, only in Saudi Arabia, Turkey, and China, Singles Day is the more popular event.
These shopping holidays are best known for their amazing deals. What are consumers' expectations regarding this topic this year?
Nina: That's absolutely right and therefore we were not surprised that consumers' expect discounts on the occasion of Black Friday/Cyber Monday. Interestingly enough, even though many industries are known to be struggling due to the COVID-19 crisis, consumers' discount expectations did not change to previous years across most countries. Only in some countries like Italy and Denmark shoppers' expect higher discounts compared to previous years. Speaking of bare numbers: Most respondents from European countries expect discount levels between 10 and 25 percent, whereas in the Asian markets and the US, discount expectations seem to be higher (at least 26 to 50 percent).
Unfortunately, the COVID-19 pandemic is still going on in many of the countries you survey. Do you anticipate consumers to flood brick-and-mortar shops despite this?
Shikha: No, the majority of respondents plans to shop online, undoubtedly for safety reasons. We see an especially high preference towards online in European countries, China, and the US. Only in three countries, consumer preferences favor offline shopping.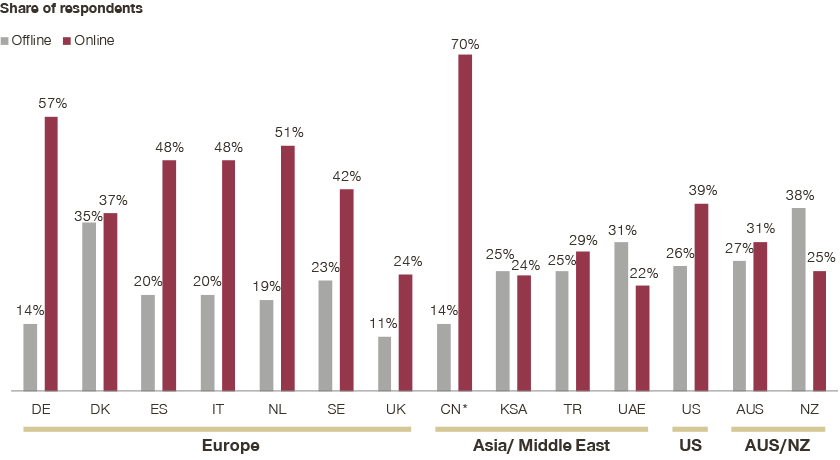 In light of this, has consumers' general shopping behavior changed due to COVID-19?
Nina: Indeed: Across all countries, over 60 percent agreed that there has been an impact.
In which ways?
Shikha: The health crisis and its effect have led to a decrease in shopping expenditures across all countries, especially in those that have been hit by the virus more severely. What's interesting is that, despite this increased financial cautiousness, we're also seeing that consumers are less likely to pre-plan their Black Friday and Cyber Monday purchases, and are more likely to browse and make spontaneous purchases.
Nina: Other noticeable changes are – as mentioned above – a shift to online shopping for safety reasons, an increased emphasis on shopping locally, and a stronger focus on Black Friday in order to save money during holiday shopping.
Based on the insights you collected in the Global Black Friday Forecast, what is your advice to retailers how to ensure high revenues?
Nina: To sum up, even though Black Friday and Cyber Monday budgets have decreased since last year, online shopping and spontaneous purchases are on the rise. Therefore, retailers need to steer away from relying solely on discounts. They should rather focus on strategic promotions and cross-selling opportunities since spontaneous shoppers are known to browse across multiple categories.
Another opportunity lies in the shift to online shopping: With less foot traffic to brick-and-mortar shops anticipated this year, retailers need to look beyond traditional tactics they've relied on in years past, such as doorbusters and experiential shopping activations. Instead, it will be critical for retailers to pull consumers to their online shops through any available online marketing channels, make their journey as flawless as possible and offer them a unique shopping experience online, such as concept corners or live events with influencers, to boost cross-selling and up-selling opportunities.
Nina, Shikha: Thank you for these interesting insights!