How to Select the Right Performance Variables for Incentive Systems
July 02, 2019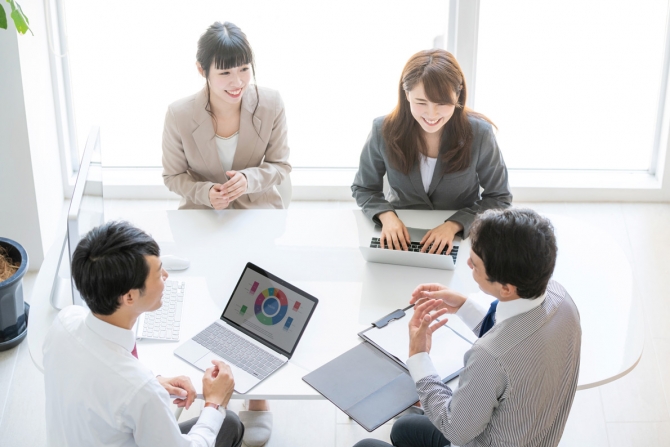 What does a sales incentive system need to cover to ensure top sales performance? To find out, we interviewed Dr. Philipp Biermann (Simon-Kucher) and Dr. Christian Schmitz (Ruhr University Bochum) and asked them about their recent study, Salesforce Incentive Systems 2018.
What is the purpose of sales incentive systems?
Dr. Philipp Biermann: Incentive systems are an effective tool in managing behavior – you will find incentive systems that steer and reward employee performance in all areas of business. They are especially important in sales because sales rep performance and target achievement have a direct impact on revenue and company success.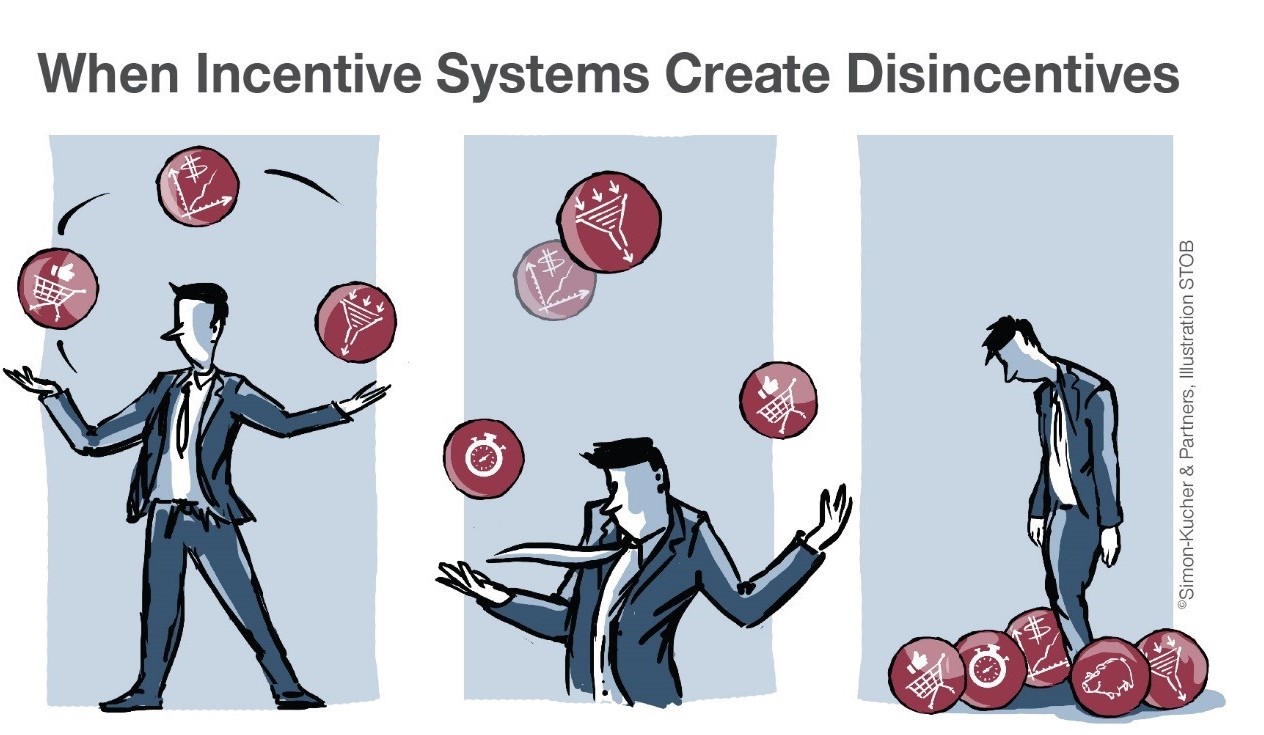 What are the main problems companies experience?
Dr. Christian Schmitz: When designing a sales compensation scheme, you need to carefully combine multiple variables, and in the right way. Companies often try to include many variables that reflect every single one of their corporate targets. But while it is important to always keep company goals in sight, these systems shouldn't become too complicated either.
What are some signs for companies that their incentive system has become overly complex?
Dr. Philipp Biermann: If you hear your sales people saying things like "To reach my targets, I have to sell product X first and then service Y, but I can't sell them in conjunction with product Z," then you have probably crossed the line with your sales incentive plan. Sales managers shouldn't have to perform mental gymnastics to juggle the criteria. Too many variables only lead to confusion and frustration. That's why we conducted a study to determine the optimal number of variables and derive clear recommendations for companies.
Can you tell us more about the study?
Dr. Christian Schmitz: The Salesforce Incentive Systems study was conducted in 2018 as a collaborative effort between Simon-Kucher and Partners and the Sales & Marketing Department at Ruhr University Bochum. We conducted an online experiment with 180 B2B sales representatives from a wide range of industries. Furthermore, one my students, Luisa Kuschke, also contributed to the study. Under my supervision, she wrote her Master's thesis on incentive systems at the University of St. Gallen, and was significantly involved in the conception, data collection, and evaluation. Thanks to this great collaboration, our study is the first to provide concrete proof that incentive systems work best when they contain just three to four well-thought-out variables.
So companies should actually limit the number of variables in their incentive systems?
Dr. Christian Schmitz: Exactly. As the study shows, sales teams perform best with three variables. And they are generally able to deal with a maximum of four variables. If they have to consider any more than four, their motivation fades, and they stop trying. Ultimately, target achievement decreases after that.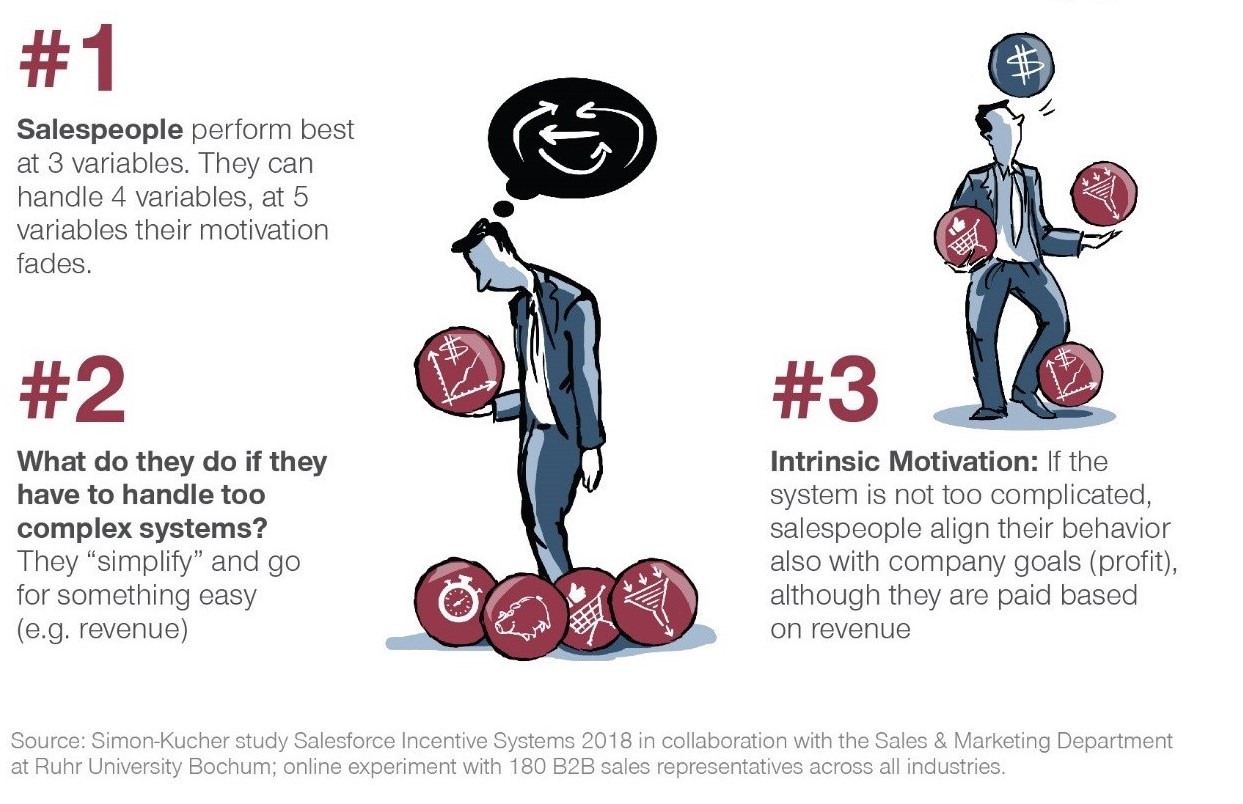 Does the study deliver any other interesting findings for companies?
Dr. Philipp Biermann: The study also shows that salespeople really do want to succeed. They are intrinsically motivated to achieve the best result for their company and customers. Even though study participants were working under an incentive plan that depended entirely on their revenue, the sales force still focused on profit, which was indicated as the company's goal.
What other recommendations can you give for success with sales incentive systems?
Dr. Philipp Biermann: As well as paying attention to the number of variables, it is also important to avoid conflicting, ambiguous, and subjective targets. Sales representatives need to be able to easily evaluate the variables, particularly during sales pitches. If the sales incentive program becomes too complex, the sales force will primarily consider the simplest and most effective variables, ignoring other goals, such as customer satisfaction or margin. Pairing simple incentives with clear leadership can significantly enhance employees' intrinsic motivation. As salespeople earn more trust and responsibility within their department, they identify more with the company and feel a greater sense of personal satisfaction with their performance.