Multi-Channel Sales: State-of-the-art Tools for a People Business
May 03, 2018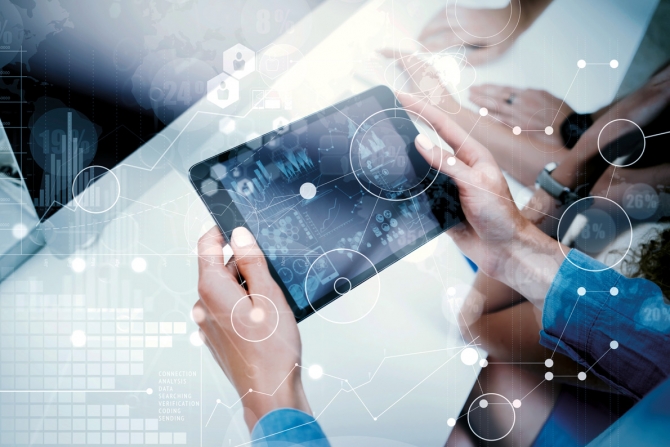 Data-based and predictive analyses are growing in importance, many back-office tasks are being automatized, and new digital competitors are entering the market. It's only natural industrial companies are also shifting B2B sales toward the digital channel. But software won't substitute judgement, and the digital age doesn't signal the end of the field sales rep. Read part 2 of our expert blog series #SalesinaDigitalAge.
Digitalization in sales is a hot topic and is leading to unavoidable changes for industrial companies. From designing the portfolio and determining the optimal monetization model, to deciding on the right go-to market approach, it will have a profound impact on all business levels.
Simon-Kucher Insights
As the recent Simon-Kucher study "Digitalization in industrial B2B sales" reveals, 48% of B2B companies are focusing on digitalizing their sales process. However, there is a wide range of internal and external reasons why a company might launch a sales digitalization initiative. Most internal reasons include making processes more efficient and generating data on existing customers. The top external motivations focus on increasing market penetration, tapping into new market and customer segments, and optimizing the purchase experience. Still, despite these intensive efforts, only 10% of respondents see themselves as frontrunners of this trend.
At the forefront of digital sales – learn from B2C
What sets the pioneers in digital sales and marketing apart? They learn from concepts that have proven successful in B2C and adjust them for a B2B context. For example, introducing an online channel requires careful decisions on product portfolio placement, pricing, and customer access. Successful companies invest in online shops that allow customers to place an order at any time and from anywhere. Customers get round the clock access to current and historical order information and shipping documents.
"Digital sales pioneers learn from successful B2C concepts and adjust them for B2B."
Customer service reps take care of general questions and administrative tasks. And field sales concentrate on winning and consulting new customers. An efficient purchase experience from order to invoice that combines the advantages of traditional field sales with online channels. And ultimately enables companies to close more deals.
Advice from our experts
Being part of the digital shift is a must, not an option, and this also applies for industrial companies. What's needed here is a good channel mix to tap into the huge potential that digitalization has to offer.
"Companies need a good channel mix to tap into the huge potential digitalization has to offer."
Some channels will need to undergo a substantial transformation, others will become more efficient. Here are our key points to remember for hybrid sales success.
1. Set goals and priorities
Don't attempt to do everything at once. Start by prioritizing your goals, know your strategy, and avoid running head first into a full-blown transformation project. If your aim is to win new customers, you need to start with a fully integrated CRM to generate leads. If you are planning to expand online sales, you should look at value-added processes to digitalize on the customer side and consider adjusting other sales channels. Plan your transformation step by step and compile a digital sales roadmap. What is the best way to introduce and communicate changes, and what is needed to ensure implementation runs smoothly? Only with the answers to these questions can you begin to digitalize your sales!
2. Equip your sales team with data
Digital means the availability of data at the touch of a button, providing an abundance of opportunities to make sales steering more systematic. Not only is this data useful for key account planning and lead generation. Real-time data analysis on advanced KPIs and segment-specific hit rate reports make it easier to measure success. Sales can use this additional information to schedule customer visits more efficiently, generate leads, and pinpoint which opportunities they should next follow up on. That's why it's important to equip your sales reps with smart data-driven sales tools and training on how to use them.
3. Enhance customer communication
Digital technologies such as machine learning and big data offer a multitude of new ways to interact with customers. This ranges from the company website and presence on social media to new apps and 3D animations. On the sales side, CRM can provide sales reps with pre-formulated, purpose-specific texts for contacting customers. For example, when it is time for a customer to upgrade their software or exchange parts. In sales discussions, sales reps can walk customers through products using tablet-based product configurators, receiving prompts with upselling opportunities and value-selling arguments.
4. Reshape your salesforce
Once you have identified the winning segments and reviewed your customer communication strategy, you may want to start revising your focus and resizing your salesforce. Automation of back-office tasks frees up time for sales professionals to focus on selling. And data-based models can deliver recommendations on how to redesign your customer segmentation or territories and better allocate your resources. By analyzing e.g. travel costs, frequency of visits, number of phone calls, and market potential, you will identify where it most makes sense to concentrate your sales efforts.
5. Remember the human side of the equation!
The field sales rep will not die out. Yes, you can invest heavily in CRM solutions and fancy apps, but sales software won't replace the thinking. Simple customer requests can be routed via online channels. Meanwhile, expert sales consultants should take over when it comes to supporting complex solutions and using innovative, direct, in person sales techniques. Plan for a future that involves a combination of state-of-the-art tools and top sales reps.