Renewable Energy for Everyone?
September 08, 2017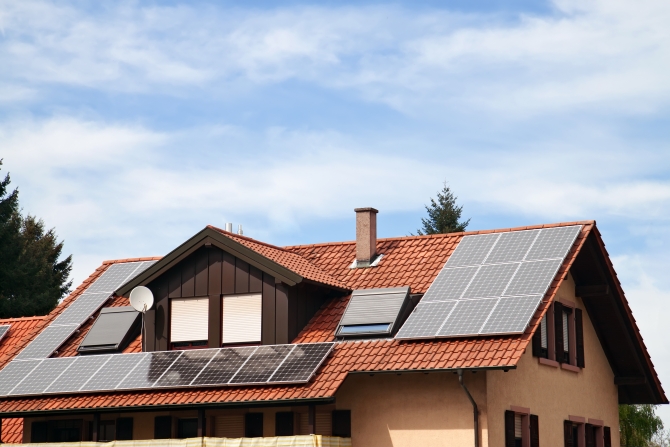 Becoming the consumer's obvious choice
Driven by an upsurge in new technologies, people are looking for sustainable ways to meet its energy needs. Yet a recent Simon-Kucher study shows that consumer expectations of energy generation and storage solutions are not always in line with reality. While it might be too early to completely say goodbye to the grid, new systems and innovative start-ups will have profound implications in an already crowded market. Our experts share their advice on how to increase uptake and become the consumer's obvious choice.

Insights
You don't have to be an energy expert to have noticed the global tendency toward modern ways of generating and storing energy. Newly available technologies that boost local energy generation are developing fast and hold considerable promise for the transition from central, fossil-driven energy to local and sustainable options. However, a corresponding increase in adoption rates is still a long time coming.
As the consumer will be the crucial driver for a successful transition, we at Simon-Kucher and Partners conducted a short study to gain insights into their perceptions, expectations, and motivation for (not yet) adopting solar energy or energy storage technologies. Unsurprisingly, environmental friendliness is the most relevant decision driver for those who currently own or are considering photo voltaic systems (solar panels) and energy storage systems (e.g. batteries). Other important factors here are reduced energy bills and system prices.
To identify improvement areas, we also looked at consumers who say no to both technologies. Here, high prices were stated as the most relevant reason for not switching to renewable energy. The study also showed that if consumers were offered higher guaranteed feed-in tariffs or if they could expect a significant rise in the value of their homes, adoption rates would increase, especially with solar power. Since these factors are less of a concern for current owners, it becomes apparent that the broad masses still need to be educated to understand the benefits and impacts of solar energy and storage systems. The study highlighted widespread misconceptions and a lack of awareness regarding photovoltaic energy generation, battery storage capabilities, and funding options.
While in reality an average household with eight modern PV panels will generate approximately 50% of its yearly energy consumption, more than half of the surveyed non-buyers believed it to be higher (a quarter even expected it to be more than 100%). Similarly, the majority of respondents had no clear idea of the capacity of an average energy storage battery (wildly over- and underestimating it in both directions), and all respondents were unsure of what their country offered in terms of subsidies and incentives – be it for solar and storage, one of the two, or whether they exist at all.
Standing out from the crowd
Despite the mixed attitudes toward local energy generation and storage, the market continues to grow, and more and more companies are entering and trying to win a piece of the pie. Gaining a foothold with a unique value proposition is a challenge, and most players offer storage solutions that maximize revenues from consumer energy generation. Ensuring an effortless consumer experience, using the latest technologies, and offering innovative services are three proven ways to become the consumer's obvious choice.
A beacon for the industry is specialist solar retailer Horizon Solar Power. They support consumers throughout their entire journey, from providing a hassle-free digital guide to help them choose the best solution, through to aftersales by monitoring their generated energy. The company's recent merger with Solar Spectrum could also be used to offer even more financing options and further lower the investment hurdle for consumers. Another example is Tesla, a company well known for their premium Powerwall battery. Expanding on their energy storage business, about a year ago Tesla introduced state-of-the-art PV cells that are embedded into roof tiles.  And the higher the adoption of these technologies, the greater the demand for additional maintenance services. New start-ups are entering from this angle, using drones to clean panels and make heat scans to optimize generation. The first company to offer such innovative services was Aerial Power with its SolarBrush drone – an efficient and environmentally friendly way to clean solar farms. This technology is also now being commercialized by others for residential purposes.

Advice from our experts
While local generation and storage might still be a challenge, there are opportunities to stand out in the renewable energy space. Consumers are looking for the right balance between the benefits of sustainable energy and the size of the investment, but many find themselves lost in a jungle of options. Here are three essential steps to fully tap into this opportunity and guide consumers along the value chain:
Let consumers know where to find you! An alarming 36% of consumers that are considering buying a PV or storage system have no idea where to turn. These new technologies require quite some investment, so decisions are not made overnight. Consumers will search around, orientate themselves, search some more, and then reach out and ask questions before making a decision. Make sure you are visible, both online and via other channels.
Be innovative in your pricing! As products and services are developing, opportunities in pricing emerge as well. Consumers expect technology to become more efficient and cheaper. Nevertheless, PV and storage solutions will remain a serious investment. For non-buyers, financial reasons are more important than the idea of sustainability, so the decision to buy has become more of a financial trade-off. Therefore you might want to ask yourself: what options can I offer my customers? What price model fits best to the needs of different customer groups? A one-time investment for a storage battery? A continuous proportion of the realized cost savings? A full flexible service/operator model? Or even additional financing options, such as lease arrangements, are a great way to lower the investment barrier and accelerate adoption.
Make it easy! Consumers have limited knowledge about efficiencies and subsidies. You have all the knowledge and experience, and are sure about the return on investment, so why not guarantee this to consumers? Education and help with how and where to get which subsidies will definitely lower the adoption barrier for consumers and drive sales volumes.