New Partners at Simon-Kucher: Helping Our Clients to Improve Their Top Line
February 08, 2021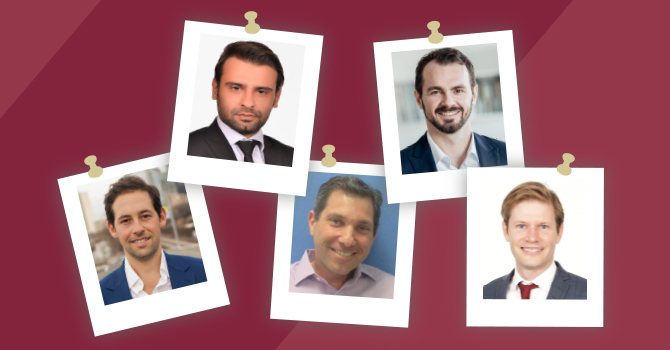 How do we as a company want to improve and grow in 2021? For one thing, by expanding our leadership team! At the beginning of this year, we welcomed 16 new partners in a number of countries and industries. Find out what five of these "newcomers" most enjoy about working at Simon-Kucher and what they are prioritizing as freshly appointed partners:
Cem, Conrad, Dave, Morten, Nick: Congratulations all of you on becoming Partners at Simon-Kucher! What are you most looking forward to during your first few months in this role?
Cem: First of all, thank you, I'm really excited about the next chapter! I'm a new Partner in our Istanbul office, and Turkey is such a promising market with lots of possibilities right now. I'm ready to hit the ground running to accelerate the growth of our foothold here. My special focus is on commercial growth strategies to support local companies in increasing their export businesses.
Conrad: I joined Simon-Kucher just a few months ago in order to boost our digital unit. Consequently, my main job will be to grow our capabilities in end-to-end digital commercial transformation (by which I mean the process of upgrading business models, marketing, sales, and pricing capabilities to drive revenues and/or margin improvement). We're in a period of accelerated digital transformation due to the effects of the COVID-19 crisis. In this context, it will be a rewarding as well as challenging task to support our clients' commercial success, e.g. developing and testing new customer experiences or upgrading e-commerce capabilities.
Dave: As a Partner in our busy New York office, I'm very much looking forward to being able to contribute to the continued growth of Simon-Kucher in the US market. I'm primarily focused on driving brand awareness in business services verticals as well as enhancing capabilities in rewards and loyalty programs broadly across B2B industries, and there is significant opportunity for us grow as a firm in these areas. I strongly believe that customer centric-growth is increasingly important in today's dynamic world. Pricing, sales, and marketing tactics that are scalable yet customized, and flexible to adapt as market environments change, are the key to winning and my aim is to excel in these kind of projects for our clients.
Morten: Simon-Kucher is the best kept secret in management consulting in the Nordics. As a Partner in our Copenhagen office and leader of our financial services practice in the Nordics, I want to change that! We really have a lot of potential as a firm here in the Nordics and I'm keen to bring it out. My focus will be to fulfill that potential in the Nordics financial services industry. This will mean that we need to develop and grow the brilliant team we have; I'm very motivated to help my younger colleagues develop their careers in that direction.
Nick: I have only just joined Simon-Kucher and I'm therefore very excited to combine my individual skills with the extensive experience and strategic capabilities that I have found here. Bringing the famous top-line approach (increasing revenues and profits through clever pricing, sales, and digitalization strategies) and monetization tactics into the North American insurance market to serve both Insurance Carriers and InsurTech providers will be my focus for the next months.
Your industry focus is as diverse as it is interesting. What are the major challenges your clients are facing, and how are you able to support them?
Conrad: Given my focus on digital solutions, I of course think that my clients' key challenge is to master their company's digital transformation. In 2021, this is more important than ever, since almost every industry has been driven to take big leaps into a more digital future. So, for anyone lagging behind, current conditions are a serious threat. To catch up, they must change their approach: Digital in 2021 should be purely focused on the top line, people skill sets, and a company's overall capability to rapidly adapt when needed – through a smart use of data and technology.
Morten: I have to jump right in on this point, since, in my opinion, smart use of data is a major factor my clients have to improve, too. I advise banking, insurance, and other financial service companies regarding topics like commercial strategy, value proposition sales, product packaging, and pricing. And quite often, they make the mistake of not adapting their offerings to their customers' wishes. Gathering and analyzing customer data would be a good way to remedy this. I'm often surprised how little customer research is done before launching a new product or service. After all roughly 75 percent of all new products fail to meet their targets. This number would be drastically reduced if companies invested more in understanding customer needs and their willingness to pay.
Nick: I absolutely agree. Before I came to Simon-Kucher, I worked closely with insurance leaders to implement advanced digital technologies to improve sales funnel ratios, refine customer segmentation and optimize pricing. Exploring digital possibilities is now extremely vital for insurance companies, since selling and underwriting in a way that suits the "new normal" for the remainder of the pandemic and post-pandemic will separate healthy carriers and producers from the weak. The winners will be carriers who have embraced digital tools that remove friction from the sales process, better link product features to need and value, and efficiently leverage data for underwriting and pricing.
Accepting a Partnership at Simon-Kucher is a major career choice. Why did you choose our company in the first place and what convinced you to stay and join the partnership?
Cem: I started at Simon-Kucher in 2013 and I was immediately impressed by the unparalleled, unique expertise the company offers. I still believe that you would struggle to find this special combination of skills, know-how, passion, experience anywhere else. That's why I'm very proud to be part of a global team that constantly embraces the new and better, and then translates it into clever solutions for our clients. I will never stop cherishing the unique Simon-Kucher entrepreneurial spirit that I have seen every day since I first stepped through the door.
Dave: Nine years ago, I took the job here at Simon-Kucher because I was excited by the opportunity to be a part of a fast growing company in a region with significant white space. I should point out, at this time, our New York team consisted of less than ten people! And my expectations became true. But I stayed not only because of the growth opportunity (which still exists), but also because of the people and the work we do. We are a group of like-minded, team-first colleagues who work together to create positive impact for our clients. I firmly believe that our success stems from our people and I'm honored to be a part of a culture that puts the group before one's self and empowers colleagues at all levels to do their best work.
In the consulting industry, having a good work life balance is vital. How do you like to relax outside of the office?
Nick: I love working toward a shared goal or project – this really motivates me to give my best, in my career as well as in my private life. That's why I love cooking or doing sports with my family. In the summer, I especially like to go paddle boarding; our family dog Rosie is the most competent crew member! I also perform stand-up comedy and improv around the US (but I really hope all my colleagues will forget that info until our next team gathering…)
Morten: Like Nick, I also enjoy spending time with my family whenever I can. I have a four-year-old who keeps me pretty busy. When they sleep, I like to go for a run or cook a tasty meal.
Dave: There are so many sports enthusiasts in this group! It's also a great hobby of mine, especially watching it from an armchair (I'm a die-hard Philadelphia sports fan). Apart from that, I enjoy being outdoors running, hiking, walking, doing water sports, or just reading outside. Basically anything that can get me out of the apartment, especially during COVID-19.
Conrad: Sorry Dave, here's one more sports nut. Stemming from my time at Freeletics, I'm a passionate CrossFit-athlete (although probably not a particularly good one). My dedication to the sport is something I happily share with my partner – at the CrossFit Box, in our home gym, or wherever it is possible.
Cem: I have always thought that CrossFit sounds really interesting, but personally, I prefer running. Apart from that, I like to read and go on road trips, so hopefully the latter will be possible again soon!
I thank you all very much for this interview!
Get to know more new partners in the other parts of this blog series: