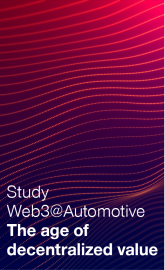 Research Paper
Web3: The age of decentralized value in automotive
Submit your details to download research paper
Our study in the automotive industry shows that web3, blockchain and metaverse are gaining traction.
Web3 is broadly considered as the next generation of internet, using decentralized applications running on technologies such as the blockchain. Our study conducted among consumers in Germany and the US, reveals that Web3 may soon play a significant role in the industry. Forty percent of respondents have already heard of web3 and associate it with terms such as virtual worlds (i.e. "metaverse"), financial technology, trust, digital ownership, and decentralized community.
Download our latest report now to find out more.