2019 Trends and Developments – What Will Be Important for CEOs?
February 01, 2019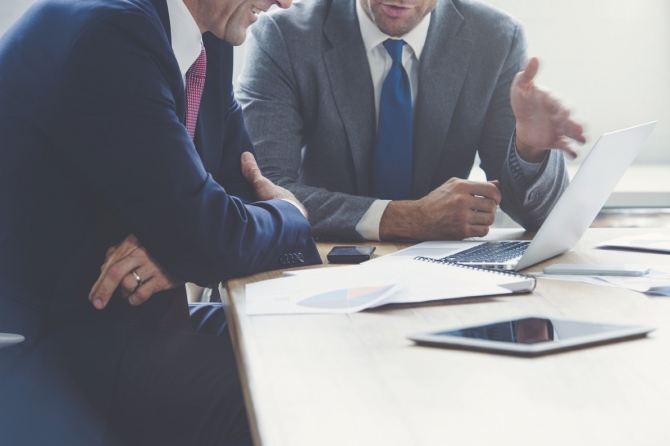 Political developments over the past year, such as Brexit, Trump, and extremist trends in many European countries, have resulted in noticeable uncertainty in the markets. To make it today, companies need to become experts at adapting to change while staying focused on success. In this op-ed, our CEO Dr. Georg Tacke identifies three major global developments and discusses what companies need to do to respond.
The world is undergoing three major developments:
Cost increases
Europe is experiencing another period of inflation. Costs for things as varied as energy to semi-finished goods are rising at a moderate rate. The Federal Statistical Office of Germany announced that energy producers' prices in November 2018 were 3.3 percent higher year over year. Moderate cost increases – as opposed to high increases – are particularly problematic because most companies don't know how to react effectively. For example, purchasing departments often expect their companies to compensate for moderate cost increases in the medium term by improving productivity and efficiency. Of course, this is wishful thinking. The results of our Global Pricing & Sales Study series show that 47 percent of companies don't respond to slight cost increases at all. Instead, they absorb them entirely themselves. Even companies that want to pass on higher costs by raising their prices have considerable difficulty implementing these increases successfully. We recently determined the price implementation rate to be 37 percent. This means that if a company plans on increasing prices by ten percent and communicates this to the market, they effectively only achieve an increase of 3.7 percent. This is an abysmal outcome. We believe these moderate cost increases are the number-one profit killer.
Digitalization 2.0
I'm primarily referring to digitalization as a means to achieve sustainable corporate growth and steadily increase performance. The considerable investments made in digitalization initiatives to date have proven disastrous. According to our latest Global Pricing & Sales Study, 77 percent of companies surveyed reported that they didn't notice any positive effect on their sales or growth after investing in digitalization. In other words, billions were spent for basically nothing in return. Companies won't accept this – and, financially, they can't afford to over the long term. Digitalization is still going to be an important topic, but the approach will change going forward. Instead of large, poorly defined transformation programs, there will be a shift toward specific, manageable, results-oriented projects.
Political uncertainty
With Brexit, international trade, and Trump, no one knows exactly what the future holds. The fact is there's a relatively high degree of uncertainty in the markets, and the economy seems to be slowing down. If current issues, such as Brexit and international trade, result in cutbacks, there will be a further impact on production processes, the value chain, and, of course, costs. This brings us full circle. We don't need a crystal ball to tell us that the effects of this uncertainty will result in economic downturn and cost increases.
What do these developments mean for companies and how should CEOs respond?
To do #1 – Increase prices:
It's time for companies to regain (or develop) the ability to effectively enforce price increases. Top companies achieve a price implementation rate of 80 percent. However, the real figure is only about half that, and the majority of companies aren't able to measure their price implementation rate at all. This inability causes companies to lose billions every year.
It's the CEO's job to get back this (lost) ability. They don't need magic; they just need to know how. The most important steps involve:
Adopting an all-around approach! Enforcing price increases must be seen as a project that involves the whole company, rather than just sales. From marketing to product management, controlling, and the management board, every department has specific tasks and roles in the process
Implementing structure! CEOs should have a systematic process, or playbook, developed that they follow meticulously. There are a variety of individual activities, which require a lot of time and effort. It's not rocket science though! Companies just have to get down to business
Measuring success! The only way for CEOs to measure the impact of their efforts is by defining clear KPIs and establishing strict daily or weekly monitoring. Pricing performance should be on the agenda of every board or executive meeting
To do #2 – Digitalization 2.0
Companies should start again from the beginning with their digitalization activities and carefully consider the goal or specific results they would like to achieve. In our experience, digitalization generates the most impact when the following factors are in place:
More precise, finer-tuned customer segmentation for more effective customer centricity: Hyperpersonalization is a step too far, but more detailed segmentation than simply "small/medium/large" is essential. I would even say that anyone who hasn't developed a systematic approach to segmentation over the past two years is going to fall behind.
Radical increases in sales performance: Companies can achieve this by tapping into the advantages of new channels, such as online shops and other sites, and better supporting their sales teams with digital tools. The potential for growth in terms of sales effectiveness and efficiency is enormous.
Digital pricing/dynamic pricing: Here it's about more accurate, more profitable pricing and better, more targeted use of price promotions or sales. Big data and digitalization allow for much more precise steering. The days of the generic "20 percent off everything" are over! Whoever still works this way is losing out. And of course, it's about dynamic pricing. This tool offers significant potential but also comes with its own risks. It's not suitable for every business and requires companies to develop new expertise, such as in-house data science capabilities, machine learning skills, etc.
To do #3 – New revenue models
All these new developments don't just mean companies have to approach a few specific processes or projects differently. In order to stay ready for the future, companies must assess their own revenue models and be willing to completely rework them, if necessary. Why is this? The business world is changing. The challenges mentioned here need to be addressed, ideally in a way that enables companies to increase their revenues too. Digitalization products, such as big data and predictive maintenance, are eroding traditional business models and profit-makers, like after-sales business. Moreover, there's the newfound self-confidence of end customers. They demand custom end-to-end solutions through convenient online sales channel and clear usage-based price models, such as subscription, software as a service, and pay as you go. Companies should consider the following when "renovating" their revenue models:
New revenue models work best with new, innovative products and services
Don't introduce the model everywhere; instead, start with selected customer segments
Never change revenue models and raise price levels at the same time. Introduce first, then optimize
Excellent communication, both internally and externally, is a must
A new revenue model won't run itself. Preparation and implementation have to be perfect in order to avoid failure. After all, the right revenue model is significantly more important than the price level. In other words, how you charge is more important than what you charge.